For the last time, Jennie Garth and Shannen Doherty are not feuding! That seems to be the gist of an Instagram comment by Jennie, 50, who clapped back at an IG fan questioning why the former Beverly Hills, 90210 vixens didn't cozy up for pics together at the recent 90s Con celebration. Among several posts featuring pics at the event, Jennie shared a March 19 slide show of stars including Tori Spelling, Ian Ziering, and Jason Priestly, among others.  "It was more like Friends Con Loved seeing some familiar and friendly faces this weekend," she captioned the post. Fans pounced on Shannen's absence, and Jennie clapped back, albeit lovingly, in the comments section.
"Ok. everyone needs to take a deep breath…," she wrote. "1. i [sic] simply didn't have a picture of me with shannon [sic] on my phone to add. 2. i didn't have access to a shannon banner backstage. Like there wasn't one lying in the pile. 3. we had almost completely diff schedules so sadly we barely saw each other. 4. stop making assumptions when you have absolutely no idea what you are talking about. 5. please stop reaching to paint such a negative narrative. here and everywhere."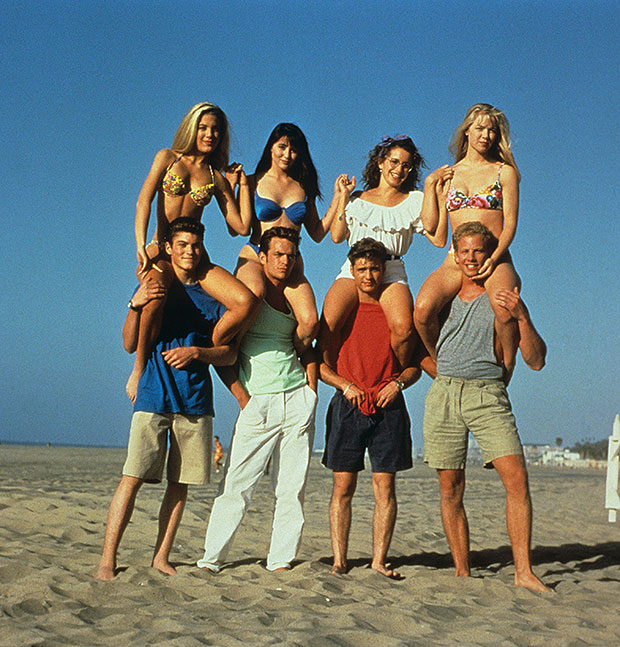 Jennie, who famously played Kelly Taylor in the Aaron Spelling 90s megahit, completed the comment with emojis of a heart and a white dove. What spoke even louder was a photo she posted the next day, on March 20th. In it, Shannen, who played Brenda Walsh in the show, sat front and center with her lead castmates — sans Luke Perry, who died in 2019. "Sorry LAST one!" she captioned the happy group photo. "Someone just sent me this and I knew you'd all love to see!"
While she's not admitting to any current problems, Jennie once dished on an on-set fight between the stars. "We were young and so stupid," she said during a 2019 appearance on Watch What Happens Live with Andy Cohen, via People. "I can only remember one incident, and that's when we took it outside." However, Jennie added that the fight never got physical, thanks to security showing up. "We're just both very strong Aries women who don't back down no matter what," she said of the tiff.
Click to Subscribe to Get Our Free HollywoodLife Daily Newsletter to get the hottest celeb news.