This post may contain affiliate links. Read our disclosure page for full details.
There is something so inherently romantic and magical about writing an old-fashioned love letter, isn't there? Sometimes you just need to lay it all out in words for your sweetheart to hear, er, read! 
Showing your love is an important part of a healthy relationship, and there are many ways of saying I love you! Do you know what love language you and your significant other have? If your love's is words of affirmation, then a love letter will be right up her alley!
If you're looking for templates for love letters that will let her know what's happening in your heart, we've got some love letter ideas for her here! Whether you're sending your love letters by email, text, or good, old-fashioned post, these can help you say what's in your heart so she never has to question where she stands with you.
Love Letters for Her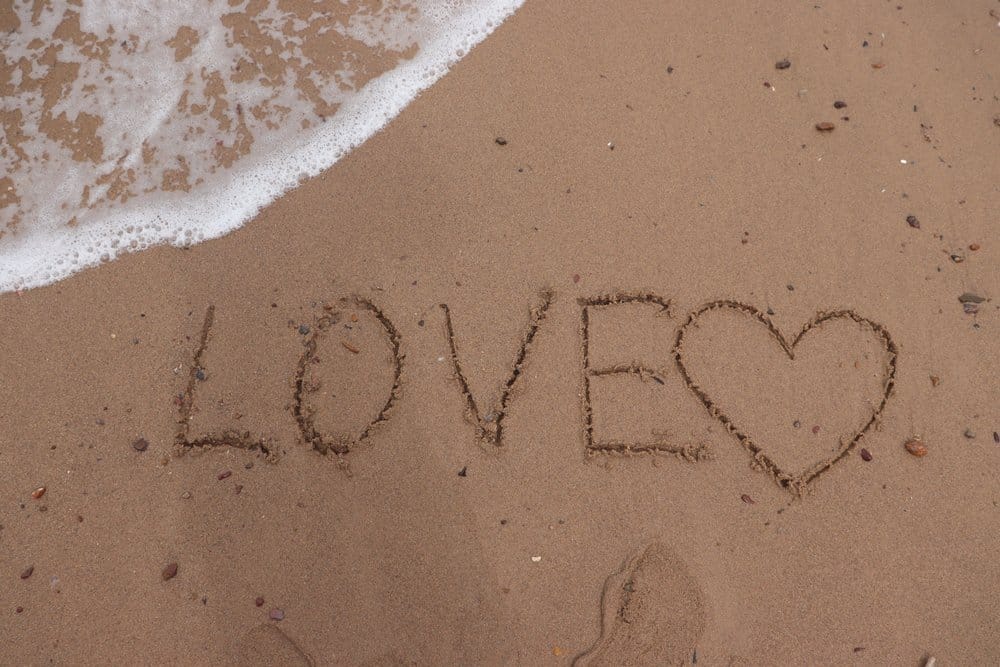 Good Morning Love Letters for Her
These love letters would be perfect to put in a text or email for her so when she wakes up and gets going with her day, she knows that she is always on your mind!
Read next: 75 Sweet Good Morning Messages for Her
Good morning, my love! 
I know I'm sending this off early to you, but it's only because you were running through my dreams all night long. I can't say that I mind, but you are the very last thing on my mind as I drift off to sleep and the very first thing I think of when I awake. 
I hope you have a wonderful day; I know I will, because you'll be in my thoughts all day until we meet up later. 
Love you,
    Me
Good morning!
It's early but I could not go another moment without reaching out to you. I had such a good time with you last night, I just keep replaying everything over and over again in my mind. 
You are the most incredible woman I've ever known, and I just couldn't wait another moment without telling you how lucky I feel to be able to spend time with you. You make every single day better than the day before and I just want to say thank you for that.
Love,
Me
Sweet Love Letters for Her
These love letter ideas are just sweet as can be! Sometimes simplicity is best, and what can be more simple than to just directly tell our loved ones how we feel about them? These are some sweet love letter ideas that will be sure to put a smile on her face.
Read next: 75 Loving Text Messages for Her: Sweet Messages She'll Love
Hello love,
This might seem a bit old-fashioned to send off a handwritten letter like this, but I felt inspired to write something out for you that comes directly from my heart and hands that could be delivered directly to yours.
You are the reason I smile and the reason I feel hope and excitement for the future. Before you, I didn't have this kind of direction and drive. With you, I see a new kind of meaning in the world around me that I didn't before. You have painted my entire world with your love, and it is beautiful.
Thank you for being mine,
Me
To the Woman who Holds my Heart,
I had to put this all out into the physical somehow, so I thought what better way than to write you an old fashioned love letter? 
You, and only you, have awakened something inside me that makes me want to become a better, stronger, and sturdier person every single day, and I know why. It's because I intend to become my very best self not just for me, but for you, because you only deserve the best. If I have to spend the rest of my life on this task, it will be worth it, as long as I have you in my life. 
You are incredible, babe. I still don't know what I've done in my life to deserve a woman like you, but I'm going to keep moving forward so I can be worthy of your love each and every day.
With all my love,
Me
My love,
Do you have any idea how much I love you? I mean, truly, do you have any inkling how much you consume my every thought? Every day, I wake up and it's you. I go to work, and it's you again. I run my errands, and still, always you on my mind! There is nothing and no one else that has ever affected me the way you do.
Everywhere I go, I hear your voice, I see your gorgeous eyes, I smell your heavenly scent. Just everything about you consumes me, and just to make sure we're on the same page here, I'm not complaining! This is exactly where I want you, on my mind, in my life, and by my side, always and forever.
Love Always,
 Me
Steamy Love Letters for Her
Now these risque love letter ideas aren't exactly X rated because we aren't that kind of site, but we think they offer just the right amount of spice to help make her heart beat just a little faster! You can fill it out with a few extra little details of your own.
Read Next: 10 Exciting Ways to Spice Up Your Marriage
My love,
I'm still reeling from our last time together… in a good way, of course. You are so insanely gorgeous, it blows my mind that you even looked twice in my direction. All it takes is one look my way, but then you prove time and time again how much more there is to you than just these stunning good looks and I'm falling all over myself just to please you, time and time again.
I can't get the way you taste out of my head, and I don't want to. I'll never lose my appetite for you for the rest of my life. You are mine, and that's all there is to it. 
Forever and always,
Me
To the Woman of My Dreams,
My dreams, my waking hours, literally every day and all day, you are always, always on my mind. Not all of these thoughts are rated G, of course. You drive me a little wild with desire, both when we are together and apart, but I wouldn't change a single thing.
I wouldn't change the way you look at me after we've shared a long, passionate kiss, or the way you feel in my arms as we lay together catching our breath. I wouldn't change the way you make my heart skip several beats when you call my name, or the way your breath quickens as you get closer and closer…
You are my dream woman and I spend each and every day hoping and praying I never wake up, because where you are is where I always, always want to be.
Love,
Me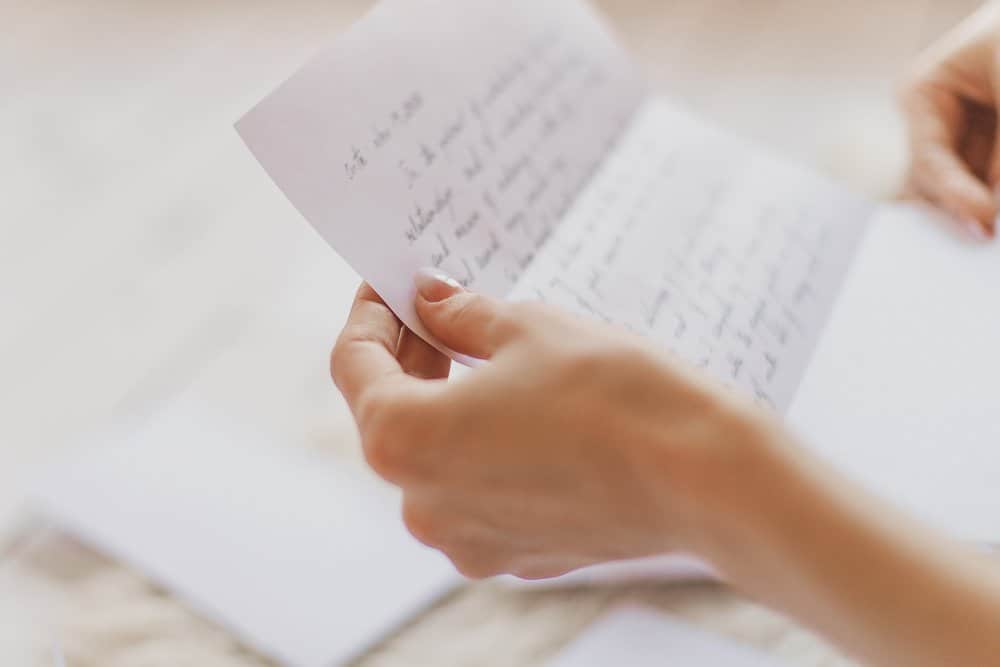 Long Distance Love Letters for Her
We know, long distance is never fun. But there are ways you can bridge the distance in your long-distance relationship, whether that's with long-distance letters, gifts, or date ideas!
Read Next: 7 Tips for a Long Distance Relationship
My love,
No surprise here, but long distance SUCKS. It sucks because all I want is to be with you, actually with you, able to hold you in my arms and just breathe the same air as you. Since I cannot do that, I am doing the next best thing (I guess!) and writing this long distance love letter in the hopes you will feel my love this way.
You are on my mind constantly, even though we can't be together. That's okay though, because I certainly don't mind. I am just trying to stay as busy as I can here, but still my thoughts drift to you, and I just spend my days fantasizing about the next time I get to see you and hold you in my arms.
I may not be with you in person right now, but I'm always carrying you in my heart.
Sending all my love,
 Me
My Beautiful Love,
Being so far apart has not been easy at all, but I'm always trying to look for some kind of positive, so here's what I've come up with so far:
Because I can not be with you in person, I have more time to think about how lovely your voice is.
Because I can not be with you in person, I have more time to consider the depth of your soul.
Because I can not be with you in person, I have more time to appreciate the sweet and thoughtful ways you've always shown up for me.
Because I can not be with you in person, I spend my days excitedly counting down the moments until I can hold you in my arms again.
Because I can not be with you in person, I am constantly daydreaming about our future together, and babe, it is beautiful.
I love and miss you, and no matter the distance, you are always beside me in my heart.
Love,
Me
Birthday Love Letters for Her
One thing that's really special about writing a love letter for her birthday is that it can become a treasured keepsake that is sure to last long after the cake is gone! Sometimes it's sweet gestures like a love letter that are the most beautiful birthday presents of all.
Read Next: Top Date Night Gift Ideas for Couples of All Kinds
Happy Birthday! 
I have been struggling to think of what to get the woman who deserves the world, and it got me thinking that I don't know if you realize how bright you shine? How magnificent you are?
I just know that right now, as you're reading this, you're probably looking adorable (like you always are), and probably smiling that cute little smile of yours that crinkles the corners of your eyes. Probably smelling absolutely amazing, just like you always do. Just being the coolest woman on the planet, effortlessly, like it's no big deal. Just no idea of how much you add to the world and all of us in it… but you should!
You are the kind of person who makes the world a brighter place each and every day, and I hope you know today and everyday how incredibly special you are.
All my love,
 Me
Happy Birthday, my love!
I know you've got a lot of fun things coming your way for your special day, but I wanted to share a few thoughts with you in writing. You are one of the most intriguing people I've ever known in my entire life, and I literally spend every day with you just marvelling at how you've come to be the incredible person you are.
Well, today is the day to celebrate you! I want to help make today as special as you are, so let's do that, okay? 
Love always,
 Me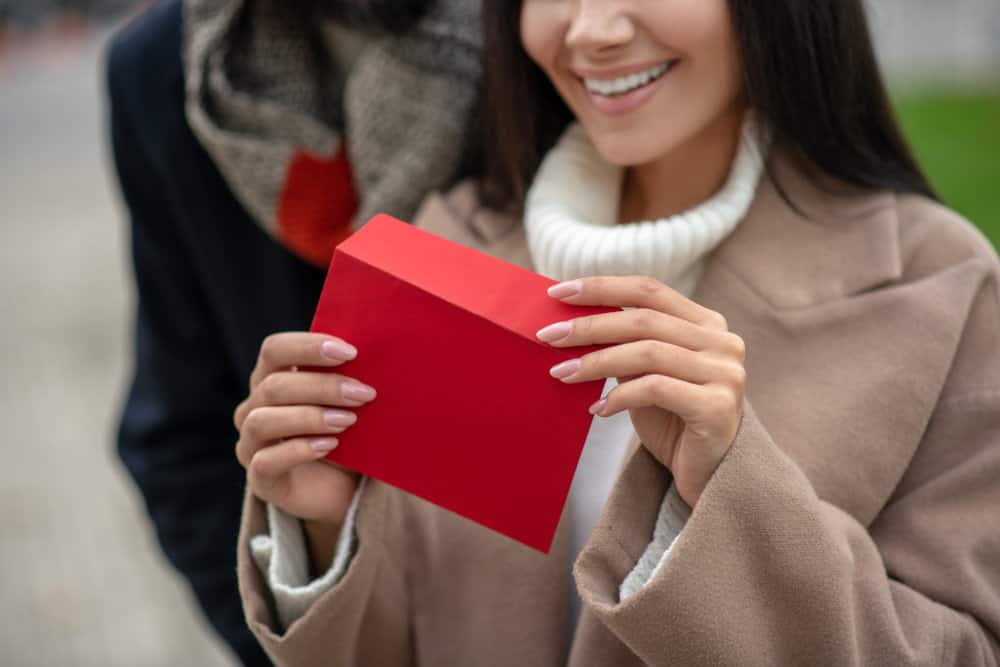 Romantic Love Letters for Her
Looking to become more romantic in your relationship? Well, you're certainly headed in the right direction if you're looking for romantic love letter ideas! Viva la romance!
Read Next: 100+ Couples Bucket List Ideas: Romantic + Fun Things to Do
My love,
Do you remember our first date? I do, and I can still remember the very first moment I knew that you were going to completely change my life, and you have. You are the best thing in my life, and with each passing day, I only come to fall harder and harder for you.
I can not imagine life without you, and I don't know that I'll ever find the right words to completely communicate to you how happy you make me and how much I love you, but this is my earnest attempt: you are my everything and I will spend the rest of my life showing you how much I love you.
Love Always,
Me
My dearest love,
With every passing day, I realize that there is no escape for me here. You've got me, completely and totally, under your spell. I wake up thinking of you, I go to sleep thinking of you, and if you think there's even a moment in my day when you're not on my mind, you're insane.
I love you and have loved you for a very long time, even before I was willing to admit it to myself. You are the brightest star in my sky, the sweetest fruit in my orchard… you get the idea, right? I'm head over heels in love with you, today and forever, and you're the only person I want to share my life with.
All my love,
 Me
Make Up Love Letters for Her
Fighting sucks but it happens, and it's okay as long as you can both move forward in a healthy, respectful manner. These make up letter templates might help.
Read Next: 75 Sweet and Meaningful Sorry Messages for Her
Dear You,
I keep replaying every stupid moment from our fight, and I feel horrible. I know I said things that I shouldn't have, and I don't want to let that stand because that's not who I am and not who I want to be for you. I made a mistake and I'm moving forward to fix this, both by doing my own inner work and by reaching out to you here.
My behavior wasn't acceptable and it won't happen again. You deserve the very best, always, and I'm going to be doing my very best to be that for you. You are incredible and I know how fortunate I am to be here with you. I promise I won't forget it.
Yours in love and regret,
 Me
Dear You,
Listen, I know that things aren't always perfect between us, but to me, it's perfectly imperfect. Every hurdle we've faced hasn't seemed as high as it would with anyone else, because I'm convinced we can get through anything as long as we are together. 
You have made my life so much richer, each and every day, and I don't even want to imagine trying to do this without you. We are stronger together, and I know that I am stronger with you by my side. I love you, now and forever. 
Please forgive me.
All my love,
  Me
There are many great ways to show your person how much you care, and love letter writing is about as classic as it gets! Be sure to personalize your love letter template to be specific to her and your situation, and know that while text and email work just fine, a physical letter is more likely to be kept as a treasured keepsake through the years.
You might also like: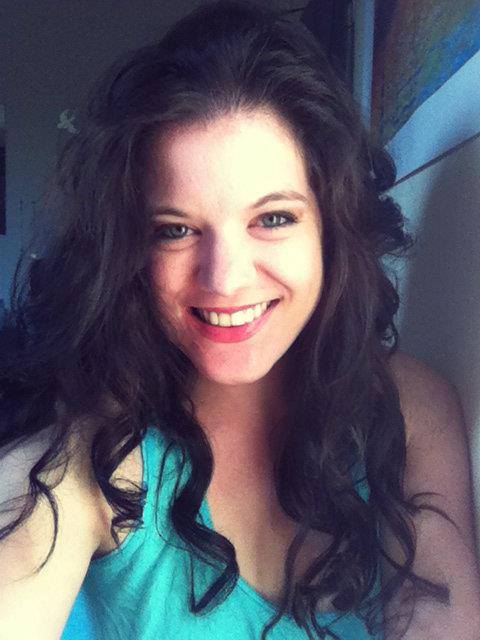 Amy Hartle is the co-founder and owner of Two Drifters, where she blogs about romantic and couples travel, relationships, honeymoons, and more. With a Master's in English and a BA in Musical Theatre, Amy loves to write quality content as well as to entertain, and she hopes to do a bit of both here on the blog! Amy lives in North Carolina with  her husband Nathan, and son Malcolm. When not working on their sites or traveling the world, the Hartles can be found cuddling, reading, and hanging out with their cats.
#Heartfelt #Love #Letters #Ideas #Occasion