There's some scary news coming out of the MTV reality universe. Teen Mom 2 star Nathan Griffith was arrested in Las Vegas for strangling his sister. The last time we saw Nathan on TV was with his ex-fiancé Janelle Evans. Now, he's back behind bars. TMZ recently reported all of the details, but be warned, it's a difficult story to follow.
Arrested again
According to a police report, Nathan's sister called the cops to report that her brother had assaulted her. When the cops showed up at the house, Nathan was already outside wandering around. He allegedly smelled like alcohol and hollered about how he didn't do anything. If you've ever seen an episode of Cops, you know that's the tell-tale sign of someone who has been up to something.
Nathan's sister told the officers that she and her brother started arguing when she brought up his aggressive past, and he threw her down to the floor and choked her. The report alleged that he would lessen his grip a little bit to give her air and then tighten the grip while saying, "You're going to submit to me."
Although Nathan claimed he didn't do anything, the police officers on the scene saw red marks on his sister's neck. That was enough evidence to arrest Nathan, but he didn't go down easy. The report also alleged that Nathan slammed his head into the glass in the back of the cop car and threatened to kill himself.
Even more shocking about this arrest is that this isn't Nathan's first time being arrested for strangling this year. In February 2023, TMZ reported that he was arrested for assaulting his girlfriend. At the time, he was accused of choking her and dragging her up a flight of stairs. Those charges were eventually dropped, but what will happen in this latest case with his sister is unclear. The most recent report was that he was being held on $5,000 bail with a hearing set for this week.
TELL US – DO YOU REMEMBER NATHAN FROM TEEN MOM? WHAT ARE YOUR THOUGHTS ON HIS RECENT ARREST?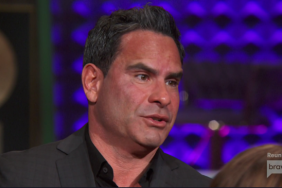 More troubling allegations are coming out about Teresa Giudice's fiance, Luis "Louie" Ruelas. Since the couple got together, rumors of…
Good news this time for one of our favorite Mob wives! TMZ reports that Renee Graziano of the former Bravo show is in the…