Megan Fox has had enough of fans' criticisms!
Earlier this week, a friend of the Jennifer's Body star, nail tech Brittney Boyce, launched a GoFundMe to raise money to cover her father Michael Boyce's medical expenses after he was recently "diagnosed with pancreatic cancer." In order to help her out, Megan shared the fundraiser page on her Instagram Stories and asked fans to help her pal reach her goal of $30,000.
That sounds like a kind gesture, right? Well… she wound up getting A LOT of flak over it! As fans pointed out, Megan could have easily donated the money considering she has a net worth of around $8 million.
Damn!
Yeah, we guess dropping $30k to help out a friend wouldn't hurt a bank of that size! So needless to say, people didn't understand why she had to ask everyone else for donations when she could've entirely paid for it herself.
Related: MGK's Altercation At OC Fair Started Because A Man Called Megan 'Beautiful'?!
Moreover, they were stunned to learn Megan apparently hadn't donated one cent to the cause! This is a friend we're talking about here, and she couldn't cough up the cash? No one would blame Brittney if she was feeling a tad hurt by Megan. But is that how she reacted? What's really going on here?
Explanation time!
Megan clapped back at the critics via Instagram Stories on Thursday to address the accusations she didn't contribute to her pal's GoFundMe. While calling fans "psychos," the 37-year-old actress explained she only shared the fundraiser campaign – and did nothing else – to comply with Brittney's request:
"hey weirdos do any of you have the emotional intelligence to consider that maybe brit doesn't want her celebrity clients donating large sums of money to her because it creates a dynamic in her working Relationships that makes her uncomfortable? so instead she asked me to post the gofund me so that many people could donate small amounts of money to help them reach their goal"
We can imagine it could've been awkward for Brittney to accept that kind of money from a client, regardless of the difficult situation with her dad. She continued:
"I just obliged her request anything she needs from me personally she will ask and i will do it privately. One thing you're not going to accuse me of is being miserly or lacking generosity so try again on another day (probably tmwr!) with some different bulls**t you bunch of psychos"
Oof. Fans who were upset about the GoFundMe controversy definitely won't like the fact that Megan has now called them "weirdos" and "psychos!" But at least Megan has put her side out there!
You can ch-ch-check out her entire post (below):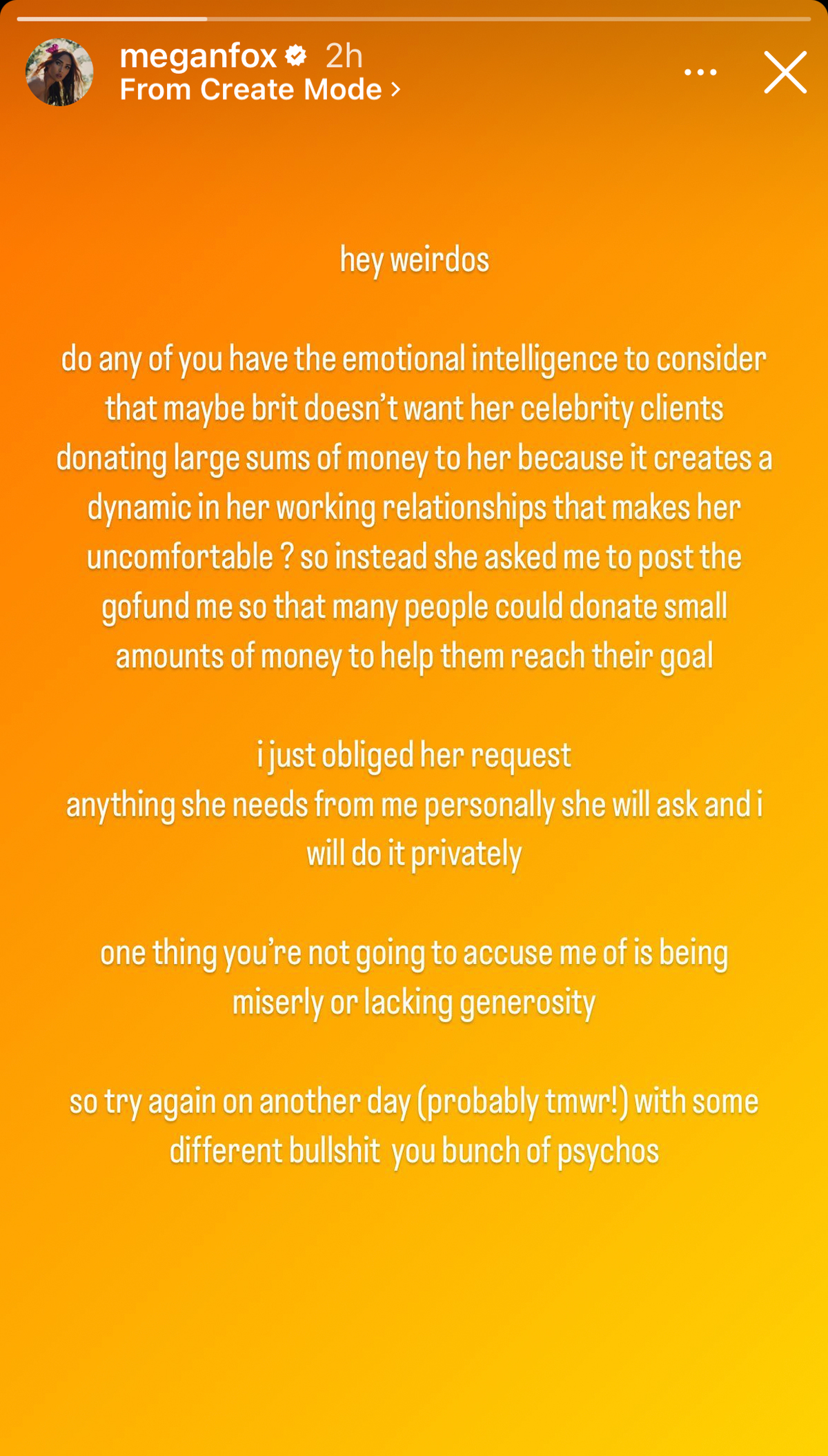 Very Jennifer's Body!
What do YOU think of the drama? Do you think Megan still should have discreetly donated to the campaign despite her friend's request? Or do you feel she did the right thing? Let us know in the comments!
[Image via The Kelly Clarkson Show/YouTube]