Both Kathy Hilton and Bethenny Frankel are weighing in on Kyle Richards' possible (?!?!) separation from longtime husband Mauricio Umansky.
As we've been reporting this week, a shocking insider reveal on Monday claimed the Couple of 27 years had decided to separate. Hours after that report dropped, though, Kyle and Mauricio Relationship-details/">offered the world a straight-up denial of the claims of impending divorce. Instead, they noted they were working through "a rough year" that had been "the most challenging one of our marriage." And on Tuesday, they popped up in family pics celebrating the July 4th holiday as if nothing at all was the matter!
However, considering the original source said the couple were still living under the same roof and keeping everything quiet, we're not sure what to think…
Related: Kyle Reacts STRONGLY To Fan Concerns Over Her Suddenly Slim Figure!
Well, now we have some insight. Two of the women closest to Kyle are coming forward with their takes on the issue.
On Tuesday, Kathy Hilton took to Instagram to apparently react to her sister's possible separation. In a stunning (and potentially shady?!) post that didn't explicitly mention Kyle, Kathy did offered a side-eyed look at the sitch with this quote:
"My mom once told me, 'once you are matured, you will realize that silence is more powerful than proving your point.' And I felt that."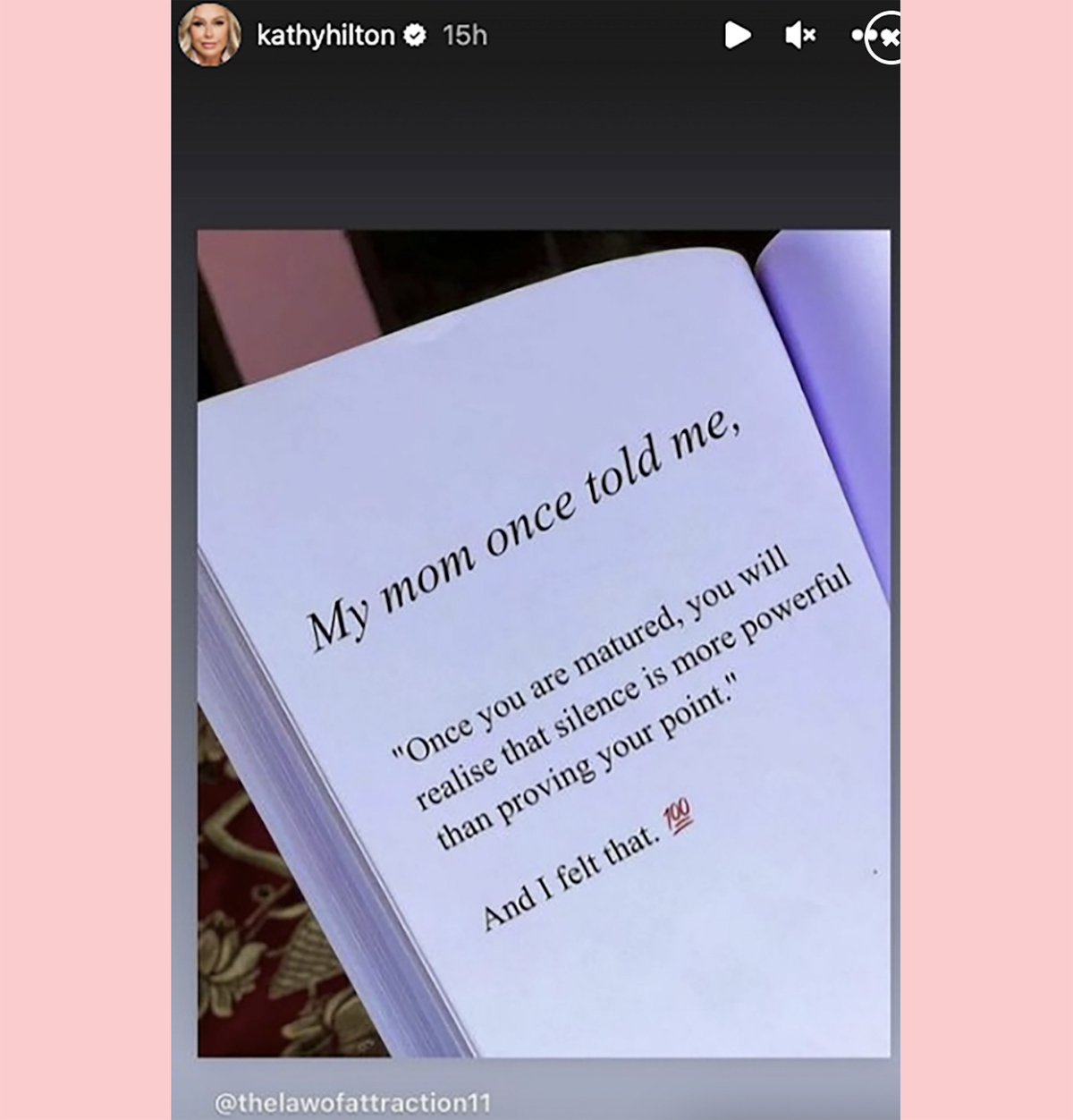 Hmmm…
Of course, Kathy and Kyle were very recently and very publicly at odds with each other after a memorable meltdown on a Real Housewives of Beverly Hills girls' trip to Colorado. Kathy did quietly apologize to Kyle over the spat early last month, but maybe it didn't take??? Or something else is going on?!
Related: Kyle Shows Off Rock-Hard Abs Amid Fans' Flying Ozempic Allegations!
Sisterly questions aside, Bethenny Frankel at least offered up a bit more support in her assessment of the situation.
The Skinnygirl founder and longtime former Real Housewives of New York star took to TikTok to address Kyle and Mauricio's possible split. In a commendable and extremely level-headed commentary from the beach, Frankel first looked back on the couple's history:
"Kyle and Mauricio have been together for three decades. Kyle was in between auditions… and Mauricio was working in the garment industry. That was many lives ago. They have raised four beautiful children. Relationships are hard in any situation, not to mention the entertainment industry, and the jaded town of Beverly Hills. They have had a remarkable relationship, a partnership, a family, they have traveled the world. What an accomplishment to be together for that long regardless of what they decide to do with their lives now."
We suppose that's true. 27 years is a long time even by normal standards, let alone Hollywood marriages! Then, she added:
"But to just break it down to something scandalous is really cheap. I think it's honestly something so admirable, and something to be respected and cherished, that a couple would be together for three decades. So, I'm on team Kyle and Mauricio, together, apart and happy, or whatever they choose to do with their beautiful family. Take it easy."
She's not wrong!
Watch it all for yourself (below):
What do U make of all this separation talk, tho, Perezcious readers?! Tough to separate fact from rumor at this point, isn't it??
Sound OFF with your opinions down in the comments (below)…
[Image via MEGA/FayesVision/WENN]