Barbie was released in theaters on July 21.
The ending of Barbie leaves the possibility for a sequel.
Director Greta Gerwig hopes Barbie launches more 'Barbie movies.'
It's Barbie's world, and we're just living in it. This summer has been all about Barbie, and the highly-anticipated film is sure to be one of the biggest blockbusters of the year. Margot Robbie and Ryan Gosling lead Greta Gerwig's live-action flick about the beloved doll and all her friends. The movie has a razor-sharp script and is deeply feminist. Barbie also brings the laughs (and some tears) in one of the best films of the year.
So, what does this mean for Barbie 2? Is a sequel happening? HollywoodLife has all the latest updates about Barbie 2.
Will There Be A Barbie 2?
As of right now, Barbie 2 has not gotten the green light. Warner Bros. hasn't announced anything official ahead of Barbie's release on July 21. Depending on the box office results, Barbie 2 could be in the works sooner than we think. Barbie made a whopping $22.3 million just in previews, so the probability of a sequel is better than ever.
Director Greta Gerwig told PEOPLE that she hopes Barbie is "the launch of a world and a bunch of different Barbie movies." She continued, "There's a tone and a humor and a joy, and obviously the world is so beautiful. I want to go back to Barbie Land." A sequel is Greta approved!
When asked about the film's ending and the possibility of a Barbie sequel, Greta said "anything's possible" on the Inside Total Film podcast. "I would say today, the main thing I'm focused on is the next 15 days and then I'll see what happens after that… I will say I loved making it so much. It was such a joyful experience. It was so wonderful. It really allowed us to go in all these different directions and I don't think any other movie would have afforded those opportunities. I mean it was almost like I got to live out my dream of making a 1950s sound-stage musical, which I can't imagine anything else would have been."
Mattel CEO Ynon Kreiz is hopeful about more Barbie movies. "We're looking to create movies that become cultural events," he told TIME. "If you can excite filmmakers like Greta and Noah [Baumbach] to embrace the opportunity and have creative freedom, you can have a real impact."
Barbie 2 Cast
A Barbie 2 wouldn't feel right without Margot Robbie, but a sequel could revolve around any of the Barbies. Given what happens to her character by the end of the movie, it would be very interesting how she'd be incorporated into the story. Maybe Barbie would have to go back to Barbie Land for some reason, or more Barbies could come to the real world. There are countless possibilities!
Margot hasn't ruled out Barbie 2, but she's only thinking about the present right now. "It could go a million different directions from this point," she told TIME. "But I think you fall into a bit of a trap if you try and set up a first movie whilst also planning for sequels."
Ryan Gosling shares that he'd work with Greta Gerwig and Margot Robbie on anything including a Ken sequel. #Barbie pic.twitter.com/REX44WOSHN

— Entertainment Tonight (@etnow) July 10, 2023
Ryan Gosling, who played scene-stealer Ken, admitted that he'd be game to return for a sequel. "I would work with Greta and Margot on anything," he told ET. Let's give Ken his redemption era! Or maybe even a love interest that feels the same about him!
How Did Barbie End?
Stereotypical Barbie makes a life-changing decision in the final act of the movie. She decides to take control of her own destiny and ending. She leaves Barbie Land behind to become human and discover her true identity. The film's final moments show Barbie getting dropped off for her first appointment at the gynecologist's office. She goes by the name Barbara, which is inspired by Barbie inventor Ruth Handler's daughter.
Barbie's journey came to this conclusion after she suffered an existential crisis, causing a rip in the space-time continuum between Barbie Land and the real world. Barbie had to go to the real world and find the person playing with her in order to save herself. When Barbie and Ken entered the real world, they realized it was the total opposite of Barbie Land. They were introduced to misogyny and the patriarchy.
Barbie crossed paths with Gloria, the woman who'd been playing with her and having the same thoughts of an identity crisis. While on the run from Mattel, Barbie brought Gloria and her daughter, Sasha, to Barbie Land. Ken had gotten a headstart and brought the patriarchy back with him, upending all the progress the Barbies had achieved.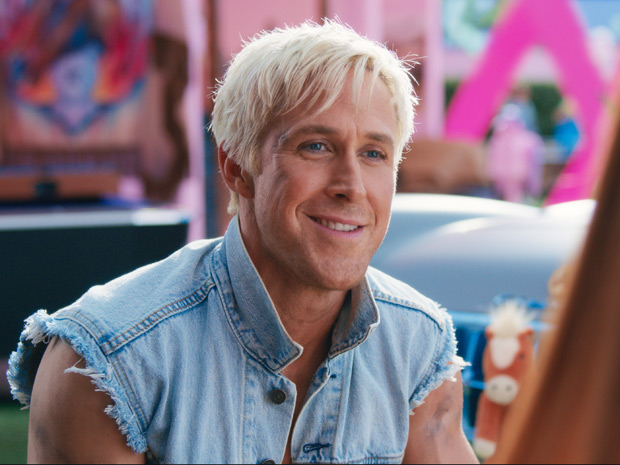 With an incredible monologue, Gloria inspired Barbie to take back Barbie Land. Barbie, Gloria, Sasha, Weird Barbie, Allan, and more worked together to undo the brainwashing done to the other Barbies by the Kens. They turned the Kens against each other while they reclaimed control of Barbie Land.
Once Barbie Land was saved, Barbie and Ken had an honest conversation. Ken felt that he had no identity without Barbie, and she encouraged him to find his own purpose without her. After everything that happened, Barbie still felt uncertain about her own purpose in life. That's when she met with Barbie inventor Ruth Handler. Ruth's words helped Barbie make the decision to become human.
Click to Subscribe to Get Our Free HollywoodLife Daily Newsletter to get the hottest celeb news.