Siblings in families with a narcissistic parent often turn on each other because the parent sets them up to be in competition. It's a way for the parent to maintain control and is a form of triangulation. Collin Gosselin, 19, of the TLC series Jon and Kate Plus 8 was scapegoated by his mother, Kate, and sent to an institution for two years at the age of just 12. He was rescued by his dad, Jon, after Collin snuck a letter to him. Collin only has a Relationship with one of his siblings, Hannah, also 19, who went to live with their dad too.
Collin is now talking about his mom's abuse, which has been confirmed by Hannah, and did a recent interview that was included in the FX documentary Dark Side of the 2000s. That documentary has aired, along with Collin's full statements about his abusive childhood. He said his mom sent him away because he was starting to talk to teachers about the abuse at home. Jon was given no notice about the fact that his son had been institutionalized. Given everything we've seen from Kate over the years, including photos and allegations of physical abuse, I believe Collin. However now Mady, one of Collin's two older siblings, has accused Collin of abuse and racism, I would assume in retaliation to him speaking out. As I said this is typical in toxic families.
Mady Gosselin made a rare statement about the reason for her estrangement from brother Collin Gosselin after he discussed their family dynamic in a new docuseries.

"I never wanted to have to speak up about this in order to allow my brother the ability to live privately after the conclusion of our family's TV show, but I've been overwhelmed by hate messages in the last few days and I feel I must set the record straight," Mady, 22, wrote via her Instagram Story on Wednesday, July 19.

Mady claimed that her ups and downs with Collin, 19, recently hit a turning point, adding, "I do not owe my allegiance to any person(s), who has physically threatened me and every member of my immediate family (some incidents as recent as last year). Further, I will never allow someone who has exhibited hateful and even violent behavior towards others based in their racial identity, gender identity, or religious beliefs to be in my life."

She continued: "Kindness, tolerance, love, and acceptance are core values in my life and I refuse to compromise them for ANYONE, even my brother Collin, who has unfortunately made his opinions very clear in private."

"For me, there is no further conversation to be had about rebuilding Relationships with anyone in my life after reaching the point of physical violence and hate speech. I cannot speak any further on why Collin has done these things, just that I have witness them," she concluded. "I've had hundreds of people messaging my private accounts with the most hurtful words you can imagine in the last few days, all without knowing the full truth of what we've been through. I'm asking for peace and privacy (and no more hate mail) going forward…"

​​In a response to his daughter's comment, Jon Gosselin told PEOPLE, "It took courage for Collin to sit down and speak about his past and the last thing I would have expected was more abuse to come his way from a sibling that hasn't seen or spoken to him since he was in sixth grade."
I don't doubt that Mady blames Collin, who again was just 12 when his mother had him sent away. I'm sure he wasn't a perfect child victim and had issues which were exploited and weaponized by his mom. If you read Collin's account of his childhood, he sounds so gracious and well adjusted at this point. I hope all of these kids can get a lot of therapy and distance from Kate Gosselin. She's an awful person and TLC just enabled her abuse of these children for ratings and cash.
After that Mady issued another statement (below) and I do feel for her. I don't think she should have said anything in the first place but I don't blame her either.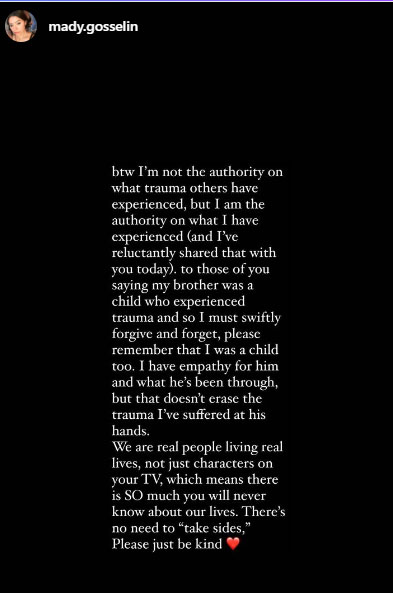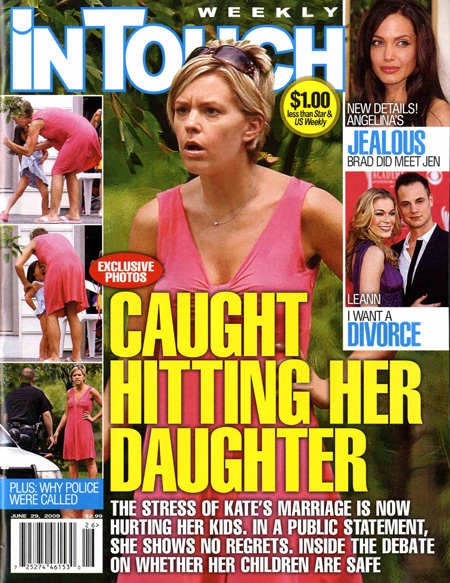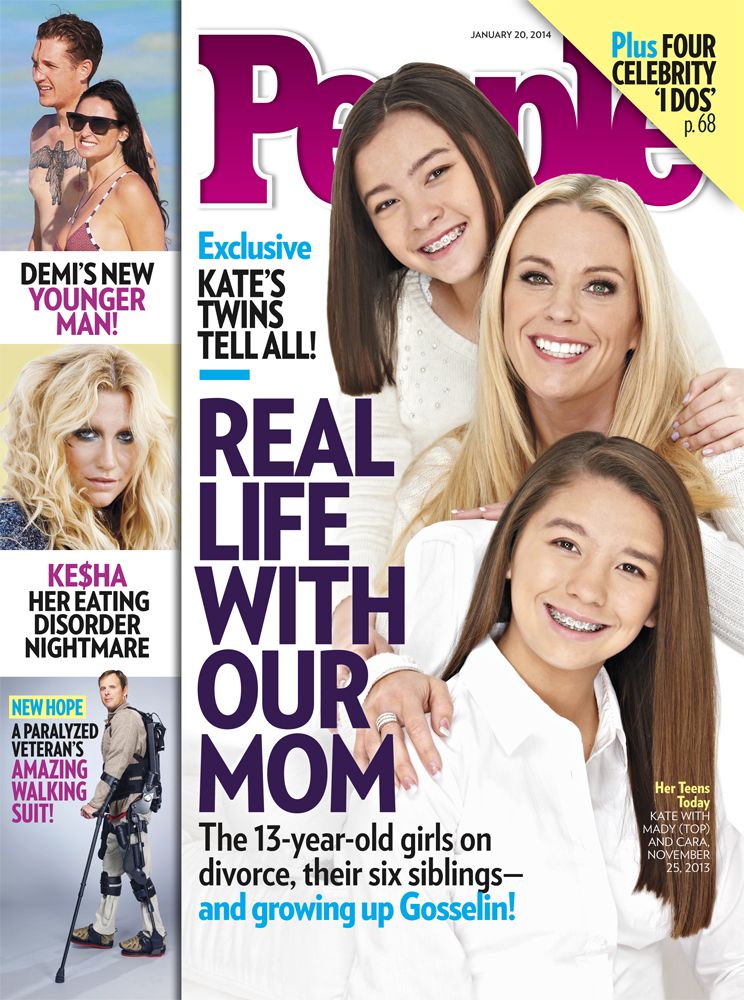 single" href="http://www.gettyimages.com/detail/1155327845″ target="_blank" style="color:#a7a7a7;text-decoration:none;font-weight:normal !important;border:none;display:inline-block;" rel="noopener">Embed from Getty Images