Runway">Project Runway is always a good time, but watching these All Stars compete takes things to another level. The challenges are getting harder to call, both for a winner and a loser. Thankfully, the judging is left up to the professionals; we're just here for the ride! Here's everything that happened in Project Runway Season 20, Episode 7, as the remaining designers were asked to come up with a high fashion creation, showcasing couture undergarments in a "new, cool way."
Bring on the boys!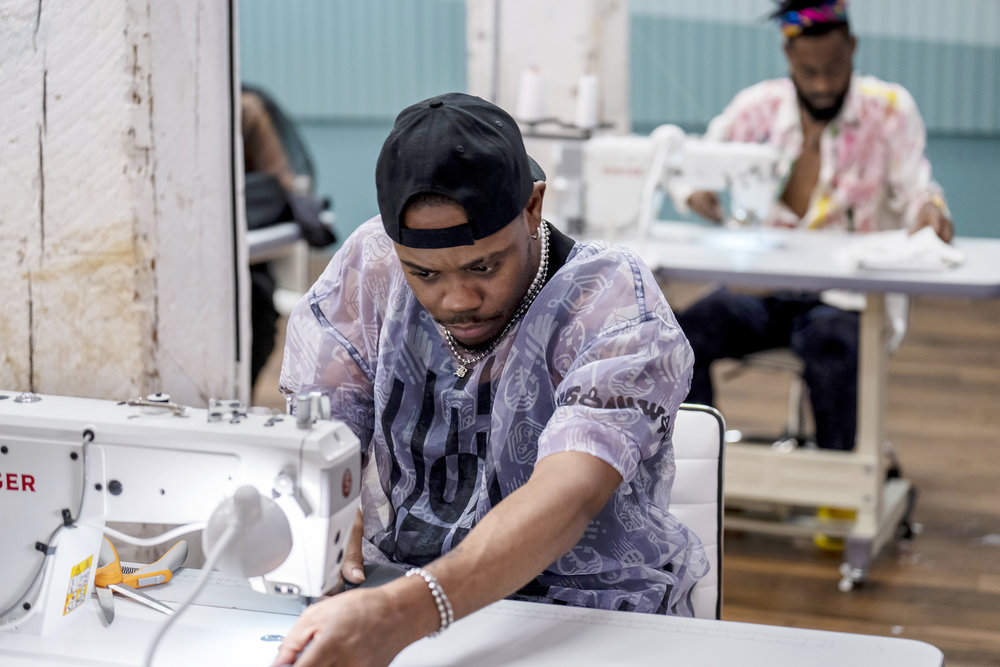 One of the running themes throughout this episode of Project Runway, was the thirst for male models. Christian couldn't have been more excited to introduce men to the workroom, and he wasn't the only one. Laurence noted that it was typically easier to work with a male model, because they don't have the same curves as women. For Anna, this was the first time she would be working with a male model in her entire career.
As the All Stars took just 30 minutes to sketch a design, Prajjé noted that he prefers not wearing undergarments altogether. Anna also said that she would be taking inspiration from her breast infection that she picked up when breastfeeding. Her outfit would incorporate "bleeding nipple cones." Okay, then!
After sketching, each contestant was given $450 to shop for fabrics at MOOD. Laurence earned an extra $100, having won the challenge the week prior. Korto is going for something "classy, but sexy," but it was Bishme's first choice of glittering green fabric that had Christian worried. He called it a "Christmas dress," and I had instant flashbacks to THAT Real Housewives of New Jersey reunion. If you know, you know.
Kara Saun's inspiration for her design came from the Tulsa race massacre in 1921. The attackers burned over 35 square blocks of the neighborhood, simply because it was one of the wealthiest, most successful Black communities in the United States. Paying tribute would be a tall order, but Kara Saun is one of the best designers we've ever seen. She'll undoubtedly do it justice.
Back in the workroom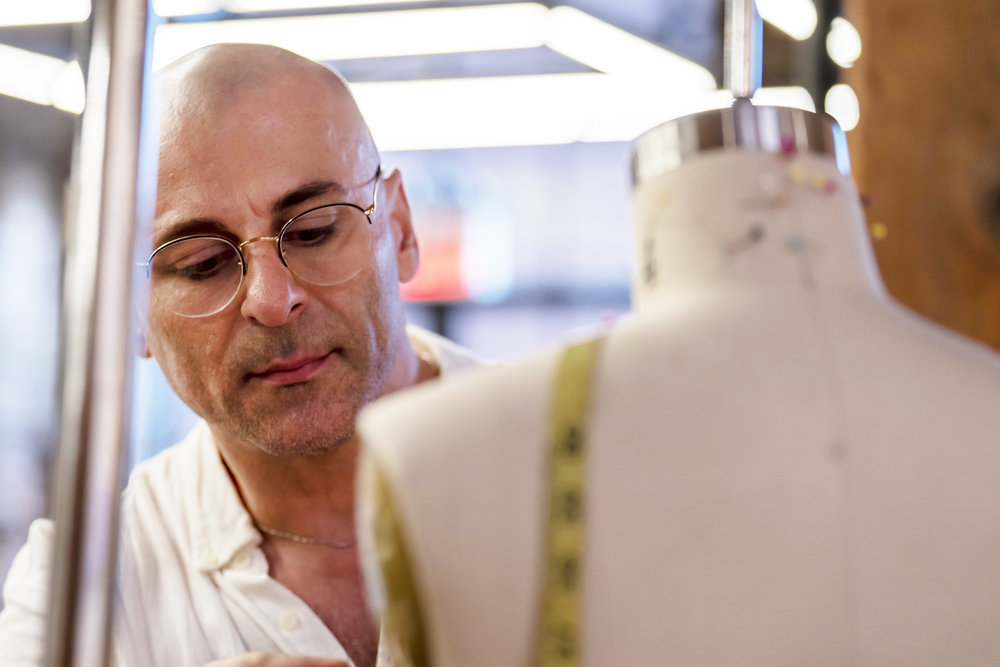 Did I mention that this was a one-day challenge? The designers are spiraling, but hopeful. Fabio is downtrodden after being told he has been playing it too safe. Seeing his choice in fabric, it's clear that's not the same path he'll be going down in this episode. When Christian arrives, he says he likes the idea, but thinks the shape may not be exciting enough. "My mom has that blouse, she wore it last week, she's 75," he quips.
Over with Brittany, Christian likes the "sexy tennis" approach. Rami has chosen some "beautiful" fabric, and Christian loves his idea, calling it "really romantic." He tells his friend that he needs "a moment," and Rami tells production, "I refuse to accept 'dated' as a description of my work." You tell 'em, Rami! It's hard not to root for him.
Christian tells Anna not to go with her bleeding nipple inspiration, describing them as "dangly, weird things." He's also worried that Bishme has nothing for fitting, but Bishme tells him he can "fit in my thoughts." Over at Kara Saun's station, he warns her, "Don't go too costume-y." As for Prajjé? "Good luck, 'cause you have so much to make!"
Model fitting gives Korto second thoughts
As the models arrive, it's all eyes on the men's abs. Everybody needs some water; this is a thirsty group. Christian especially. When he's not distracted, he tells Korto that she has designed a "recipe for torture from Brandon [Maxwell]." Over with Fabio, he tries to assert some more authority over the design, pushing him to change aspects of it. He's unsuccessful, and remarks, "What can you do?"
At the end of the day, Fabio is "annoyed," and "feels defeated." He says it's a "mindf*ck" to believe in something, but to have that same something torn apart by someone else. He's not the only one melting down, as half of the All Stars begin to spiral. With the day coming to a close, the designers say goodnight in the Night Lounge. Fabio is questioning himself, and seems to be contemplating walking from the competition.
Fabio decides to stick around
After some sleep, Fabio finds strength in his family. He's going to see this journey out to the end, whenever that may be.
Everybody returns to the workroom, with four hours to go before the runway. In that time, models have to be fitted, designs have to be completed, and both hair and Makeup needs to be done. It's a tall order, but before the models take to the runway, it's clear that these designs are going to be some of the most memorable in Project Runway Season 20 so far.
Two guest judges arrive for the runway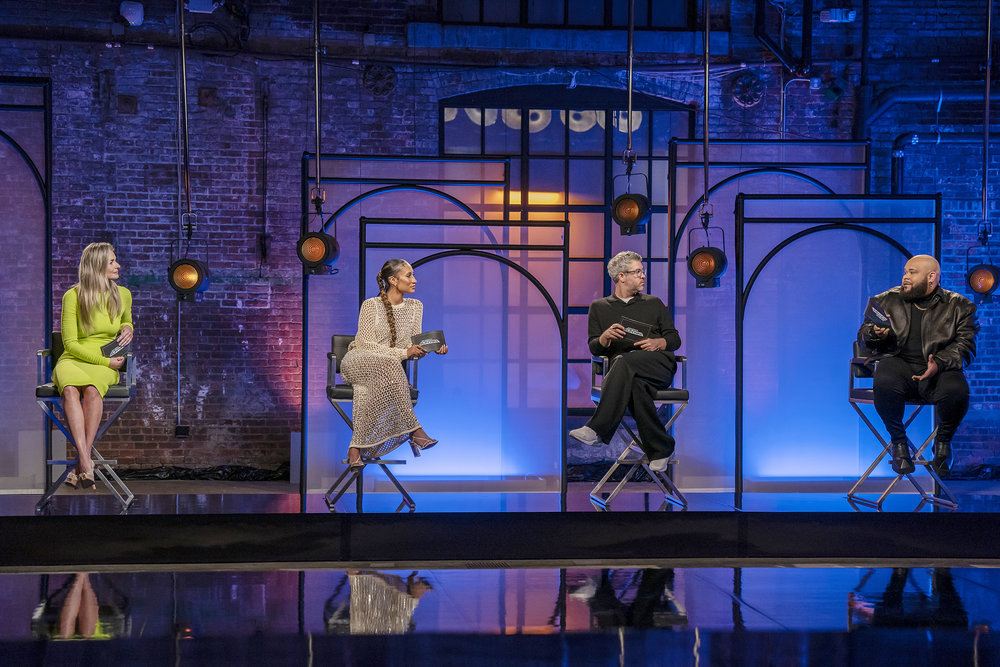 Nina Garcia is nowhere to be found, so designer Sergio Hudson is sitting in her place. He is joined by signature judges Brandon and Elaine, as well as guest judge, supermodel Paulina Porizkova.
Prajjé's look is first out. I love the kilt, but I'm not so hot on the frayed corset. The jacket's awesome, so it's a shame not to see it worn. Korto's next, and the skirt is great, but the bra and its cups are lopsided. Bishme's design knocks it out of the park; a regular occurrence. They just always deliver high fashion, and his model kills it. Sex sells!
Fabio's outfit is certainly more daring. Sadly, it's giving starfish. Kara Saun does the ancestors proud, and the judges can't believe she's done so much in just 12 hours. Then there's Anna's design, without the droopy nipple cones, which is serving avant-garde.
Brittany's color palette is everything. It reminds me of an old American diner. I could see someone like Ariana Madix of Vanderpump Rules wearing this design. Rami's design is unlike anyone else's, and glides across the runway. Definitely his finest look of the season. Finally, Laurence's male model does a lot of heavy lifting. He looks incredible, but where is the outerwear? It's not obvious, and that's a killer in this challenge.
The judges have their say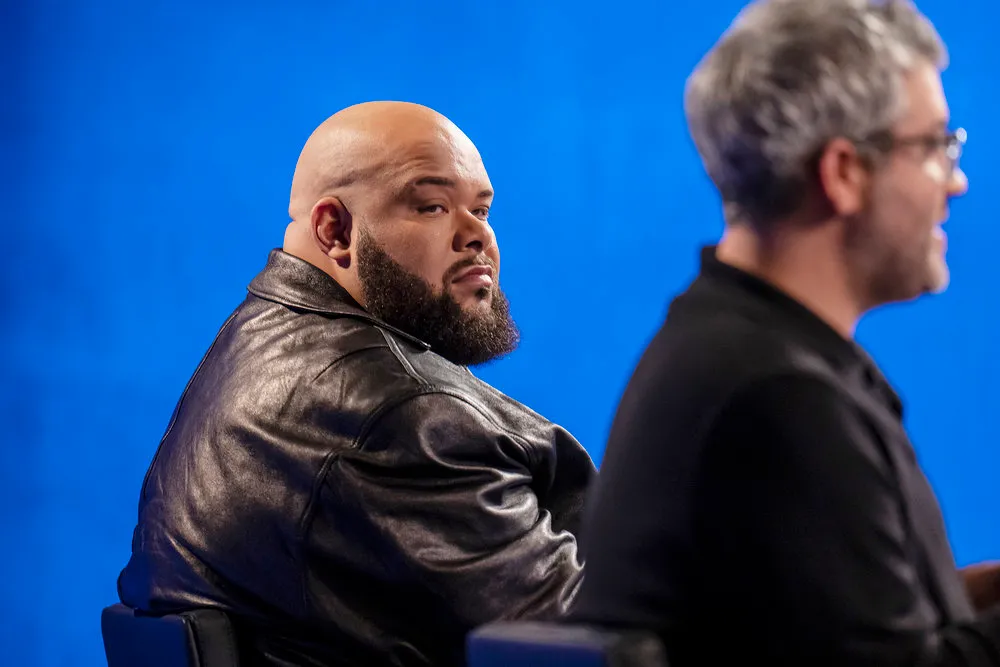 "Nice to see some innovation on the runway," Brandon says to open the judging. Brittany, Bishme, and Anna are all immediately told they're safe. Elaine gives Bishme the note, "Your look might have ended up in the top if it weren't for those shoulders." I think that's a little unfair. If you've got a signature, you want to include it wherever you can.
Rami is in the top for the first time this season. Brandon is "highly impressed by the craftsmanship of the skirt," and Paulina says the design gives a "whisper of lingerie." It's stunning and sexy, without being crude. Prajjé joins him in the best looks of the week. It made a "statement," by having "all the elements of gender," says Paulina. Sergio adds, "This is what happens when styling goes right." Kara Saun rounds out the top, with Elaine noting that this design was "in a league of its own."
On the opposite end of the spectrum, sits Fabio. Paulina quips that his design reminds her of a "shower curtain caught in a fishing net." Sergio would have cut out the stomach piece entirely. Korto is also in the bottom, and Paulina makes another hilarious, yet cutting remark. She says it was like a "really old table napkin stuck across her chest." Finally, there's Laurence. "The undergarment part was sort of like an afterthought," Brandon says.
Who is next to go home on Project Runway Season 20?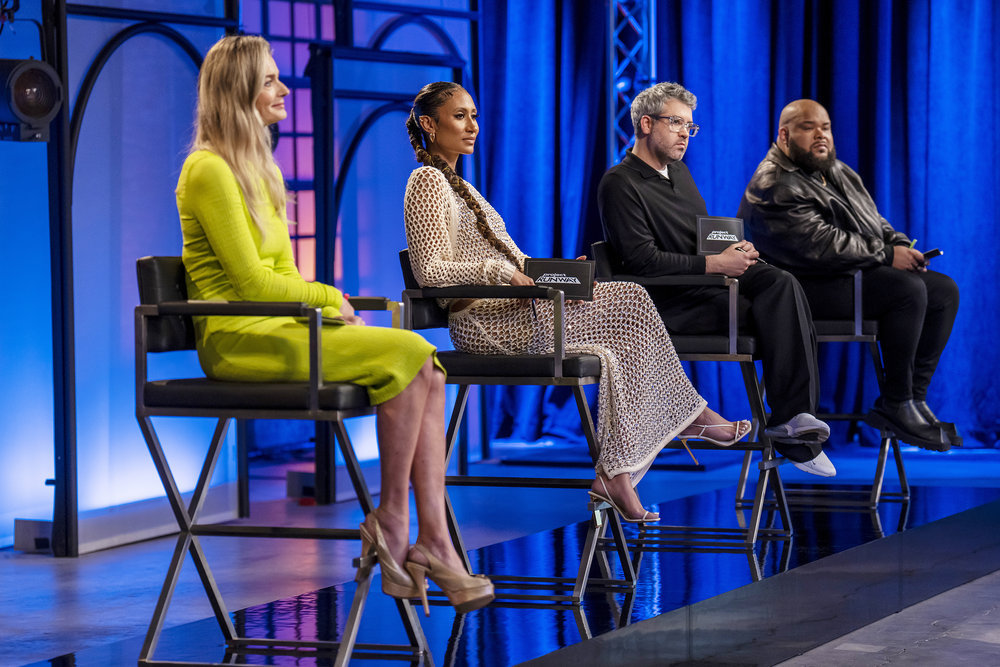 In the end, we said goodbye to Fabio. This came after Kara Saun was announced as the winner. Rami, Prajjé, Korto, and Laurence, all survive to slay another week.
"It's about culture, it's about ancestors, it's everything," Kara Saun says.
Fabio says he "never compromised, and I hope that's inspiring." He will definitely be missed.
Next week: There's a road trip to Christian's new store! Plus, Julia Fox is joining the judging panel…
Project Runway Season 20 continues Thursdays at 9/8c on Bravo.