Tracy Caldwell Dyson is an American chemist and NASA astronaut.
She has spent nearly 189 days in space during her career.
Most recently, Tracy went viral after singing the National Anthem at the NCAA Championship on Apr. 3, 2023.
There are many interesting things about Tracy Dyson, 53, one of them being that she's an astronaut who has spent over 188 days in space during her career. The impressive chemist has many notable accomplishments under her belt, including the fact that she joined NASA in 1998, at just 29 years old. She recently went viral on Twitter after a clip of her singing the U.S. National Anthem was released on Apr. 3, 2023. Amid Tracy's latest singing performance, here are five things to know about her!
1. Tracy Dyson Is An Astronaut
This impressive woman began her career at NASA over 20 years ago and continues to shine as an astronaut today! Just over one year after she joined the organization, she was assigned as a Russian crusader to the Astronaut Office International Space Station Operations branch, according to her official NASA bio. During that experience, she participated in "the testing and integration of Russian hardware and software products developed for the International Space Station (ISS)." A few of the awards and honors she has earned at NASA include: NASA Space Flight Medal, 2007, 2010; NASA Distinguished Service Medal, 2010; NASA Go the Extra Mile (GEM) Award, 2001; and the NASA Superior Accomplishment Award, 2000.
2. She Performed The National Anthem
NASA astronaut Tracy Dyson performs the National Anthem 👏#MarchMadness #NationalChampionship pic.twitter.com/g6eEpAZGz4

— NCAA March Madness (@MarchMadnessMBB) April 4, 2023
Tracy became an internet sensation after she sang the National Anthem on Apr. 3, 2023. The 53-year-old took to the stage at the March Madness NCAA Championship and belted out the song in front of many people. "I bet a dollar she is a better singer than any singer is an astronaut. Not sure that matters, but i said it," one admirer tweeted after watching the performance. In a separate comment, another person came to Tracy's defense as many did not give her a rave review of her singing.
"Matters to me. Proud of her. That had to be terrifying and it's a really hard song regardless of where it's sung. She put her heart in it and I salute her for that and for her service," the person wrote. In a third comment, one Twitter user even compared Tracy's rendition to the time that Fergie sang the same song at the 2018 NBA All-Star game. Finally, another admirer applauded Tracy for her attempt. "I enjoyed it very much! It had passion.. sometimes you just have to enjoy the moment," they wrote.
3. Tracy Went To Space In 2007 & 2010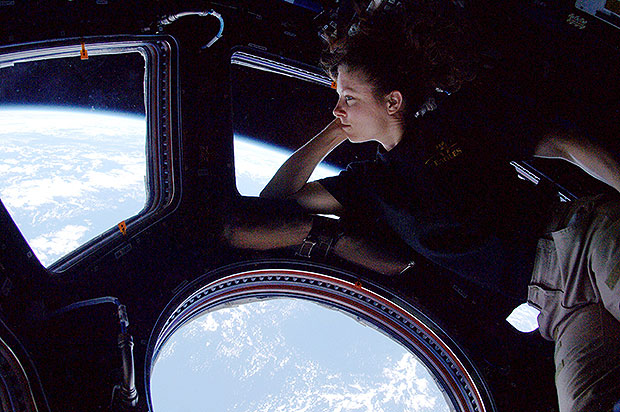 The last time that Tracy headed off into space was over a decade ago in 2010. The official name for that trip was the "Expedition 23/24" which took place from April 2 through September 25, of that year. For that mission, she was on a Soyuz TMA 18 crew capsule, in which she worked a Flight Engineer. She completed a total of three "contingency spacewalks" to replace failed equipment and logged a total of 22 hours and 49 minutes of spacewalk time. For the 2010 mission, she logged 176 days in space.
Three years prior, in 2007, Tracy headed off into space for her first time for STS-118. This took place from Aug. 8, through Aug. 21, of that same year. It is also known as the "119th space shuttle flight, the 22nd flight to the space station, and the 20th flight for Endeavour," per NASA. Tracy performed the tasks a Mission Specialist and assisted in flight deck operations. Impressively, she directed a total of four space walks on this mission and traveled "5.3 million miles in space", which resulted in a trip that only took "12 days, 17 hours, 55 minutes and 34 seconds."
4. She Earned Her Degrees In California
Tracy is a California native, which is also where she earned her Bachelor of Science degree in Chemistry from CSU Fullerton in 1993. After her time in Southern California, Tracy headed up north to earn her Ph.D. in Chemistry from the University of California at Davis in 1997. Some of the accolades she earned during her academic career include: Outstanding Doctoral Student Award in Chemistry from UC Davis, 1997; Patricia Roberts Harris Graduate Fellowship in Chemistry, 1993-1997; Lyle Wallace Award for Service to the Department of Chemistry, CSU Fullerton, 1993; and the National Science Foundation Research Experience for Undergraduates Award, 1992. Tracy also inspired the character of Melissa Lewis in the 2015 movie The Martian, starring Jessica Chastain.
5. She Is Married
Aside from her work as a chemist and astronaut, Tracy often spends time with her husband, George Dyson IV. Her personal bio notes that she enjoys "sports, hiking, and auto repair/maintenance," however, it does not explain whether or not she and George have any children together. During her time at CSUF, Tracy participated on the intercollegiate track and field team, as both a sprinter and long jumper.
Click to Subscribe to Get Our Free HollywoodLife Daily Newsletter to get the hottest celeb news.