The grand opening of Nita Mukesh Ambani Cultural Centre (NMACC) in Mumbai took place last night, and it was a star-studded event with some international celebrities and the who's who of Bollywood in attendance. Gigi Hadid, Nick Jonas, Priyanka Chopra, Salman Khan, Shah Rukh Khan, Alia Bhatt, Ranveer Singh, Deepika Padukone, and many other celebs amped up the Glam at the grand launch event last night. While we got to see the celebs in paparazzi pictures last night, fans have been eagerly waiting to see inside pictures from the event! Now, Deepa Malik has shared some pictures from the glamorous event last night, in which she is seen enjoying a conversation with Deepika, Ranveer and Hema Malini.
Deepa Malik shares pictures with Ranveer Singh and Deepika Padukone from NMACC event
Deepa Malik shared an Instagram post with a series of pictures that show her in a conversation with Ranveer and Deepika. The first picture also features Hema Malini, and she looks beautiful in a pretty pink saree. Deepika Padukone stands on one side of Deepa Malik, while Ranveer and Hema Malini are on the other side. The 4 of them seem to be enjoying a conversation, and Deepika is seen laughing at something, while looking at Ranveer. The next picture shows lovebirds Deepika and Ranveer holding hands as they talk to Deepa Malik. "When three pretty women are taking a dig at @ranveersingh Can you guess what we were saying to him?!" read the caption. Take a look at the pictures below.
Deepa Malik's PIC with Priyanka Chopra and Nick Jonas
Meanwhile, Deepa Malik also shared a picture from the NMACC event in which Priyanka and Nick are seen posing with her. "Powerhouses of talent! Ambassador of India to the world in more ways than one @priyankachopra, always such a pleasure to meet you… and of course our national jiju @nickjonas!" wrote Deepa Malik. Check out the picture below!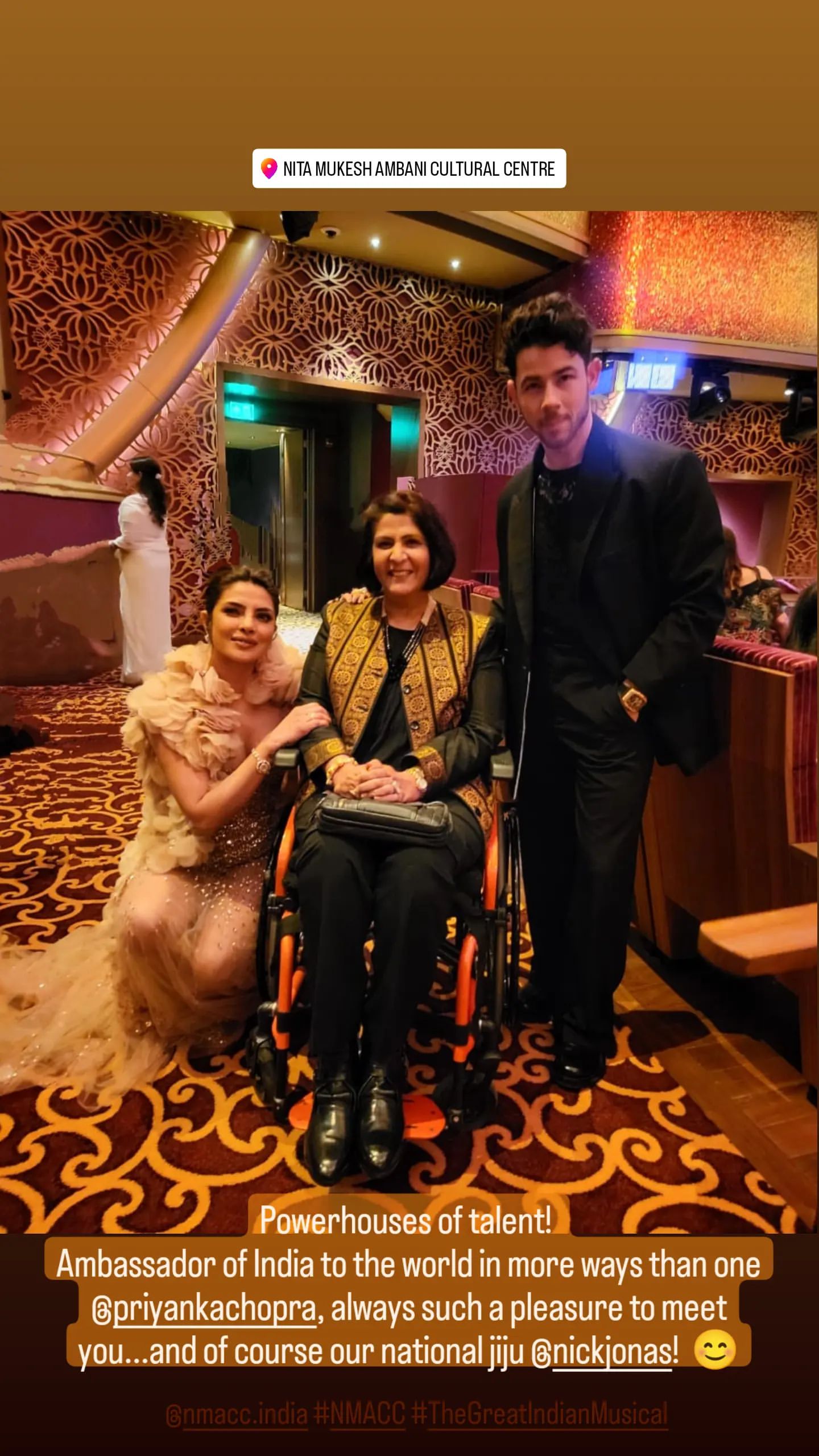 ALSO READ: INSIDE PIC: Shah Rukh Khan, Gauri, Suhana and Aryan Khan's family picture from NMACC opening goes VIRAL