Mady Gosselin is telling her side of the story.
The oldest child of Jon and Kate Gosselin's brood is speaking out following the debut of Vice's Dark Side of the 2000s episode, which features the famous fam front and center. In case you haven't been keeping up, Collin and his sister Hannah, both 19, have in recent years stepped away from their reality star mother to live full time with Jon, who separated from Kate in 2009. In the doc, Hannah alleges that Collin was often "separated" from the rest of the kids, while the teen himself claimed his mother would take her "anger out" on him:
"I know my mother was going through a lot of things. I mean, a divorce, and plenty of different things that can't be easy to go through. And, you know, I want to think that she needed someone to take out her anger and frustration on, and it was just kind of me. I was in the way and I was there. So, she chose me … I'm not going to say I was a perfect child. But I'd say my misbehaving was no different than from my siblings."
Related: Collin Snubs Kate In Grad Post — But Praises Jon's Ex-GF!
They haven't really seen much of one another in recent years, despite the 48-year-old attending his and Hannah's graduation,  where she reportedly iced him out. He even spoke out about a near-fatal car crash last year, and alleged that his mother, nor any of his siblings that live with her, reached out to him.
But now, the eldest of the bunch is speaking out.
Mady took to Instagram Wednesday to share a lengthy Story post, in which she accused Collin of "physical violence and hate speech." She wrote:
"I never wanted to have to speak up about this in order to allow my brother the ability to live privately after the conclusion of our family's TV show, but I've been overwhelmed by hate messages in the last few days and I feel I must set the record straight — I do not owe my allegiance to any person(s), who has physically threatened me and every member of my immediate family (some incidents as recent as last year.)"
What?? This definitely conflicts with what Collin said about not speaking to any of them since 2016…
Related: Jon Had A 'Difficult' Time Hearing Mady Discuss Childhood Harassment On TikTok
Mady continued:
"Further, I will never allow someone who has exhibited hateful and even violent behavior towards others based in their racial identity, gender identity, or religious beliefs to be in my life. Kindness, tolerance, love, and acceptance are core values in my life and I refuse to compromise them for ANYONE, even my brother Collin, who has unfortunately made his opinions very clear in private. For me, there is no further conversation to be had about rebuilding Relationships with anyone in my life after reaching the point of physical violence and hate speech. I cannot speak any further on why Collin has done these things, just that I have witnessed them."
This definitely adds another major wrinkle to the fam's ongoing estrangement…
The 22-year-old concluded:
"I've had hundreds of people messaging my private accounts with the most hurtful words you can imagine in the last few days, all without knowing the full truth of what we've been through. I'm asking for peace and privacy (and no more hate mail) going forward."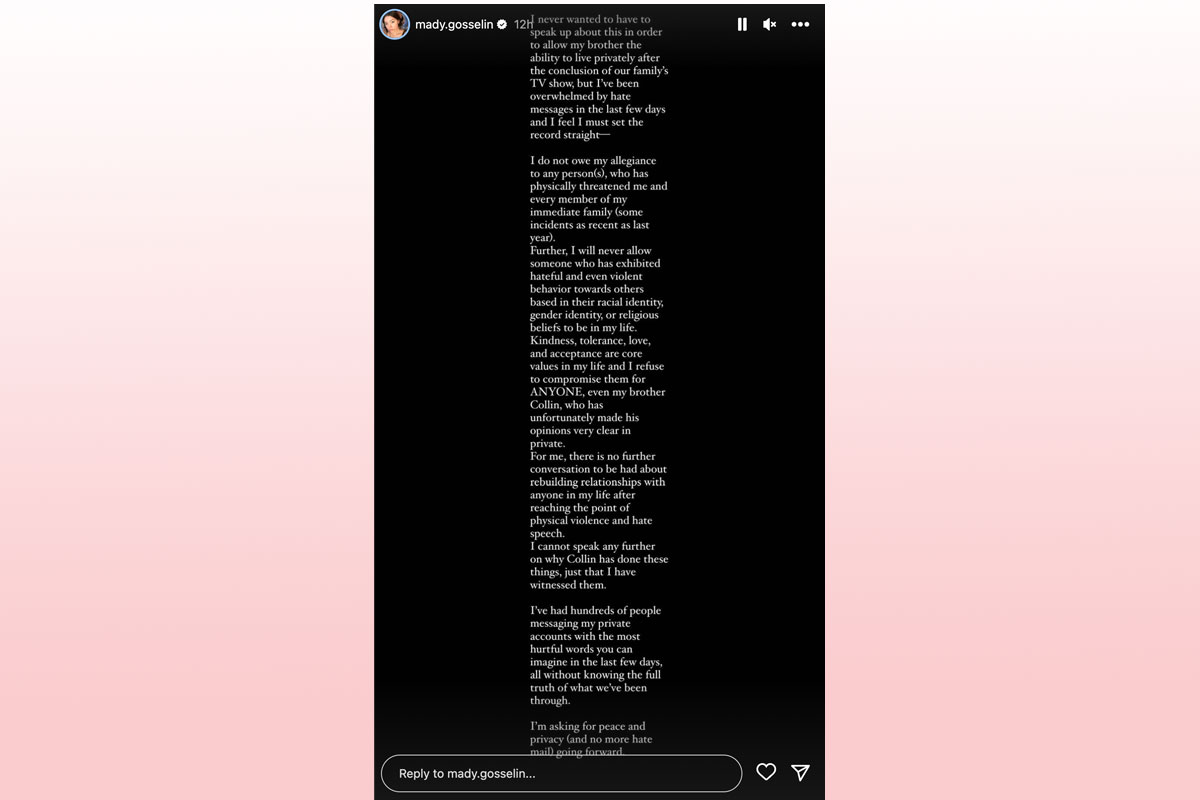 Wow… As of now there's no word on exact instances of the things she's accusing her little brother of, but we'll keep our eyes peeled.
What do you think, Perezcious readers? Let us know in the comments down below.