Larsa Pippen recently revealed she's recovering from a bite mark she received from one of her castmates. 
The Real Housewives of Miami have been at the top of their game following their revival on Peacock. The cast members returned hot, refreshed, and ready to give viewers a show. Alexia Echevarria and Marysol Patton gracing our screens alongside Adriana De Moura and Larsa was the perfect dose of nostalgia we needed to remember the good days. And our newest Housewives, including Dr. Nicole Martin, and Guerdy Abraira, were also the ideal fit for this group. 
All cast members, including friends, have had a hand in some of the show's drama. Some of the most memorable have been when Larsa faces off against Adriana or Nicole. So when we heard that Larsa threw a drink at one of her co-stars, fans immediately thought it was the latter, but we've come to find out it was actually Adriana on the receiving end. 
Since then, Larsa spoke with Entertainment Tonight alongside her partner, Marcus Jordan, and shared that one of her fellow cast members left her something that was definitely NOT a "love bite." 
Who bit Larsa? 
In a new interview, Larsa revealed that she's recovering from a fresh bite mark. She says it was given to her by someone on the show. "I have a bite mark from one of the cast members from a few days ago," she said, smirking. Marcus jokingly added, "Yeah, it's not from me." 
"Maybe it was a love bite," she said. "But one of the girls bit me the other day, so this season is kind of crazy." 
Concerning the drink toss that became the talk of the town, Larsa revealed that it did happen, but it didn't come from the negative space fans initially thought it was.
"I threw a drink … but it wasn't in a mean and malicious way, but drinks were definitely thrown." 
TELL US — WHAT DO YOU THINK ABOUT LARSA SAYING ONE OF HER CO-STARS BIT HER? WHO DO YOU THINK IT WAS?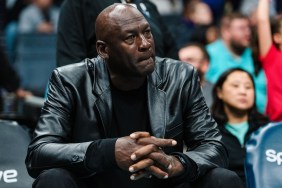 Big Mike might not be feeling Larsa and Marcus.