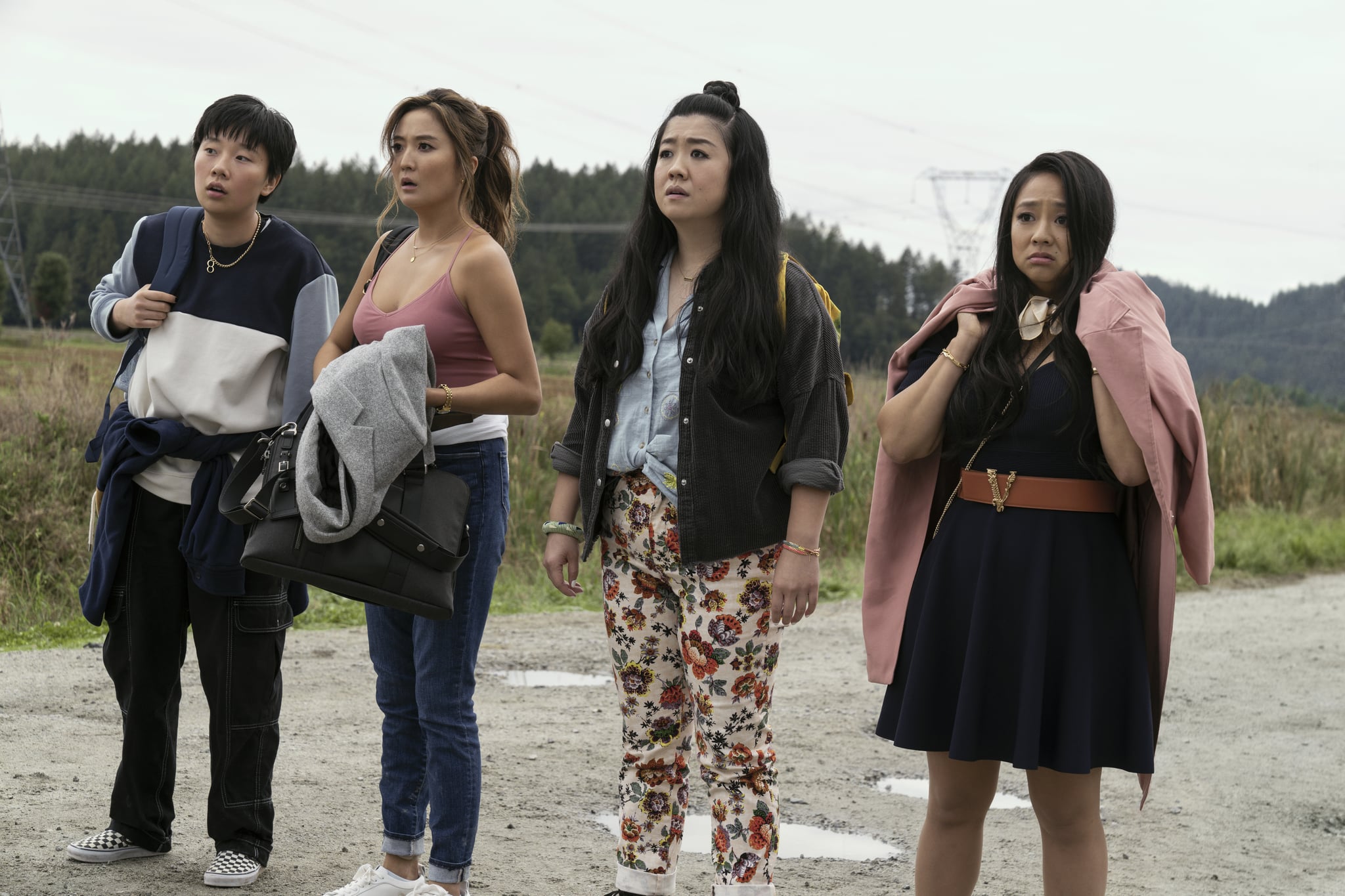 In POPSUGAR's series "In Our Queue," we're reviewing the buzziest new projects with a critical eye on what works — and what doesn't. This week, Victoria Edel is breaking down "Joy Ride."
Can one vacation be a total, life-destroying trainwreck, a drug-fueled party, and also the best thing that ever happened to you — all at the same time? That's pretty much what happens in "Joy Ride," the new friendship comedy starring Dating-49216085″ class="ga-track" data-ga-category="internal click" data-ga-label="https://www.popsugar.com/celebrity/ashley-park-dating-49216085″ data-ga-action="body text link">Ashley Park, Sherry Cola, Oscar nominee Stephanie Hsu, and Sabrina Wu that hits theaters this weekend. In the film, Park's Audrey — a Chinese-American lawyer with white adoptive parents — heads to China on a business trip with her wild best friend Lola (Cola) in tow. But Lola intends to turn this trip into something much bigger for both of them, and she brings her cousin Deadeye (Wu) along for the ride. When they meet up with Audrey's seemingly perfect college roommate Kat (Hsu) — now a famous, super-Christian Chinese actor — they have all the ingredients they need for their bizarre journey and this very funny, very weird film.
It feels unfair to compare "Joy Ride" to "Bridesmaids" or "The Hangover," but that's very much the genre it's in: gross-out, friendship comedies. "Joy Ride" probably has more DNA from the latter film, since it exists in that heightened type of world where things can quickly spiral out of control and celebrities and normies can easily interact in unexpected ways. But "The Hangover" doesn't have half the heart "Joy Ride" does, which did improbably make me cry in the theater. "Joy Ride" isn't afraid of emotion, connection, probing deep feelings, exploring themes of belonging, family, and finding one's home. Park's unexpected journey to find her birth mom and the way her friends support her in it gives the film a beating core at its center; it just puts some extra jokes on top to make up for every tear you might shed.
One of the best parts of "Joy Ride" is seeing sexuality portrayed on screen in all its messy glory. There is a sexual encounter portrayed in this movie that I don't think I've ever seen in a mainstream movie before — and while there are jokes around the act, the thing itself is portrayed as very sexy and fun. In a time where Hollywood movies have less sex than ever, "Joy Ride" lets its stars get freaky in a way that feels refreshing while still being very silly.
When "Joy Ride"'s plot does start to lack credulity (the friends' luggage seems to disappear and reappear between scenes, and perhaps I'm too Type-A to not stress over passport shenanigans), it's the performances from the quartet that are able to lift it back up and keep the engine going. Park in particular is able to balance moving emotional notes with over-the-top comedy in a way that seems effortless, but if she was any less adept at it, "Joy Ride" would be a much worse film.
Anchored by such a nimble and nuanced performance from Park, "Joy Ride" is able to soar even when a joke isn't exactly perfect. Though the third act feels a little rushed (the movie is a compact 90 minutes, but it feels like they could have added a few more), the movie ultimately wraps up this friendship story with joy and affection.
"Joy Ride" is in theaters now.