Mom-to-be, Ileana D'Cruz is gearing up to bring her little bundle of joy in this beautiful world! Back in April, the gorgeous actor took her fans and followers by surprise when she revealed on her Instagram handle that she is expecting her first child. Ileana, who earlier remained tight-lipped about the father of her first child and tried keeping things under wraps from the public eye, is gradually dropping hints about her romantic partner. 
After keeping the identity of her man, a well-guarded secret for months, the Barfi actor finally revealed the face of her mystery man and dropped a string of mushy photos with her partner on Instagram stories. While captioning the series of loved up selfies of her with her 'mystery man', D'cruz wrote, 'Date Night' with a red heart emoji. On Thursday, Ileana took to her Threads and cutely revealed how being a preggo she struggles climbing up on the bed and how her partner helps her. 
Ileana D'cruz is a 'roly poly ball'!
The actor is embracing and enjoying her journey into motherhood to the fullest, and her recent Instagram posts are proof. BUT! With pregnancy comes discomfort too. And Ileana could possibly be facing some. In one of her Instagram threads she cutely revealed how she finds it difficult to climb on bed and how her partner helps her in the process. "Me thinking I'd be a graceful pregnant momma-to-be. Reality is I'm a roly poly ball and my man has to give me a push to help me climb into bed", Ileana wrote on threads with a pregnant woman and face palm emoji. Take a look at Ileana's post, it will surely melt your heart!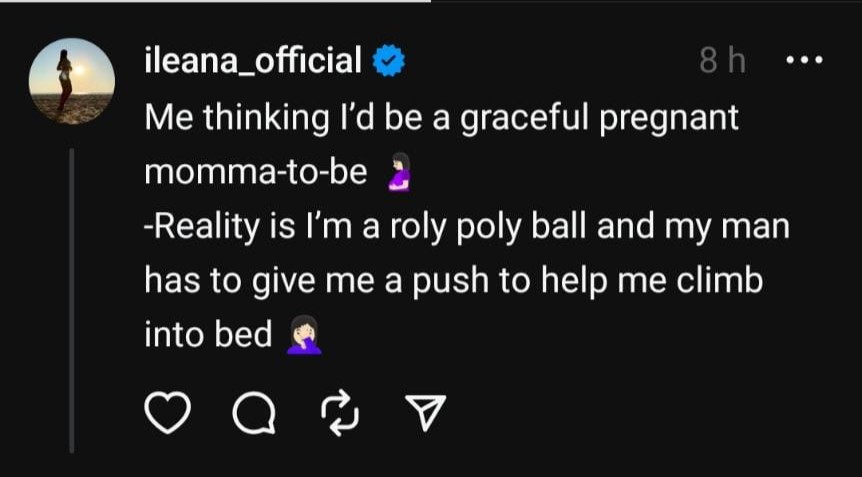 Ileana D'cruz calls her Mystery Man her 'rock'
While we are very sure that Ileana will make a magnificent momma, the actor who calls herself a 'roly poly ball', in one of her recent Instagram posts revealed how sometimes she feels down and 'hopeless'. Alongside the blurry monochrome image of her along with her partner, the actor wrote a long, heart-felt note expressing how her partner takes care of her on the days when she isn't kind to herself. Here's an excerpt from Ileana's emotional note, "…And on the days I forget be kind to myself, this lovely man has been my rock. He's held me when he feels me starting to crack. And wipes the tears away. And cracks goofy jokes to make me smile. Or just offers a hug when he knows that's exactly what I need in that moment. And everything doesn't seem so hard anymore."
Ileana announced her pregnancy in April
Ileana D'Cruz kicked up a massive storm on social media when she announced her pregnancy on social media. Back in April, while hinting at her pregnancy, the diva posted two photos on Instagram featuring a baby romper with the slogan 'And so the adventure begins' and the second of a pendant, which said 'Mama'. In her caption, Ileana had written, "Coming soon. Can't wait to meet you my little darling."
Since then, Ileana has been documenting her pregnancy on Instagram. She has shared quite a few photos of her baby bump in the last few weeks.
Work front
Ileana was last seen in Badshah's popular track, Sab Gazab and she announced her pregnancy days after the release of the song. As far as films are concerned, Ileana was last seen in The Big Bull with Abhishek Bachchan. The actor has Unfair And Lovely in her kitty. 
ALSO READ: Date-night-1230518″ onclick="triggerCommentfollowAlsoClick('article_also_read_click', 'Ileana D\'Cruz thought she\'d be \'graceful momma-to-be\' but reveals she can\'t do THIS without boyfriend\'s help', 1231079,'https://www.pinkvilla.com/entertainment/news/mom-to-be-ileana-dcruz-finally-reveals-her-mystery-man-shares-pics-from-romantic-date-night-1230518′ , 'articlepage', '/entertainment/news/ileana-dcruz-thought-shed-be-graceful-momma-to-be-but-reveals-she-cant-do-this-without-boyfriends-help-1231079′,'Content Also read', 'entertainment', 'news' );">Mom-to-be Ileana D'Cruz finally REVEALS her mystery man; shares pics from romantic date night