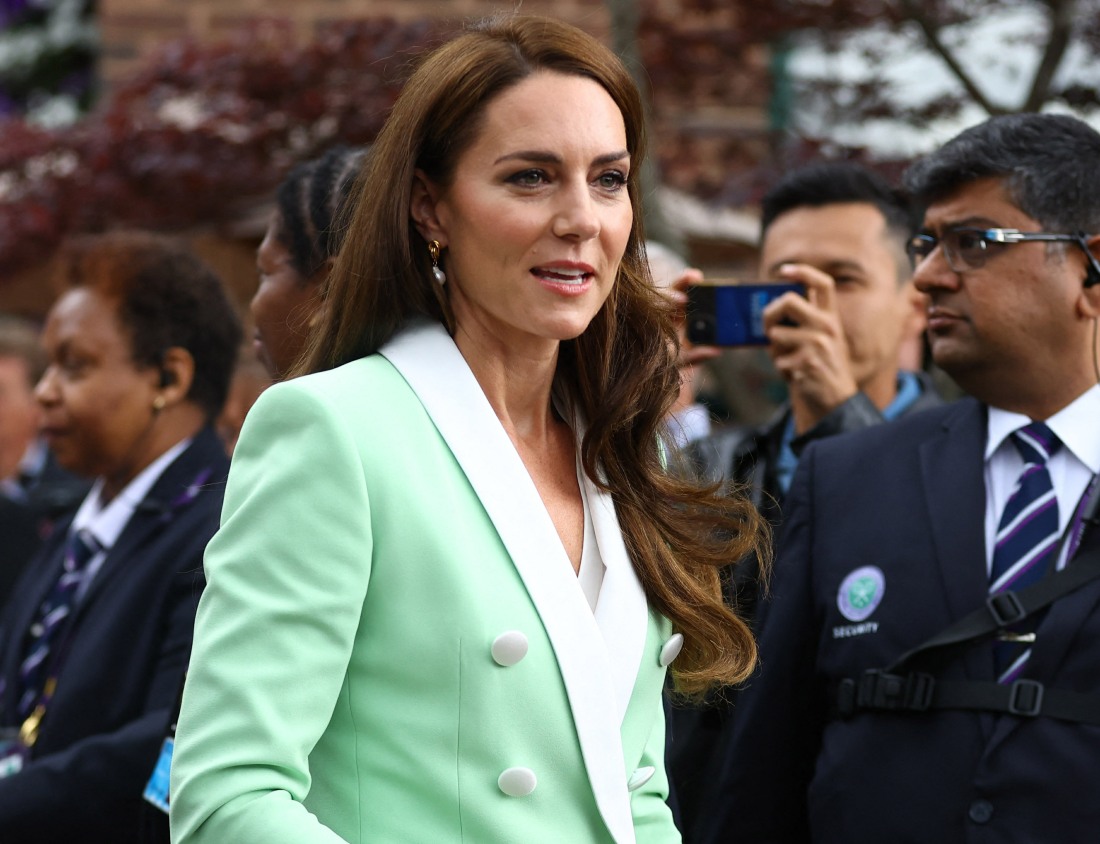 This year's Wimbledon has been pretty exciting. The tennis has been great, especially on the women's side. Ukrainian Elina Svitolina returned from maternity leave and went on a tear, picking up a title on clay, making the French Open quarterfinals and the Wimbledon semifinals, defeating the WTA #1 along the way. Ons Jabeur, a Tunisian, ran through the #2 and #3 players back-to-back – she defeated Russian-born Elena Rybakina (the reigning Wimbledon champion) in the QFs and Belarusian Aryna Sabalenka in a barn-burner semifinal. The women's finalists are Marketa Vondrousova (a tricky Czech lefty) vs. Ons Jabeur.
So, THAT is the story – the tennis itself, the amazing performances of several women who raised their levels, battled through and played lights-out. That's not how the British media has framed any of these stories though – they've made it all about the players' nationalities and whether or not the Princess of Wales would be "embarrassed" to hand the trophy or plate to a Russian or Belarusian player. As I've said before, Kensington Palace should have shut down this story a long time ago. Instead, the royal patron of the Championships has avoided Wimbledon throughout the fortnight (except for her appearance alongside Roger Federer) and allowed the narrative to be solely framed as "Kate is much too delicate and precious to be around certain nationalities!" From the Mail:
The Princess of Wales has been saved from having to present a Wimbledon trophy to a Belarusian player linked to a key supporter of the war in Ukraine. Aryna Sabalenka, 25, who has been photographed hugging Russian president Vladimir Putin's closest ally Alexander Lukashenko, was knocked out of the tournament yesterday. But there was also heartbreak for Ukrainian wildcard Elina Svitolina, 28, as her fairytale run ended in a straight set loss.

Their defeats ended the prospect of the ladies' final tomorrow seeing a Ukrainian face a Belarusian in what would have been a highly-charged match.

All eyes are now on Spanish hunk Carlos Alcaraz today as he takes on Daniil Medvedev, the last Russian standing at Wimbledon, for a place in the men's final. Alcaraz, a 20-year-old prodigy, is favourite to take down the 6ft 6in world number three and prevent Kate having to be photographed with an athlete from an aggressor nation.

The princess presents the winners' trophies, and having to hand one to a Belarusian or Russian would prove a diplomatic embarrassment for Britain.
Deep sigh – "having to hand one to a Belarusian or Russian would prove a diplomatic embarrassment for Britain." She literally handed the Venus Rosewater Dish to a Russian last year, you fools. Granted, I'm not minimizing the charged political atmosphere of a potential final between a Ukrainian and a Belarusian. But it didn't happen, and it's bizarre to see the situation framed as "thank god, Kate doesn't have to stand next to Aryna Sabalenka!"
Anyway, good luck to Ons Jabeur and good luck to Daniil Medvedev. I absolutely want a Russian player in the men's final.
Understatement: the @wimbledon organizers are not eager for the optics of Princess of Wales presenting the trophy to a player from Belarus. (Nor of a Ukrainian and Belarusian playing a final and declining to pose together before the prematch coin toss, etc.) #Wimbledon

— Jon Wertheim (@jon_wertheim) July 12, 2023
single" href="http://www.gettyimages.com/detail/1407760691″ target="_blank" style="color:#a7a7a7;text-decoration:none;font-weight:normal !important;border:none;display:inline-block;" rel="noopener">Embed from Getty Images
Photos courtesy of Getty, Cover Images, Avalon Red.