Below Deck Down Under is finally back for its second season. With a new home on Bravo, comes a whole new boat, and new location. Captain Jason is taking charge of the Northern Sun, a former Japanese fishing vessel, and anchoring at the Cairns Marlin Marina in Australia. It's a stunning location. He's not the only familiar face to return, with Aesha Scott also making a comeback as chief stew.
As the episode gets underway, we're introduced to most of the rest of the crew. Unfortunately, the third stew can't make it to the boat right away, and the final deckhand had their Australian visa denied. Still, there's bosun Luke Jones, joined by deckies Harry Van Vliet, and Adam Lukasiewicz. Aesha has Laura Bileskaine as her second stew, and chef Tzarina Mace-Ralph completes the group, for now. Here's everything that happened on the Below Deck Down Under Season 2 premiere…
Preparing an old-fashioned vessel for a new season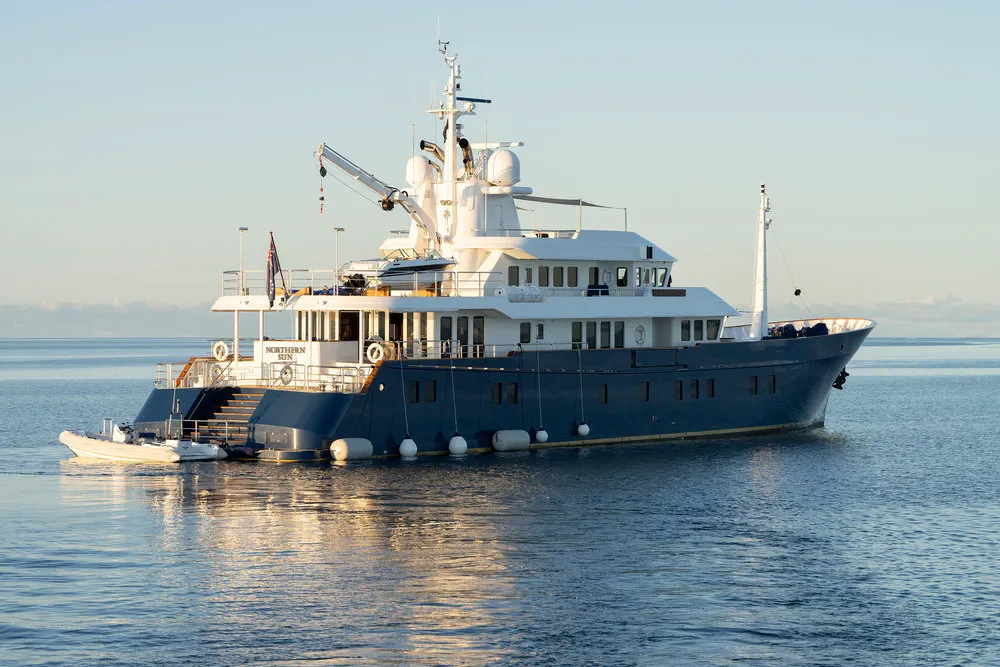 Captain Jason comes into the new charter season with a few nerves. It's strange to see the man in charge admit that this time round will be a "challenge," but very refreshing. Being open and honest about the road – or ocean – ahead, is admirable. He describes the Northern Sun as being "like a vintage car;" it's beautiful, but tough to drive in a modern world. When footage plays of his 2019
Aesha promises she is going to be a "tough" leader this year. She's not going to let any of the stews walk all over her, which is good to hear. She has a heart of gold, but can be a fantastic chief stew if she puts her foot down, and stops the backchat from her subordinates. "I've been gifted with what seems like a really strong second," Aesha says of Laura. Let's hope she still thinks the same a few charters into the season.
Tzarina is struggling with the size of the galley. Looks can be deceiving, as it appears huge on-camera. As she looks at the actual space for preparing dishes, it becomes clear that it's not the best workspace for a chef on a superyacht. This is going to be a challenging season, and to top it all off, Tzarina's suitcase was lost on her way to Australia. She's not even got her trusty chef knives.
Self-described "massive flirt" Luke thinks that it "creates crew moral" to give everybody some loving. He's not wrong, so long as you don't cross any lines. Shoutout to Below Deck Sailing Yacht's lothario, Gary King, who knows exactly how to go too far, but keep his job.
Overall, this feels like a team who can work together and become one of the most-loved crews in Below Deck history. Of course, this is just the opening episode of the season. Things can change VERY quickly…
Preference sheet meeting!
It's time for the heads of department to sit down for their first preference sheet meeting of the season. The primary guest this charter is Carmen Felder. She's the CEO of her own PR firm, and is bringing her best friend Brandon on board, along with a group of others. Kristyl doesn't drink, so is expecting plenty of mocktails to flow. As for their demands outside of food, they want to go sea helmet diving, and enjoy a Moulin Rouge-themed party on their second night. Seems simple enough! If only…
As charter day arrives, we learn a little more about Laura. She's from Latvia, but felt the country was "too small" for her "big personality." She then warns in confessional that she can be the "opposite" of the sweet girl everybody assumes her to be. Gulp! We've heard this song before.
There's a sweet moment when Captain Jason asks Aesha to help him putting in some new contacts – the level of trust these two have is reminiscent of Captain Lee and Kate Chastain's days together on the original show – and Jason even gets involved in helping iron the whites. He's the best; a real team player, while maintaining his authority among his crew. Aesha manages to split her skirt right before the guests arrive, and delivers an early contender for line of the season: "The guests can't see my labia!"
Something in the air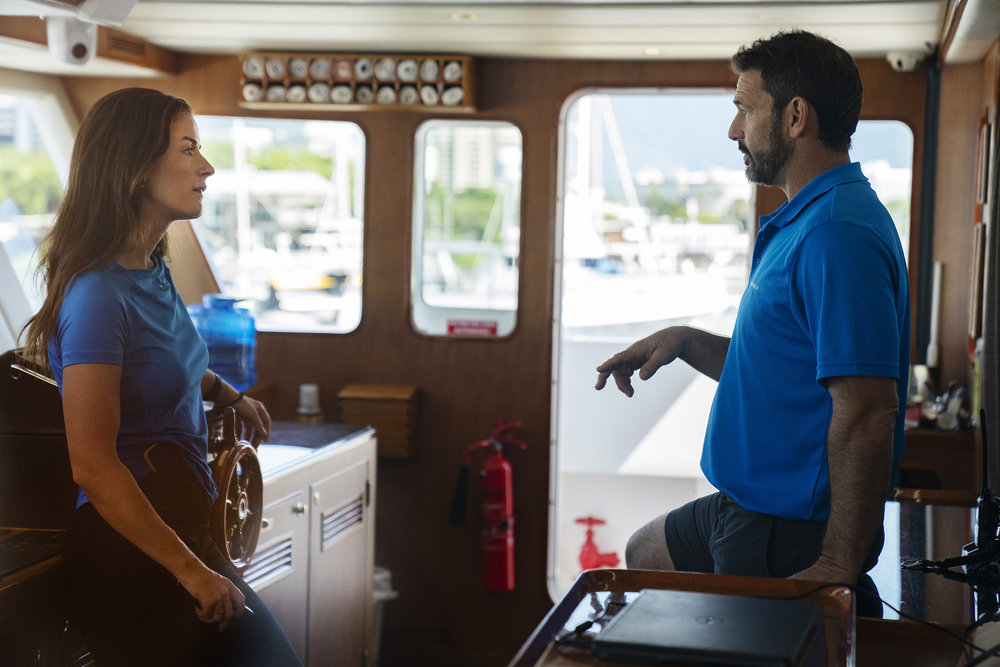 As the guests arrive, it quickly becomes clear that they're going to cause some trouble. Kristyl immediately gives up being sober, and claps at the interior to fetch her some alcohol. The guests then have a light back-and-forth over room arrangements, but it's Tzarina to the rescue when she distracts them with one of the most stunning charcuterie boards I've ever seen.
Tension's not only in the air for the guests, but for the crew, when the deckies help Captain Jason off the dock. There's a moment where you think the side of the Northern Sun is going to collide with the dock itself, but everybody pulls through. The difference in this boat, Captain explains, is that it only has one propeller. That means instead of trying to move forward, it is always trying to move right. One wrong move, and disaster could strike. Not good when deckhand Adam is scared of water and can't swim! He admits he slipped his swim coach a $20 to pass him on the swimming part of his course. Hopefully, this was just a joke, or he may see his entire license revoked.
Laura makes her first mistake of the season when she takes 20 minutes changing from her whites, into her blues. Aesha immediately pulls her up on it when she eventually emerges, but Laura gives a bit of attitude in confessional: "If it takes time, it just takes time." That's not gonna cut it on a superyacht; especially when the interior is a crewmember down!
Anchor down at Green Island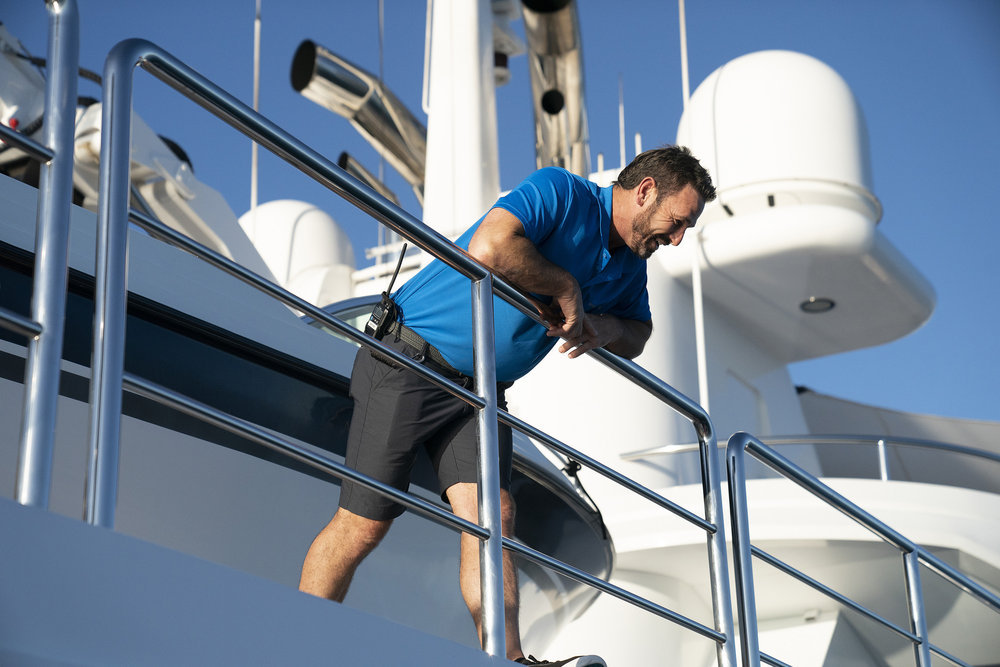 While the weather isn't great, the location is a beautiful one. Green Island is the perfect spot for some sea helmet diving. The rain may have put the guests in a bad mood, as Kristyl snaps at Carmen over lunch. She calls her "petty" for subtly pointing out Kristyl had some food on her lip. It's a really odd exchange, fueled by alcohol. Kristyl should be happy Carmen invited her on this trip; I wouldn't be surprised if she's kicked off of it before the charter is over. "We just got on the boat five minutes ago," Brandon fumes. "This is not okay … this sh*t is bullsh*t." Quite.
As the guests cool down, and then head off in a tender for their diving experience, Captain Jason receives a text from his third stew. She'll be arriving on day two of the first charter, in the morning. He's having less luck with finding a replacement for his other deckhand. Let's hope the rumors of a familiar face returning to the franchise are true; it would be nice to see another friendly arrival!
The sea helmet diving is a roaring success. Luke gets to take part, and laps up the experience. As the guests return to the yacht, Tzarina does her best to prepare a "seafood extravaganza." While she admits that she has "quit three times in my head today," she pulls it off, with a little help from Captain Jason. The food looks incredible, and everybody's impressed. Everybody except Kristyl, that is, who remains asleep in her cabin.
Captain Jason thinks the first charter day has been a great one, especially for Luke. He's "taking ownership of the deck," and "has the ability to be a strong leader." He then asks Luke to make sure one of the deckhands stays up with the interior until everybody is in bed, just for this charter, as they are still an interior member down. More on that shortly…
The energy is all over the place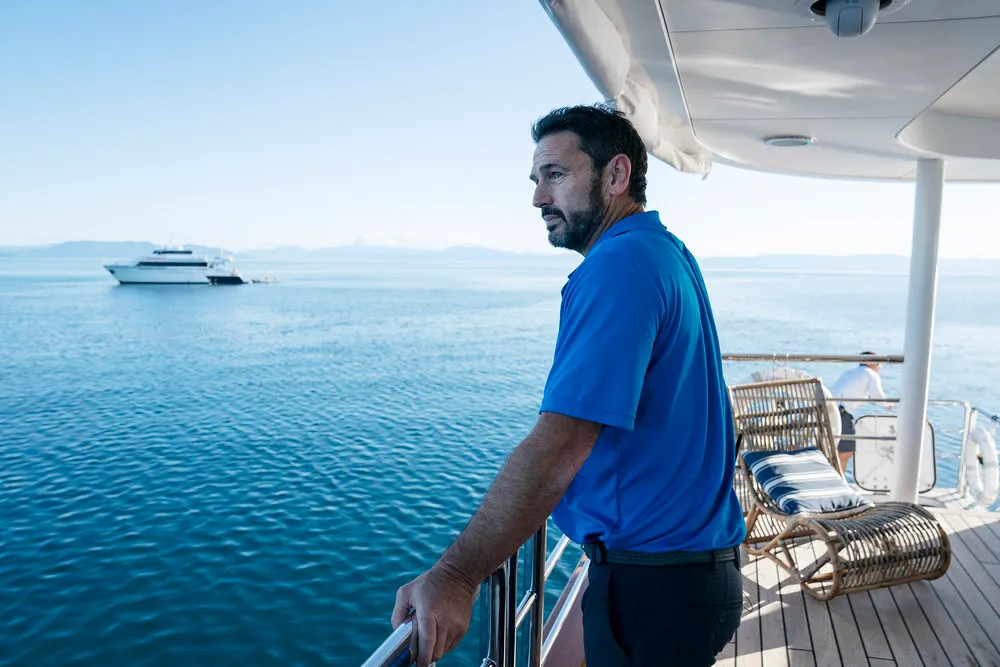 Brandon is being loud and obnoxious. He even admits it later on when asking Aesha for yet another drink. "I love Brandon to death, but he's a f*cking trainwreck," says one of the guests. It's hard not to agree at this point. We've seen guests like him before on Below Deck, but never usually this early on in a charter season. Everybody but Brandon goes to bed, and Laura tells Aesha that she should go and sleep as she'll be up early. She promises she can deal with Brandon – and to be fair, she does a great job.
Unfortunately, when Kristyl wakes back up and suggests a spot of late-night swimming, it proves to be too alluring to resist. Despite asking for Laura's permission, and being told it is a "hard no," the two take it upon themselves to dive into the ocean anyway. Laura puts on her stern face, and tells them she now has no choice but to take it to Captain Jason.
Waking him up, he's disappointed that nobody from the deck crew is around to help. He even radios Luke, but receives no reply, as he's sleeping soundly in his own cabin. Captain Jason explains to the guests that it's very dangerous to be out at this time of night, because of strong currents, reef sharks, and box jellyfish. "If you go back in the water, we're going back to the marina," he says, calmly but with authority.
"On my vacation, I'm the captain of the ship. You'll learn tomorrow," Kristyl responds. This one has no boundaries when it comes to attitude … but Captain Jason has already had enough. He says that the charter will end tomorrow as he is taking them back to the marina. "No, no, no, b*tch, f*ck off," says Brandon. And we get that message that Bravo viewers love to hate: TO BE CONTINUED.
Below Deck Down Under continues Mondays at 8/7c on Bravo.
TELL US – WHAT DID YOU THINK OF THE FIRST EPISODE OF BELOW DECK DOWN UNDER SEASON 2? ARE YOU LOVING THE NEW CREW? DO YOU THINK THE GUESTS ARE SOME OF THE WORST THE SHOW HAS SEEN?