When ABC's new Bachelor spinoff, The Golden Bachelor, was first announced, it had many scratching their heads. It seemed unlikely that older contestants could provide the drama that the younger contestants have made themselves known for.
The show almost seemed like a response to the writer's strike, but the timing seemed too soon to be sure. A TV show usually goes through a great deal of deliberation before being approved, let alone announced, so The Golden Bachelor may have been in the works long before the strike.
Regardless, ABC is moving forward with its odd new spinoff, and it might not be all that bad. For one thing, the show might reach a demographic that most reality shows don't — adults aged 45 and older. And now, with the frontman revealed, things are looking fairly promising.
Bachelor Nation's newest star: Gerry Turner
ABC announced today, July 17, 2023, that Gerry Turner (pronounced GAIR-ee) is the man looking for love this time around. Gerry is a father, grandfather, and retired restauranteur, who currently lives in an Indiana lakehouse.
As far as hobbies go, Gerry loves to barbecue, play pickleball, four-wheel, cheer on his favorite Chicago sports teams, and be with friends and family at restaurants. When it comes to romance, Gerry married his high school sweetheart, Toni, in 1974. The two had 43 delightful years together until Toni passed in 2017.
With his family's support, Gerry is ready to put himself out there again. Where the standard Bachelor series might have drama, The Golden Bachelor might feature even more sweetness and sincerity. And all else aside, it's good to see older adults being represented in media. Gerry seems like a great guy. All that's left to see is if he can carry a show.
The Golden Bachelor will premiere September 1, 2023, on ABC.
TELL US – WHAT ARE YOUR INITIAL IMPRESSIONS OF GERRY? WILL YOU BE TUNING IN FOR THIS NEW SPINOFF?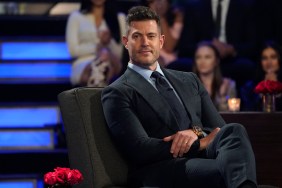 Unorthodox, but okay ABC, let's see how this plays out.