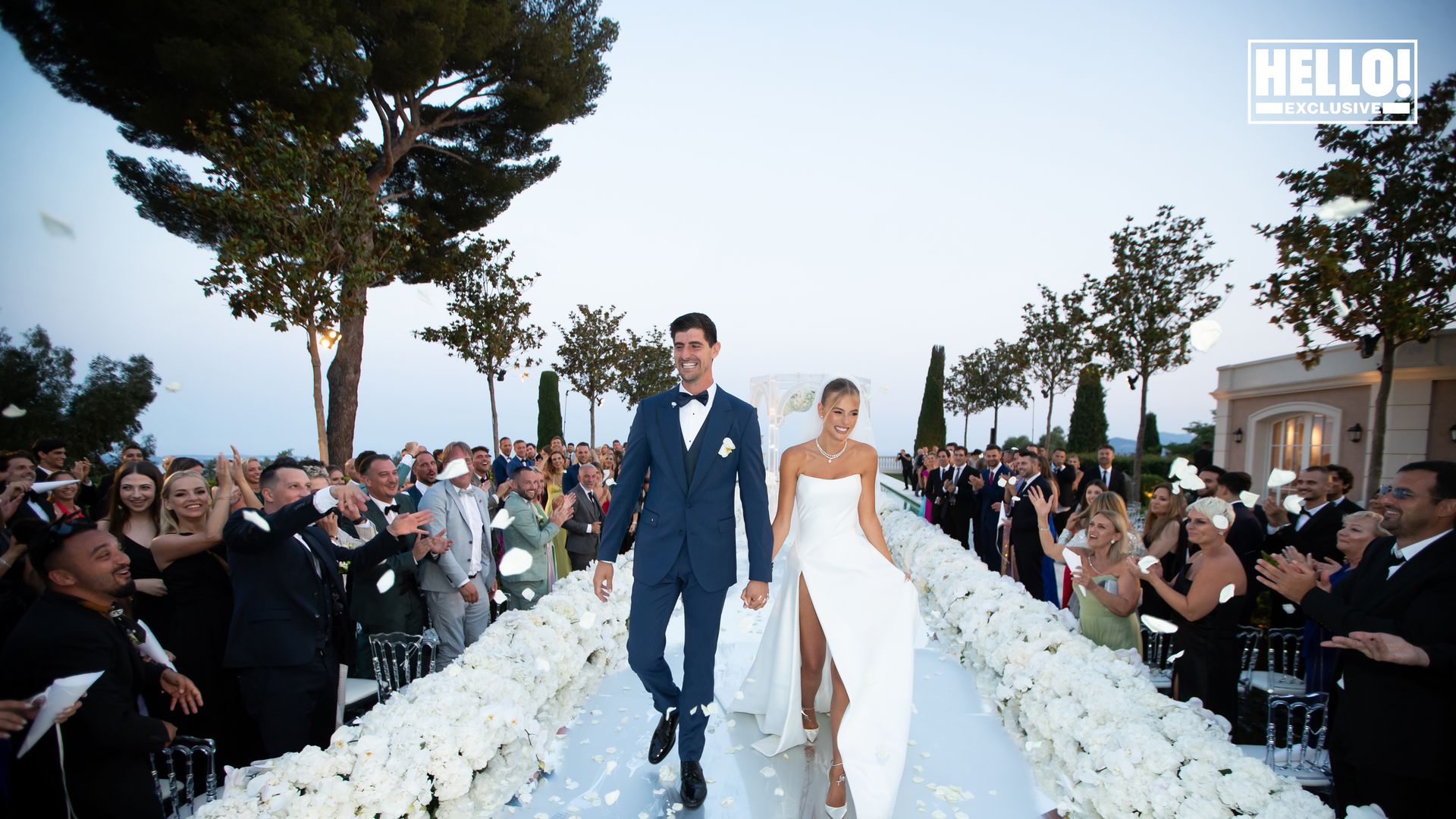 If a fairytale wedding was his goal, footballer Thibaut Courtois certainly scored when he married Israeli model Mishel Gerzig in the most magical of settings. 
With views of the sparkling Mediterranean framed by 25 acres of verdant gardens, there could hardly have been a more enchanting backdrop than the magnificent Château de la Croix des Gardes in Cannes, France – a location that served as the setting for Alfred Hitchcock's To Catch a Thief, starring Grace Kelly, almost seven decades ago. 
"It has been even better than in our dreams," the Real Madrid goalkeeper, 31, and his new wife tell HELLO!'s sister publication HOLA! of their special day, which took place on 26 June, as they exclusively share their wedding album.The 26-year-old bride was every inch as breathtaking as her surroundings, radiant in a timelessly elegant strapless gown by MayMashiah, Suarez jewels and shoes adorned with glittering charms bearing the initials "M" for Mishel and "T" for Thibaut.
Romantic violin music and sprays of orchids – the bride's favourite flower – and white hydrangeas set the tone for the nuptials as Thibaut, overcome with joy, walked to meet his bride as she glided up the pristine mirrored aisle. "I was very excited and thinking how beautiful she looked," says the Belgium international, who spent seven years with Chelsea, twice winning the Premier League, before leaving London for Madrid in 2018. "I had to do everything I could to hold back the tears," says Mishel, who completed her bridal look with a bejewelled veil bearing the words: "A Lifetime with You".
"Everything, and especially Thibaut, was perfect," she adds of her groom, who looked dapper in a smart three-piece blue suit by Dolce & Gabbana. Once bride and groom had said "I do" during the ceremony, which had Jewish and Catholic elements, they sealed their union with a fun personal handshake.
To read the full article, pick up the latest issue of HELLO! on sale now. Subscribe to HELLO! to get the magazine delivered free to your door every week or purchase the digital edition online via our Apple or Google apps.
TEXT: ANA CAAVEIRO
PHOTOS : @PEOPLEPHOTOGRAPHY
PRODUCTION AND DESIGN: @SKY_PRODUCTION
Outfit: DOLCE & GABBANA
BRIDE'S DRESS AND SHOES: MAY MASHIAH
JEWELLERY: SUAREZ JEWELLERY
DECORATION: @SHANI.NATALIE_EVENT DESIGN AND @TUSCANYFLOWERS
HAIR AND Makeup: RAN KARISI AND ELLE ADIDA