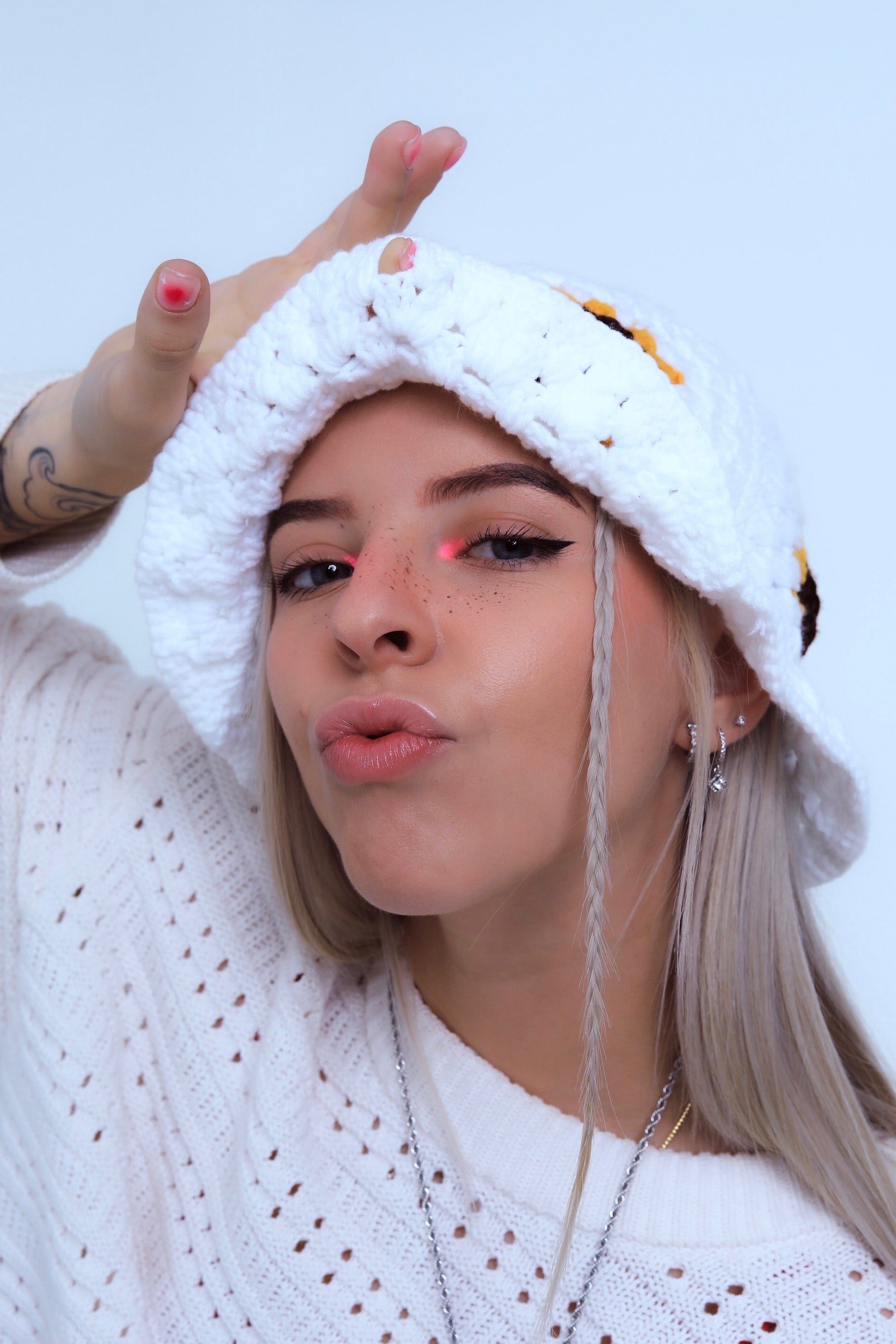 It's early in the afternoon when Young Miko joins our Zoom call from Puerto Rico. Through the windows of the conference room, light is streaming in. Outside, the tops of bushy trees are just visible, framing the crisscrossing lattice of steel and lights that make up the proscenium of the stage at the Amphitheatre Tito Puente, the stage she will grace in just one day's time. If you've ever seen Miko live, she's usually a ball of energy, skipping across the stage, playing to the crowd, all while delivering punchlines with the smooth delivery she's become known for. But today, dressed in a baggy black T-shirt that shows off her tattooed forearms, she's a bit more reserved. And for good reason: her "Trap Kitty" world tour is in full effect.
"I'm pumped to be sharing with my fans all around the world," she tells POPSUGAR in Spanish. "You know I got a little taste of it a few months ago in the US. But to be visiting places that I've never been before, I love it."
But she admits that it's not all fun and games. There's another side of the fame coin, one that's made up of long stretches of time far from home and shuffling to and from airport to airport. It's the work that comes with being an artist, sharing not only your music with the world but parts of yourself as well. It's a responsibility that Miko takes seriously, following a self-care routine that includes plenty of vitamins, tea, check-ups and chiropractic adjustments to ensure she's in tip-top shape so that nothing can keep her off the road and away from her fans.
"Without them, none of this is possible. They're the ones who decide if a song enters the Hot 100 or not, you know. At the end of the day, we do this for them, for the people," she says.
Miko is referencing her recent collaboration with Feid, "Classy 101," which is her first song to enter Billboard's Hot 100. The achievement caps a rapid rise to fame that has seen the 24-year-old rack up streams with her debut album, "Trap Kitty," and collaborate with everyone from Arcángel, Jowell y Randy, Villano Antillano, and Argentinian trapera Nicki Nicole.
"I'm still getting accustomed to it. It's been a drastic change," she adds.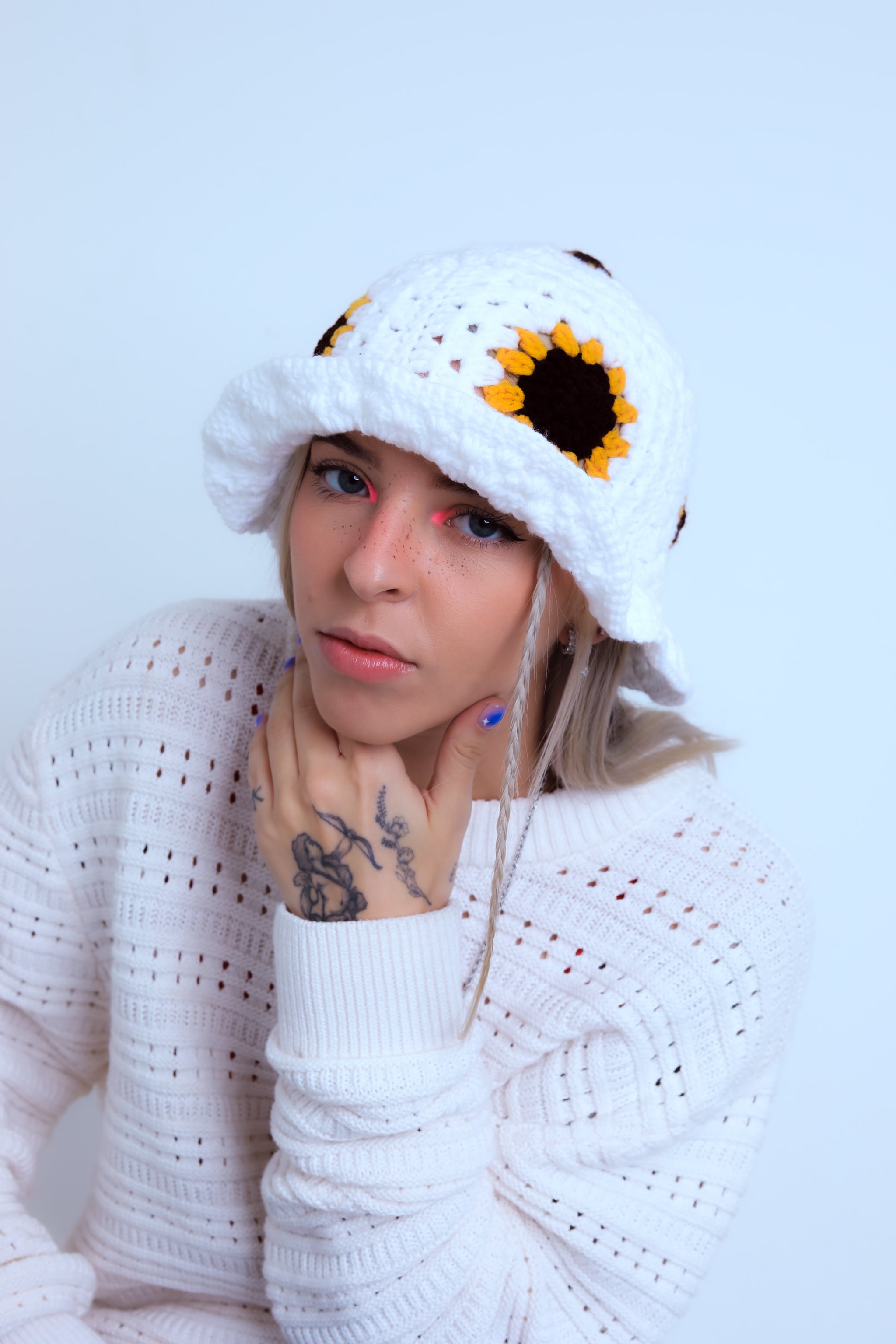 Before she was known to millions as Young or Baby Miko, Maria Victoria Ramirez de Arrelano Cardona (the rapper's real name) was a Tattoo artist growing up on Puerto Rico's western coast in the town of Anasco. A small pueblo known for its white sand beaches and chill vibes, it isn't exactly the kind of place where one expects to find the next urbano star. And that wasn't what Miko was trying to be when she started her career. Growing up listening to a mixture of her parents' rock music and her older brother's hip-hop, music was a way for her to have fun and express herself.
"In the beginning, I was just throwing myself out there into waters I'd never explored before. I didn't know if people were going to like it. But now, it's on a whole different level, a completely different world."
"In the beginning, I was just throwing myself out there into waters I'd never explored before. I didn't know if people were going to like it," she says. "But now, it's on a whole different level, a completely different world. There are so many responsibilities. People look up to you. So, you have to do the best that you can. Even though no one is perfect, I'm always going to try to give my best to the fans."
And while she's not the first artist to also bear the burden of being a role model, Miko occupies a unique position in genero urbano. Not only is she one of the new guards of young women breaking into a traditionally male-dominated music scene, but as an out lesbian, she's one of the movement's few queer figures. So it's no wonder that young women and men have gravitated toward her music, which is a vibe in and of itself.
But looking back now, it's clear that, even while she was having fun, Miko was tapping into something much bigger, a transition in Puerto Rican music and culture that has put agency into the hands of many who didn't have it before. It's also no coincidence that her success coincided with the SoundCloud years in Puerto Rico, a time when the platform helped democratize music on the island and create a whole new generation of artists seemingly overnight.
"SoundCloud was definitely a moment, especially for trap," she shares."For a lot of Puerto Ricans on the island, it was part of that transition between high school and university that defined the kind of artist you would be."
For Miko, who was in that transitional period between high school and college, the platform was a tool, one that would help her refine the sound she had been crafting through its accessible nature and app-first approach. The reggaetonera talks about being able to record voice notes on the go and upload them to share with her followers. Now, she's performing at events like Lollapalooza Chile in front of some of those same followers, plus thousands more.
And yet despite the fame, despite the new challenges, there's something about the artist that remains unabashedly authentic and different. In a genre where bragging and "el fronteo" is the norm, Miko tries to keep it as real as possible while still giving herself room to explore.
"Personally, I always try to talk about things that happen to me or things that I want to happen to me, and I manifest them," she says."I try to stay away from the lies. And I also think that when you rap about things that actually happen to you, it flows much easier . . . and people end up relating to it."
But that doesn't mean that a little exaggeration is always a bad thing.
"It's a flex, an aspect of [trap and reggaeton] that has always been part of the culture," the artist clarifies. But while the artist will sometimes flex with lines that mix reality and fantasy or create characters through which she can better express concepts (her debut, "Trap Kitty," is actually a concept album inspired by one of her best friends), she's worked hard to find and cultivate an authentic sound and self.
"Before when I was first uploading songs to SoundCloud, I was singing in a [higher tone of voice] and really harmonized," Miko says."In reality, it was as if I had never accepted that my voice was deeper than what women usually sound like."
It was her producer, Mauro, who helped her realize that her deep register and unique vocals were what made her stand out from the rest of the pack. Plus, there's one other artist with a similar vocal register to Miko: La Diva, La Potra, the one and only Ivy Queen. She also just happens to come from the same barrio of Anasco as Miko. Maybe there's something in the water down there. Or maybe Miko was always destined for bigger things. But she's never taken it for granted.
Upon discovering her voice and flow, she spent a year making music without releasing a single track. She was refining, tinkering, mastering.
"I was just discovering what I wanted to talk about, my color, my flow. In all honesty, I think it's one of the best things that I can recommend, taking a break to really get to know yourself and be more secure in your music. Everybody has something unique, but sometimes we just don't [give ourselves time] to find it."
But, as we all know by now, Miko found her differentiator, and it's been a wrap ever since. She's now in a position to reap the fruits of her labor, with her music being played heavily in PR, as well as across the globe. But for all her recent success, she remains incredibly humble and quick to give credit to the team she surrounds herself with and the new generation of artists and fans.
"I was born at the right time . . . this generation goes hard, and we're a generation that wants change," she says excitedly. "We're [in a time] where people want to see women triumph and be empowered. I'm happy to be a part of that."
More than being a part of it, she's helping push the genre in a more progressive direction, and she's doing it with style, inventive lyrics, and un flow que no se compra. As for what comes next, Miko says her next album will explore more of her influences and how she came up.
"I'm going to base it a little on me. It'll be a little more honest and more transparent," the artist shares.
But one thing will remain unchanged: the love and appreciation she has for the fans who have been with her up to this point. She describes the positive messages they send her as the gas that fills her tank, and she has a message for her supporters.
"I love you. I see everything you write and share, the gifts that you give me. And I hope you're not tired of me because I'm coming with the same heat, mad music, mad collaborations, and more shows," she concludes.
Image Source: Joshua Rivera @shotsjpg