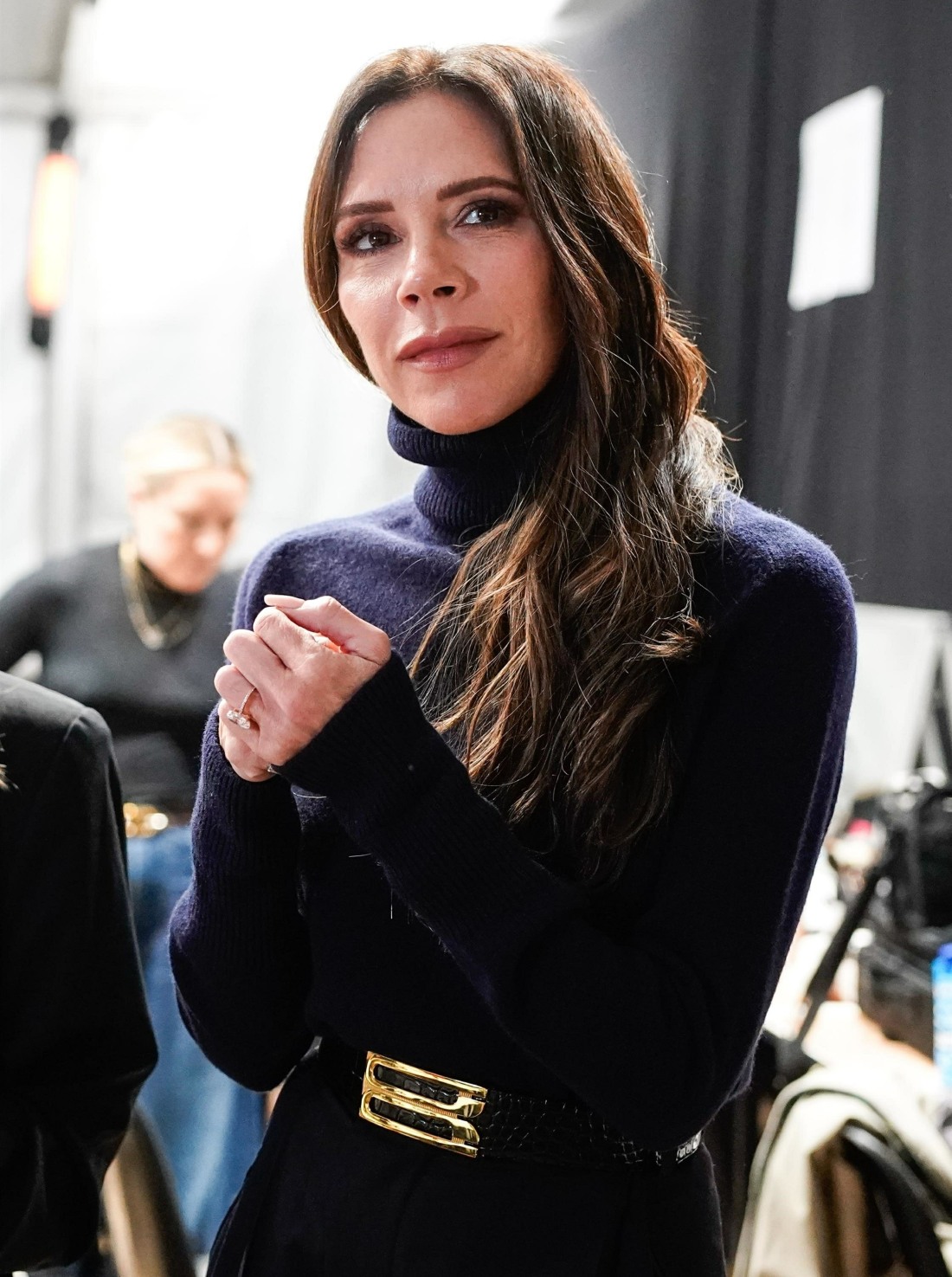 Victoria Beckham recently gave a lengthy interview to the Times of London to promote her branded Makeup line. After years of financial struggle, her fashion line is finally making money, and Posh has branched out into a VB makeup line, which she loves. I'd even say she's more passionate about her makeup line than her fashion line. Much of the interview is spon-con, but she talks about some interesting family stuff, and I was fascinated with what she discussed about non-invasive skin procedures she's done, plus her eyebrow drama. Some highlights:
She's super-involved with her makeup label: "Look, some people are singers or actresses or models and they happen to have a licence deal where they're going to put their name to make-up, and there's nothing wrong with that. But, for me, this is what I do every single day. I split my time between the fashion and the beauty. I'm not a singer. I'm not doing anything else. This and fashion are my job."

The makeup line was successful from the start: Her fashion line, launched in 2008, finally turned a profit last year, with revenues up 42 per cent to £58 million. Her private equity investor said that, but for Covid, it would have been in the black two years earlier. The beauty line was profitable "after a year", according to Beckham. Beauty lines often fund their fashion siblings; she says, "We're one and the same company. Fashion has had its challenges, so the fact that we have turned a profit is very exciting."

Why she's obsessed with brow pencils: "Because over the years my brows have been so overplucked that if you saw me without it you'd be horrified. David has never seen me without my brows. They're the first thing I do: wake up, put on the brow. Mine aren't even, either — they're sisters, not twins. I'm very self-conscious about the overplucking because brows change your whole face. I remember a make-up artist shaving my eyebrows when I was in the Spice Girls. Shaving my eyebrows! When you're 22 years old and you're excited that you're doing a shoot, you don't think to say, 'Oh, hey, how about you don't shave my eyebrows?' Then you get to 49 and you're like, 'Sh-t.' I also did some laser hair removal on my eyebrows. That seemed like a really great thing to do at the time."

She used to have acne. "There was a time when you couldn't put a pin in between them [the spots]. It was severe, severe acne. Thankfully I have quite oily skin, so I didn't scar, even though I used to enjoy a good old pick. I wouldn't touch them now, obviously. Or put toothpaste on them overnight, remember that? But I didn't understand about skin back then, or about cleansing properly, and I certainly didn't understand the importance of what you put not just on your skin but in your body. For me eating correctly is so important. That and hydration."

Her strict diet: "I mean, look, I have a strict diet. I have quite an obsessive personality in everything I do, whether it's beauty, fashion, working out or eating. I am very, very disciplined. But it's about eating healthy fats, so lots of avocado, fish, vegetables, but some other things too. I know it makes me sound incredibly boring. I don't eat any sugar unless it's in a glass of wine."

Skin treatments: "I like to try some laser treatments when I'm in LA, and I do a bit of Collagenwave [a noninvasive skin tightening treatment using radio frequency]. What I have had done, which is quite good, is when they lightly "burn" the underneath of your eyes. It's not intrusive, there's no downtime, so it's not overly dramatic." She is unlined but doesn't have Botox — "you tend to get that quite shiny forehead, plus your eyebrows go too high. I'm not trying to turn back the clock. I'm 49 and don't have a hang-up about it. I want to look like a good version of myself, rested and fresh. I think it's about little things. Same with make-up — it's about not doing too much, which can be really ageing. I went to an event recently and people had very 'big' [overfilled] faces. There are some scary options out there."
I agree that whatever she's doing, it looks good and she looks pretty natural. For the most part, British women aren't the ones going overboard with fillers and Botox and I believe Victoria when she says that she's not into that stuff. But sure, she's had stuff done, which she admits freely, and I appreciate that she's talking about that. The conversation about her eyebrows cracked me up: "Mine aren't even, either — they're sisters, not twins." I'm going to say that from now on, because mine are the same. They don't "match." I have a natural arch in my left brow, and I have rogue hairs which appear at will, regardless of how many times I've plucked those f–kers. Whenever women are like "don't overpluck, you'll never get your brows back," I'm like "HOW?" I pluck and pluck and they just grow back worse. And I guarantee that David has seen her without her eyebrows, OMG.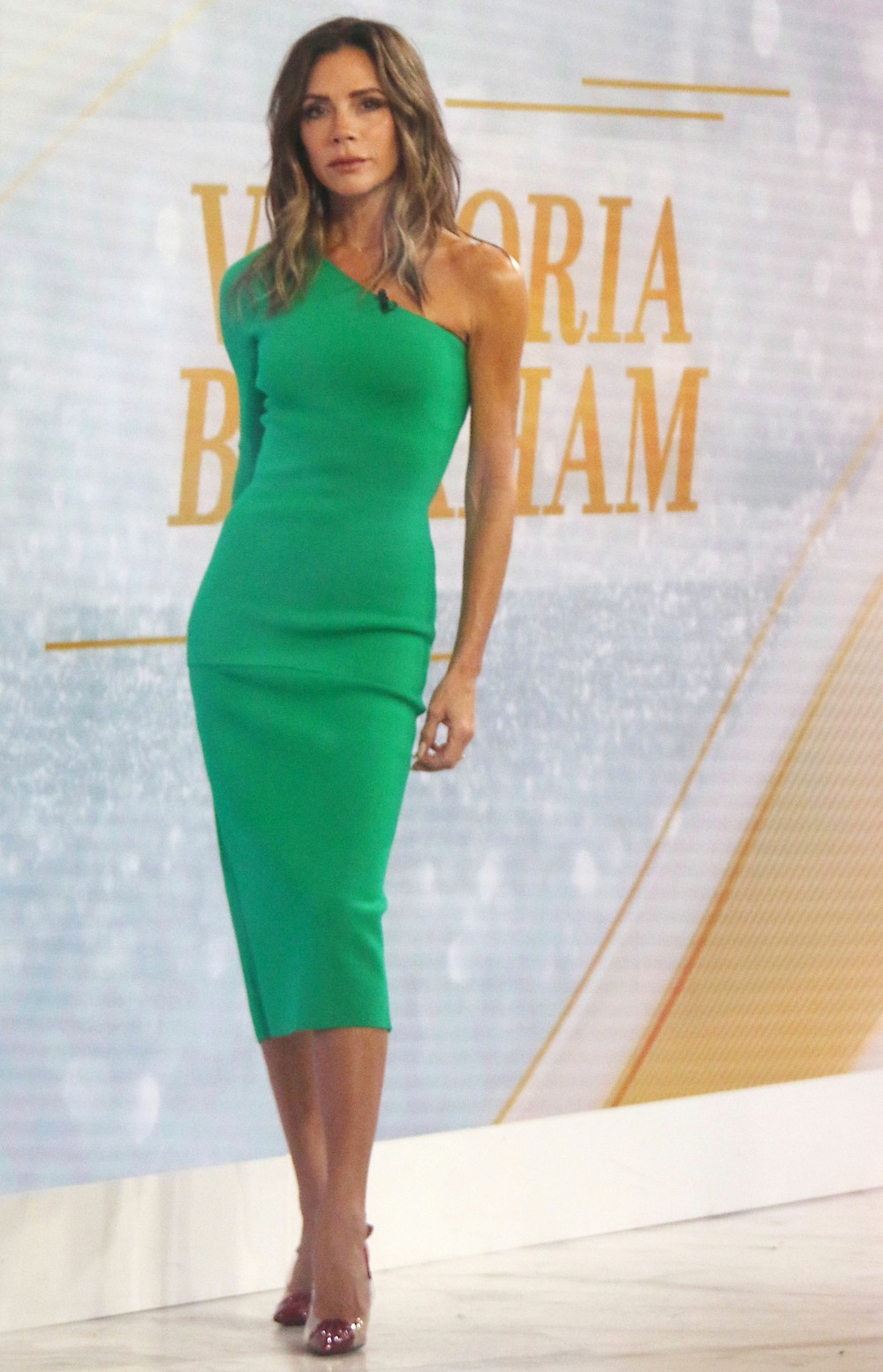 Photos courtesy of Backgrid, Cover Images.
Paris, FRANCE – Victoria Beckham Backstage at the Womenswear Fall/Winter 2023/2024 fashion show during Fashion Week in Paris, France.

Pictured: Victoria Beckham

BACKGRID USA 3 MARCH 2023

USA: +1 310 798 9111 / usasales@backgrid.com

UK: +44 208 344 2007 / uksales@backgrid.com

*UK Clients – Pictures Containing Children
Please Pixelate Face Prior To Publication*
Victoria Beckham Strikes A Pose On The Today Show

Featuring: Victoria Beckham
Where: New York, New York, United States
When: 13 Oct 2022
Credit: ROGER WONG/INSTARimages.com/Cover Images
Victoria Beckham Strikes A Pose On The Today Show

Featuring: Victoria Beckham
Where: New York, New York, United States
When: 13 Oct 2022
Credit: ROGER WONG/INSTARimages.com/Cover Images