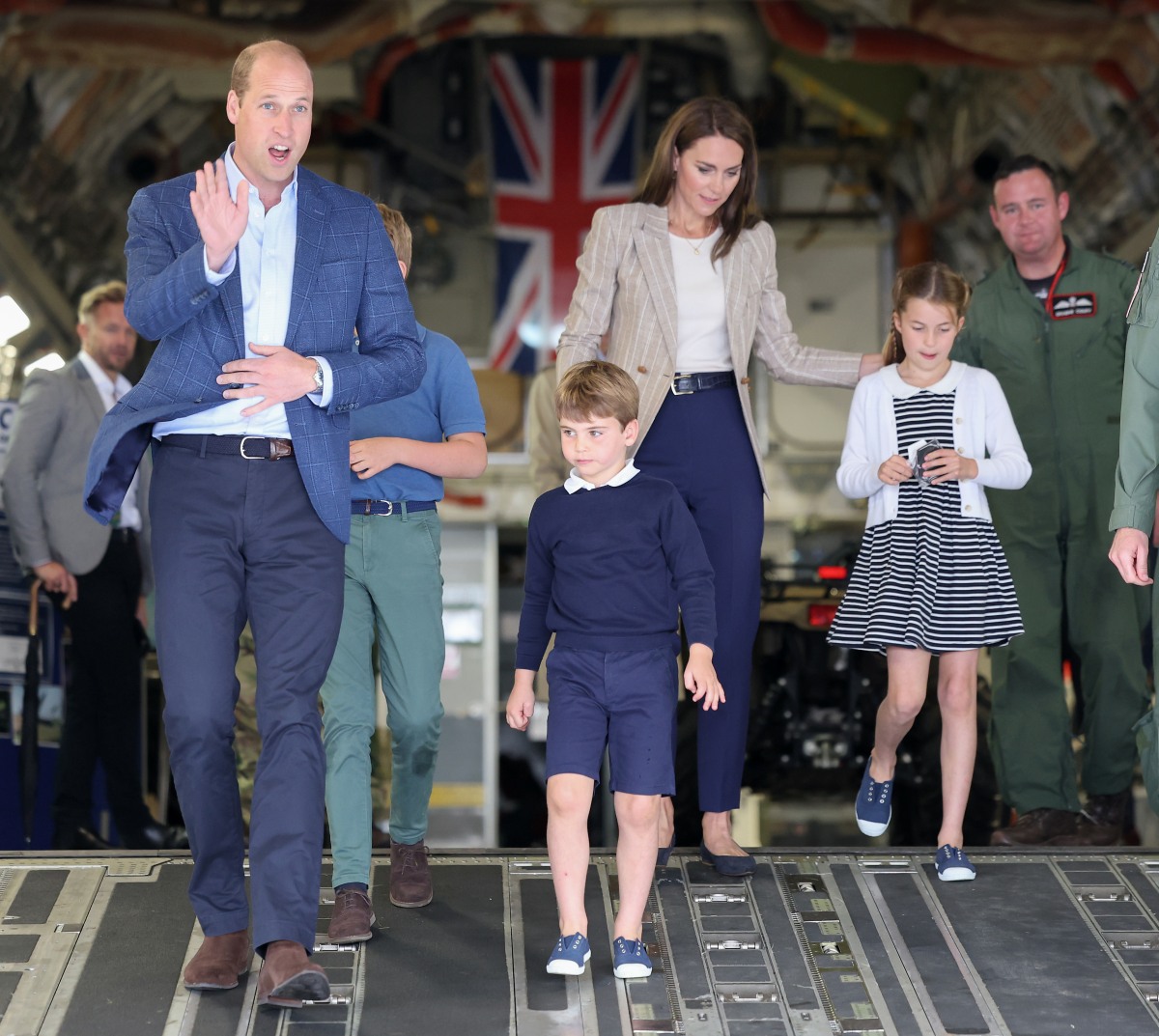 Here are even more photos of the Wales family last Friday, where Prince William and Kate brought all three kids out to the Royal International Air Tattoo. It's basically just an air show, where kids can look at planes and there's some kind of plane demonstration. William loves planes and I guess his kids do too? The air show benefits the Royal Air Force Charitable Trust, so this is what Will and Kate did instead of donating to a charity! They just went to an air show. It's all very middle-class, which is what William likes, remember. In case you needed this point driven home yet again, here's one last excerpt from People Magazine's current cover story, in which "sources" erased Diana from the royal-parenting narrative, made Kate sound like a single mother, suggested that Kate is a great mom because she's not an aristocrat and lied about QEII giving them "express permission" to be lazy bums.
When Prince William married his college sweetheart Kate Middleton, she brought her down-to-earth tone as she stepped into royal life — and now as parents of three, the Princess of Wales' non-royal background has a big impact on how the couple is raising Prince George, Princess Charlotte and Prince Louis.

"Those children look pretty happy with life," a palace insider tells PEOPLE in this week's cover story. "A lot of it is the stabilizing normality Kate brings — and that's how she grew up. William absolutely loves it."

Despite their royal roles — especially George, who is second in the line of succession to the throne behind his father and will someday become king — Kate ensures that her kids' childhoods are as normal as possible.

"Coming from a different background, she appreciates the importance of having family time," says a source close to the royal household. "She wasn't brought up in that aristocratic setting where you see the children for a short time each day."
Yes, compared to the Victorian aristocrat model, Kate really is a modern parent! See how easy it was to make Kate sound like a great mom? Just compare her to the characters on Downton Abbey! As for William "absolutely loving" Kate's completely normal middle-class stability… yeah, sure, that's absolutely the talking point. In all honesty, William has never insulted Kate's parenting. His people actually make a point of saying that Kate raises the children while William is out saving the world, one jazz-hand photo-op at a time. William no longer "loves" that about Kate or the Middletons though.
Meanwhile, there's always so much attention on Prince Louis during these outings. Everyone in the British and American media seems committed to boxing him in as the family clown, when really, Louis seems like he's genuinely upset by certain things. Just like on the palace balcony, Louis has issues with really loud noises. I know it's probably against some kind of imaginary protocol, but they really need to let this kid wear noise-canceling headphones when they know he'll be around loud noises. It would probably occur to Will and Kate to do just that if only they actually paid attention to their children instead of using them as PR props, but what do I know!
William and Kate got the school holidays off to a flying start by taking their children on a family day out to the world's largest military air show – but Prince Louis didn't seem impressed.

Watch more: https://t.co/8xyWy2d9Fw pic.twitter.com/dn36BtMjuT

— Sky News (@SkyNews) July 14, 2023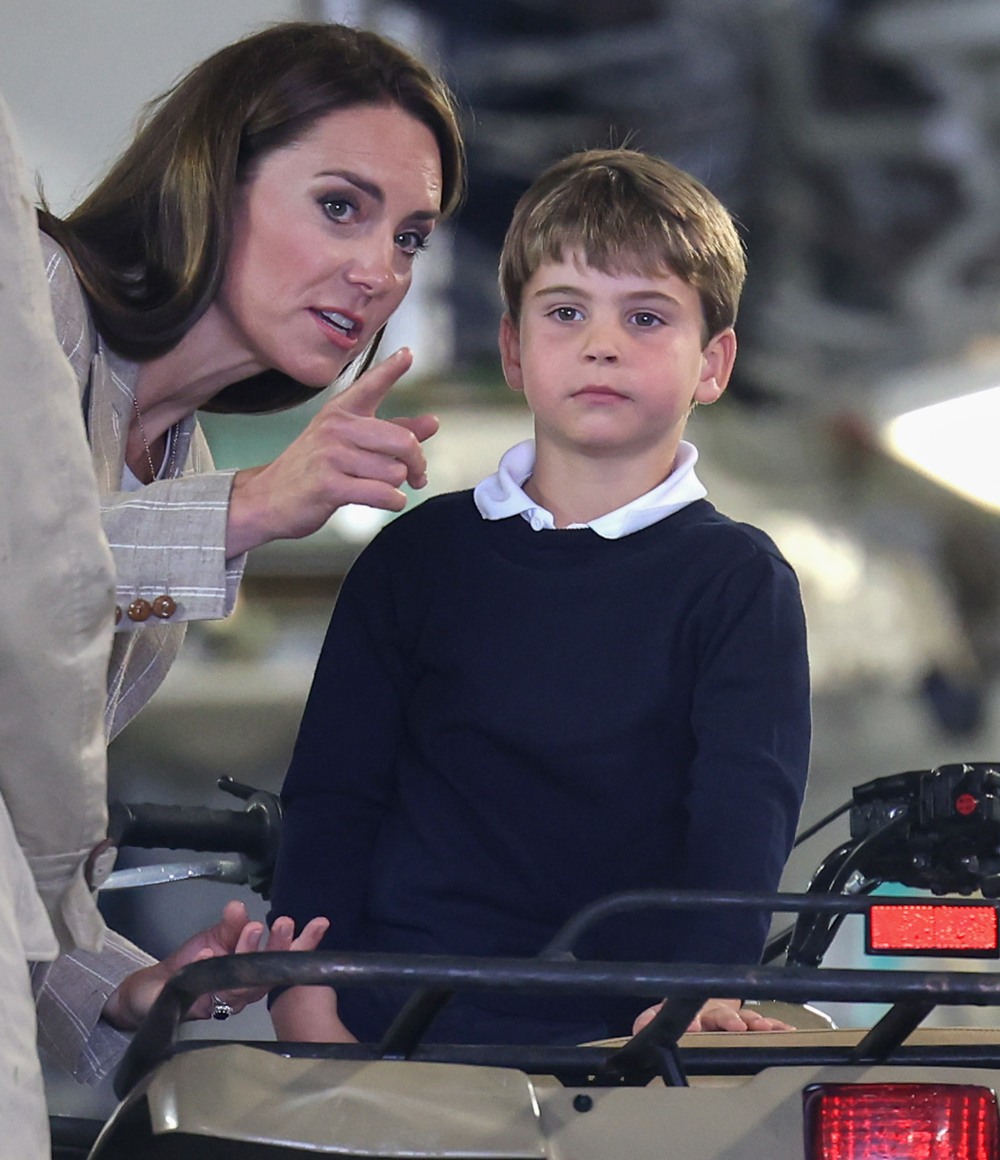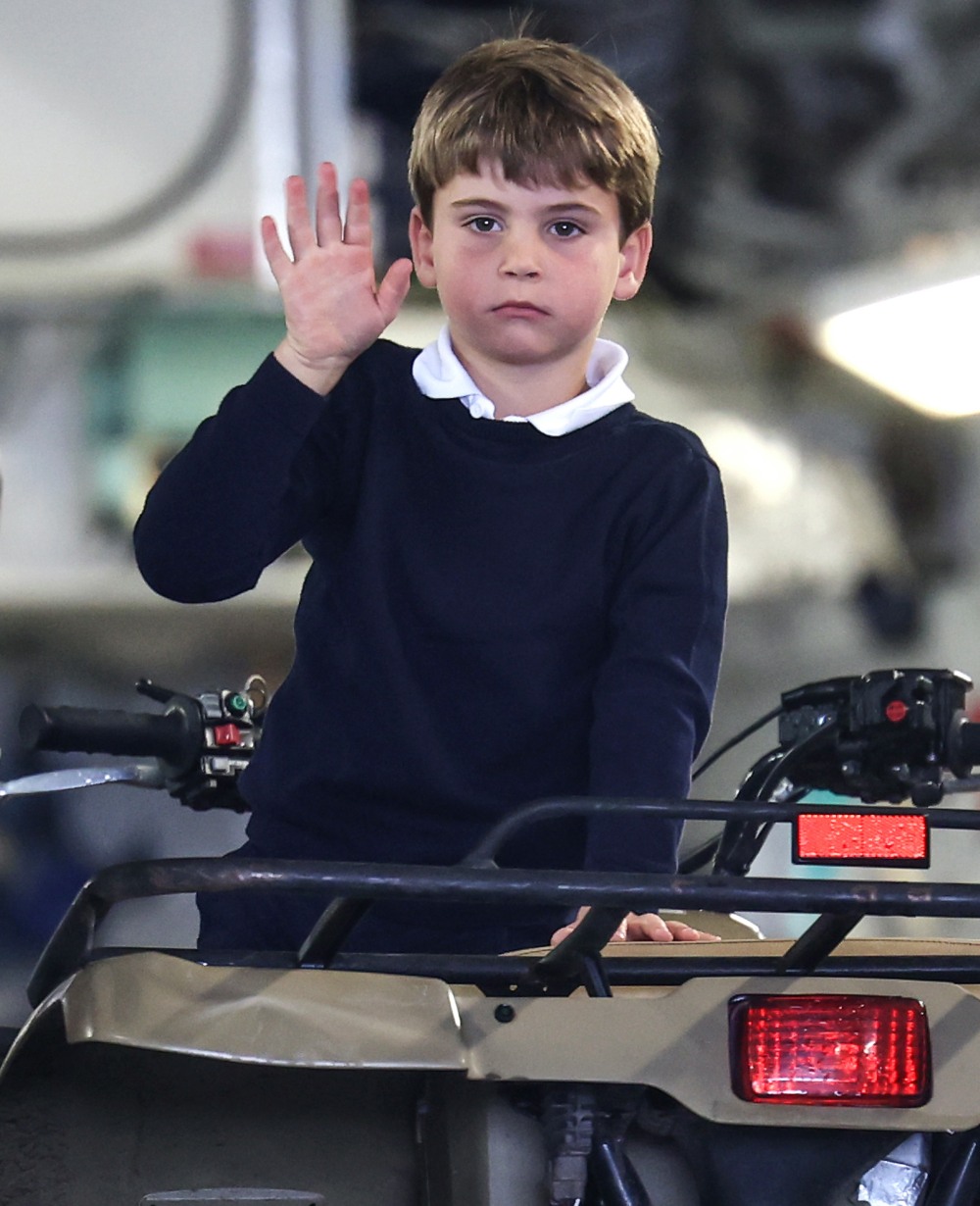 Photos courtesy of Cover Images, Avalon Red.