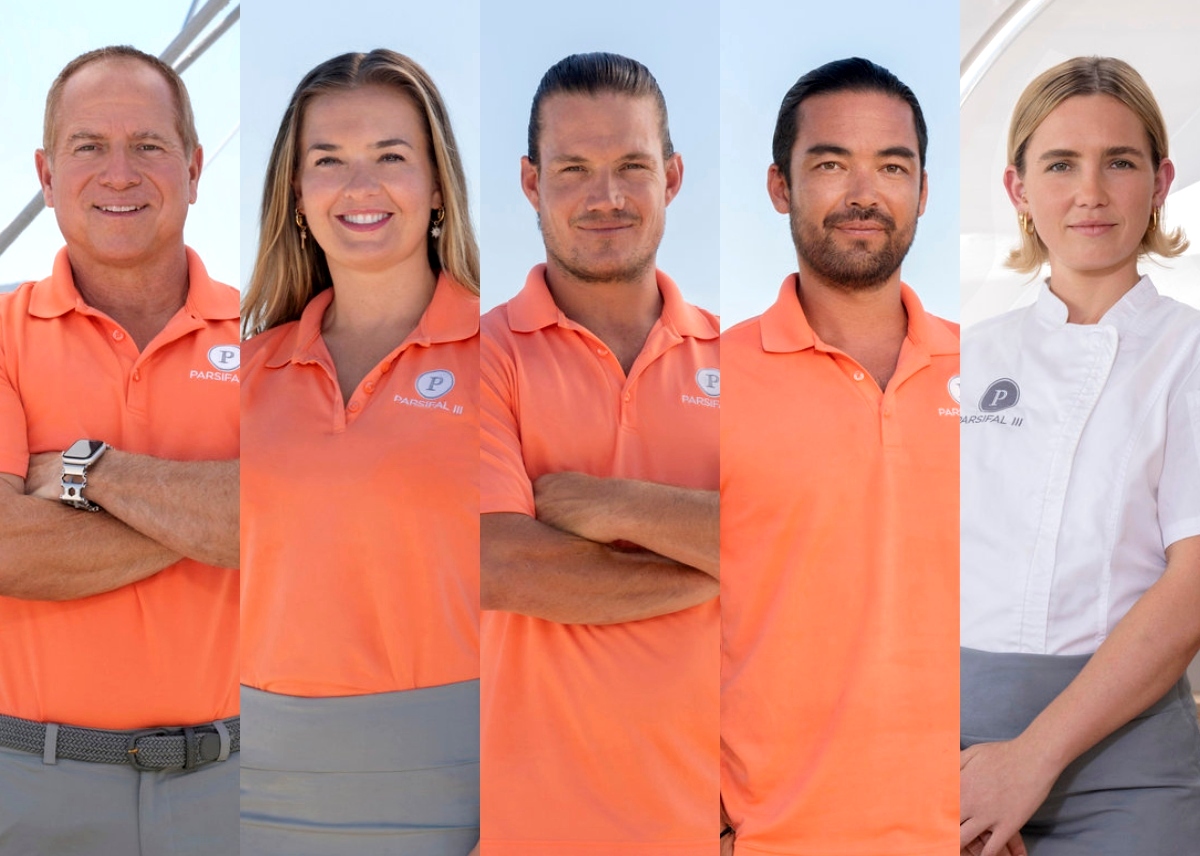 Ahoy, Below Deck Sailing Yacht fans, season four of the hit Bravo show is set to return to television screens this month, and judging by the new trailer, there are some rough waters and wreckage to navigate for the new and returning crew.
The new season will see the return of Captain Glenn Shephard, Chief Stew Daisy Kelliher, First Mate Gary King, and Engineer Colin Macrae. Joining the ranks will be newcomers, Chef Ileisha Dell, Stews Lucy Edmunds, and Madison Herrera, as well as Deckhands Chase Lemacks and Alex Propson.
The merry bunch is boarding the Parsifal III and is ready to tackle a new set of demanding charter guests, but Parsifal III's health is wearing thin. Captain Glenn laments that though the trusty sailboat has had a lot of problems in his 13 years with the vessel, she's "never let him down."
This may be the season it does. Emotions run high as the boat's engine refuses to work or stay upright during a charter sparking feverish concern and sending not only the contents of the interior flying, but the crew as well.
"This is the worst trip of my life," one guest cries.
The usual night off clubbing and exploring continues throughout the season, complete with hot tub hookups and cast make outs, and it looks much needed.
Daisy can be seen having a full-blown meltdown, which is unusual as she's normally holding her crew together with a calm and direct demeanor. Everyone has their breaking point.
No Below Deck season would be complete without crew drama, and this season is no different. Daisy, Gary, and Colin are caught in a love triangle that threatens to implode Daisy and Gary's friendship. Though the two have been linked in the past, theDating-rumors-with-gary-king/"> pair insist they're only friends. But jealousy is an emotion that doesn't care as Gary accuses Daisy of "really Date-as-season-3-comes-to-a-close-before-chief-stew-responds/">liking him" and using Colin to "get back" at him.
Onto the freshman.
Meet new stew, Lucy. She's seen as having a rough go at her new job as a self-proclaimed "clumsy" person and dropping or breaking pretty much anything she puts her hands on.
Fellow newbie and stew, Madison, is just here for a good time as she's ready for a boat romance "provided they know how to screw."
New Deckhand Alex may match up perfectly with Madison. He looks to be super into partying, there's always one, and he's looking to have a "hot boy European Summer."
Deckhand Chase looks to be the class clown this season, ready and willing to drop "dad jokes" at a moment's notice.
Chef Ileisha is confident in her culinary skills and describes herself as a "perfectionist" as the guests gush over her food.
Check out the full trailer below for season 4 of Below Deck Sailing Yacht, premiering Monday, April 10 at 8 p.m. EST on Bravo.