It's hard to deny the cultural impact that World Wrestling Entertainment (WWE) has had over the years. From the Rock 'n' Wrestling era to the current post-PG landscape, WWE has managed to capture the imagination of millions of fans worldwide. And let's face it, we all know someone who was once an avid wrestling fan or is still keeping up with the current goings-on in the wrestling scene.
One of the reasons for WWE's widespread appeal is the larger-than-life personalities of its wrestlers. These superstars don't just confine themselves to the squared circle; they often venture into other forms of entertainment, such as movies and TV shows, and become familiar faces to non-wrestling fans. Sometimes, a wrestler's charisma and achievements within WWE can even bring old fans back into the fold.
There are certain wrestlers whose names elicit a big reaction from wrestling aficionados and casual onlookers alike. These 20 wrestlers have managed to achieve mainstream appeal and become even more famous as a result. Whether it's through their incredible in-ring performances or their forays into Hollywood, these wrestlers have captured the hearts and imaginations of millions of fans worldwide.
 
1. 'Stone Cold' Steve Austin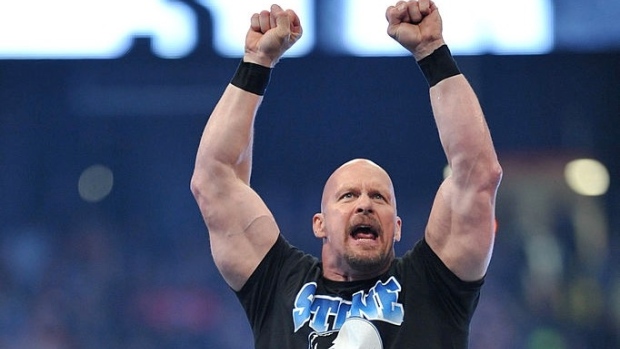 "Stone Cold" Steve Austin, born Steven James Anderson on December 18, 1964, is an American icon. His name is synonymous with professional wrestling, media, and acting. As one of the most revered and influential wrestlers of all time, he played a crucial role in the rise of the World Wrestling Federation (now WWE) during the Attitude Era. This was a golden era for the industry, and Austin's contributions were vital to its success. His impact continues to be felt to this day.
In terms of on-screen impact and financial success, no other performer could match the unparalleled influence wielded by "Stone Cold" at the pinnacle of his career.
'Stone Cold' Steve Austin Career
Few wrestlers have captured the hearts of fans quite like Stone Cold Steve Austin. His undeniable popularity, fueled by multiple World title reigns and his pivotal role in securing victory for the WWF in the Monday Night Wars, solidifies his position as a first-ballot Hall of Famer. It's safe to say that Austin's impact on the wrestling industry is nothing short of legendary.
'Stone Cold' Steve Austin Look
Steve Austin was exceptionally suited for the character of "Stone Cold", the beer-chugging Southern rebel, because it was an exaggerated version of his own persona. With his rugged appearance and commanding presence, Austin convincingly portrayed himself as the "toughest S.O.B." in the business.
'Stone Cold' Steve Austin In Ring 
Austin's in-ring style was characterised by its hard-hitting nature and intense, yet convincing execution. As a result, he delivered memorable matches against iconic wrestlers such as Bret Hart and the Rock.
'Stone Cold' Steve Austin Mic Skills 
Steve Austin's career underwent a transformation due to two separate promos that gained him immense popularity. The first promo was delivered by Austin in ECW after being fired by WCW, which put him on the pro wrestling map.
The second promo, which is perhaps more famous, saw Austin creating one of the most successful catchphrases in wrestling history. The phrase "Austin 3:16" played a significant role in elevating him to main event status and eventually superstardom. Austin's exceptional mic skills continued to impress fans throughout his career, making him a legend in the wrestling world.
'Stone Cold' Steve Austin Marketability
Steve Austin, who was a prominent figure during the "Attitude Era," was able to achieve a level of mainstream popularity that was comparable to Hulk Hogan. He drew the highest pay-per-view buy-rates and television ratings in the history of professional wrestling.
2. The Undertaker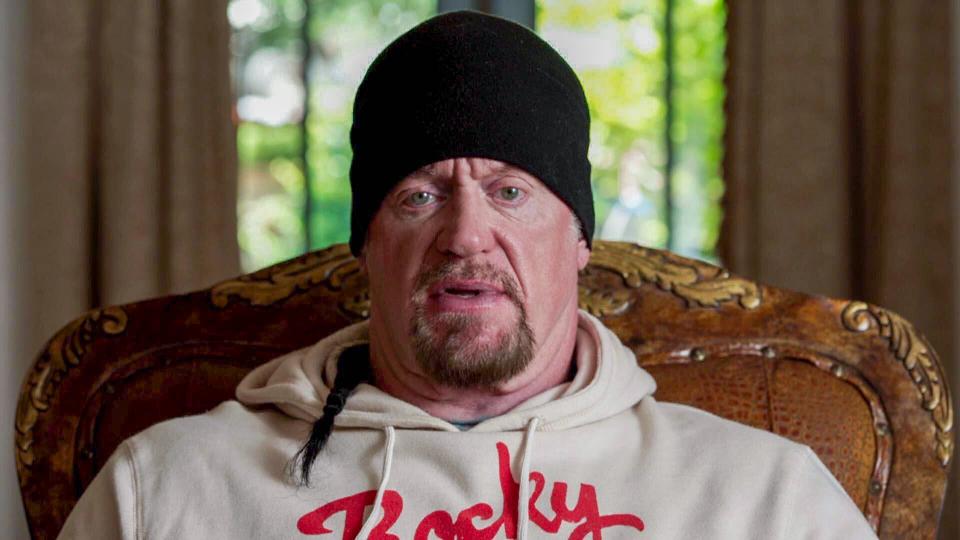 Mark William Calaway, born on March 24, 1965, is a retired American professional wrestler who was famously known by his ring name "The Undertaker". He was widely recognized as one of the best professional wrestlers of all time, having spent most of his career wrestling for WWF/E. The Undertaker was best known for his highly praised "Deadman" character, which earned him a place in the WWE Hall of Fame in 2022. Over the course of his 30-year tenure with the company, he has been instrumental in generating billions of dollars in revenue through his performances and the enormous following he has garnered.
The Undertaker's unique persona, which started as an eccentric gimmick, has become one of the most recognizable and enduring characters in WWE history. His involvement in some of the most unforgettable matches of all time has only added to his legend. It is safe to say that The Undertaker's name will continue to be revered and celebrated for many years to come.
The Undertaker's Career
The WWE's longest-serving wrestler, The Undertaker, has been a top-performing talent for over two decades. He holds the distinction of being one of the few individuals who has achieved stardom in the early '90s, the "Attitude Era," and the "PG era."
The Undertaker's Look
The character known as the "Dead Man" has been incredibly popular, and Mark Calloway's striking appearance and brooding demeanour make him an excellent fit for the role.
The Undertaker In Ring
The Undertaker is widely regarded as one of the most agile and speedy big men in professional wrestling history. His performances against legendary opponents such as Shawn Michaels and Bret Hart have been praised for their artistry and skill.
The Undertaker's Mic Skills
Throughout his career, The Undertaker has been primarily known for his in-ring abilities rather than his mic skills. He's never been a character who relied heavily on his verbal prowess to captivate audiences, instead opting for a more ominous and mysterious persona. Therefore, he hasn't had many opportunities to showcase his talents on the microphone.
The Undertaker's Marketability
The response from fans when the gong sound hits is unparalleled, and "Taker" has consistently been and will continue to be a significant draw.
3. Hulk Hogan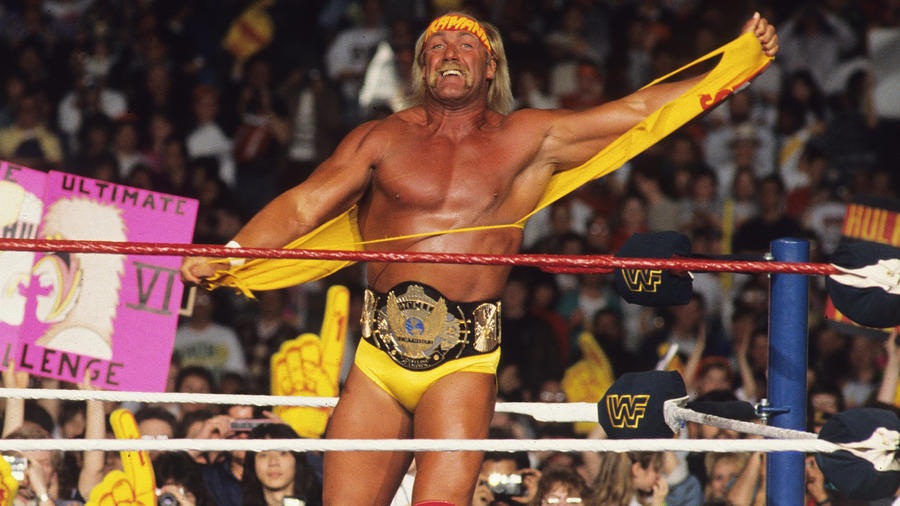 Terry Gene Bollea, a retired professional wrestler, is famously known by his ring name, Hulk Hogan. He is widely recognized as the most iconic wrestling star globally and a hugely popular wrestler of the 1980s. Hogan's legacy is cemented as one of the greatest professional wrestlers of all time. His impact on the WWE brand is immeasurable, as he played a crucial role in building the WWE's national reputation, turning professional wrestling into a primetime television attraction and a profitable venture through pay-per-view. It is safe to say that Hogan's success changed the game for the WWE, making him an essential figure in the sport's history and a true icon, much like Babe Ruth is to baseball.
Hulk Hogan Career
During the 1980s, the phenomenon known as "Hulkamania" captivated the imaginations of countless children who were enamoured with the larger-than-life persona of the wrestler known as the "Hulkster." His popularity translated into significant financial success, making him the highest-earning wrestler in history and cementing his status as the most prominent star the wrestling industry has ever seen.
Hulk Hogan Look
With his sun-kissed 300-pound build, lengthy golden locks, and impressive biceps, he was the epitome of a beloved superhero to fans and the ultimate champion for McMahon.
Hulk Hogan In Ring 
Hogan's in-ring abilities were limited, and as a result, he relied on his opponents to carry him during his championship reign. Many of the heels he worked with were instrumental in making his matches successful.
Hulk Hogan Mic Skills
Hulk Hogan's promos may not have been meticulously planned, but when he encouraged children to "say their prayers, do their training, and eat their vitamins," he was effectively portraying himself as a positive influence. Hogan's exceptional charisma made him a captivating speaker, and his words held weight with his audience.
Hulk Hogan Marketability
He was a fitting representation for the recently launched "Rock 'N Wrestling" phase that WWF was televising, and he was also the perfect figure for the audience to root for. He excelled at depicting the archetype of an All-American hero who would engage in combat with foreign antagonists like the Iron Sheik or the unpatriotic Sergeant Slaughter.
4. Ric Flair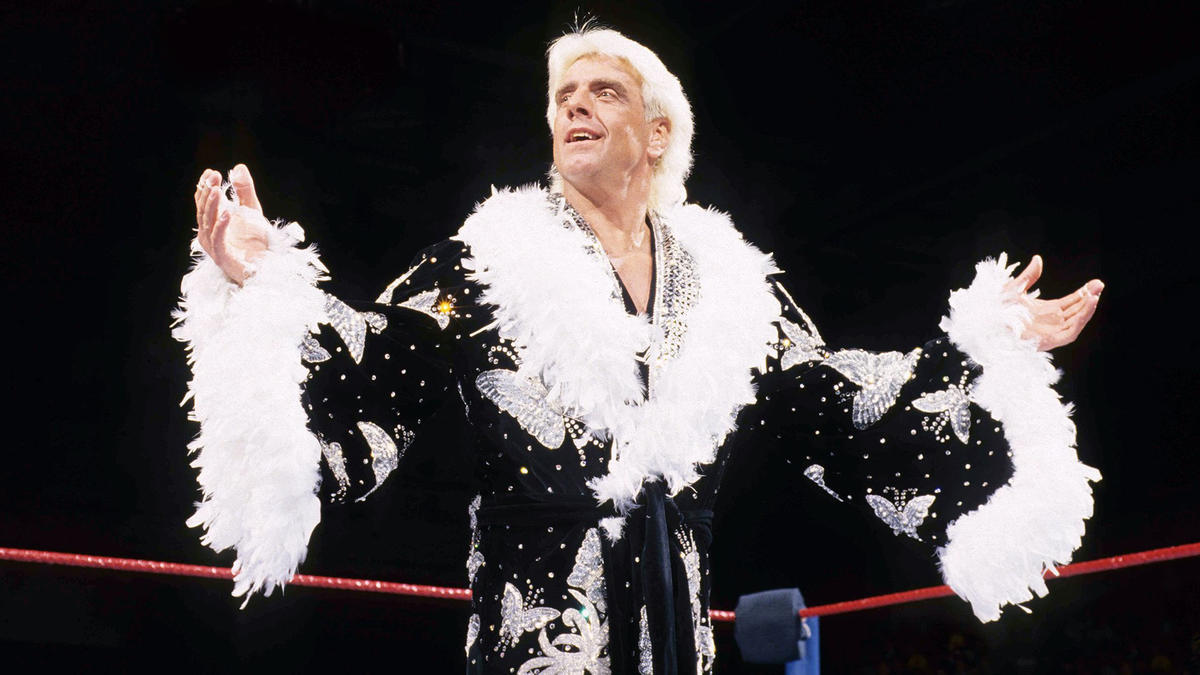 Richard Morgan Fliehr, a professional wrestler, may not fit the stereotypical mould of his profession. He initially pursued a career in medicine as a student at Minnesota University, but left college to train under Verne Gagne, a former AWA World champion wrestler. Flair made his debut on December 10, 1972, wrestling against "Scrap Iron" George Gadaski (real name: John Kosti) in Rice Lake, Wisconsin. After working with Gagne's Minneapolis Boxing & Wrestling Club, which was branded as "American Wrestling Association," Flair moved on to Charlotte, North Carolina. 
There, he became a regular for Jim Crockett Promotions, a member of the National Wrestling Alliance. George Scott, a matchmaker, directed the organisation. In 1981, Flair won his first NWA World title, which he held ten times. He later worked for World Championship Wrestling, a company owned by Ted Turner that acquired the wrestling assets of JCP, and for Vince McMahon's World Wrestling Entertainment. Flair has officially been recognized as a World champion 21 times, earning recognition from NWA, WWE, and WCW, as well as WCWI, a spin-off group of WCW. He is the only wrestler in history to have held all four versions of the title.
Ric Flair Career
Ric Flair is a renowned figure in the world of professional wrestling, having held the title of "Man" with 16 World championship reigns spanning over 40 years of television exposure. He has consistently been a major draw in the main events of the various companies he has worked for throughout his career.
Ric Flair Look
The "Nature Boy" character was portrayed as a wealthy and conceited superstar, and his blonde hair and naturally haughty appearance only added to the success of his persona. He revelled in his opulent lifestyle and made a point of flaunting it in front of those who were not as privileged.
Ric Flair In Ring
According to Bret Hart, Flair was an outstanding technician but his matches had no psychology and he could not tell a story in the ring. There are still many classic Flair matches including his retirement match with HBK and his NWA matches with Steamboat, Funk and Harley Race.
Ric Flair Mic Skills
Ric Flair was a master of delivering world-class promos and played a significant role in elevating the importance of the microphone in professional wrestling.
Ric Flair Marketability
Flair never achieved the same level of pop culture status as Hogan or Savage, and he was unable to secure the top position with either WWF or WCW during their peak periods of success. This was largely due to his lack of recognition among casual wrestling fans.
5. Randy "Macho Man" Savage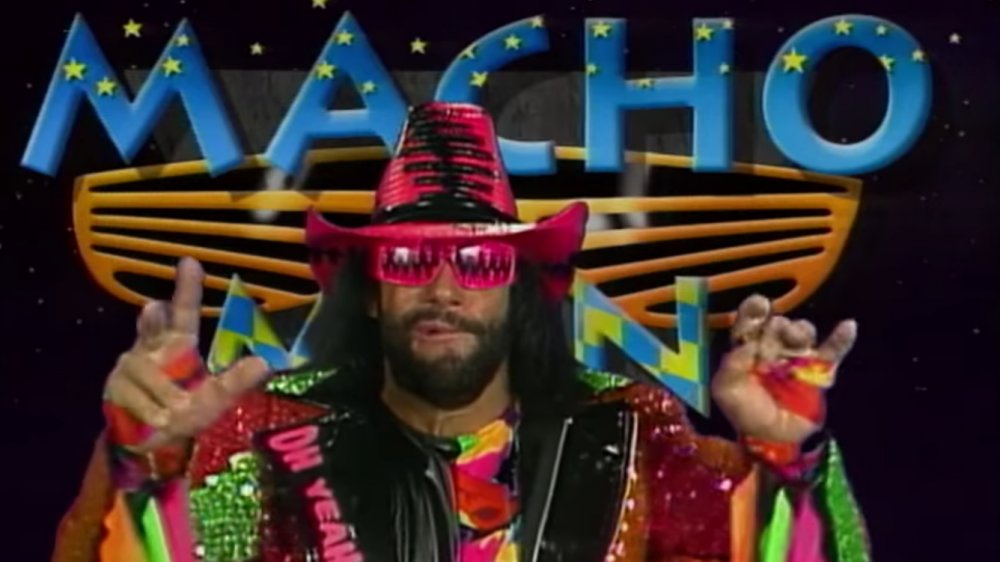 Randy "Macho Man" Savage was a vibrant professional wrestler both inside and outside the ring. Along with other wrestling superstars such as "Rowdy" Roddy Piper, Hulk Hogan, Jimmy Snuka (aka "Superfly Jimmy Snuka"), Jesse Ventura, and Dwayne Johnson (aka "The Rock"), he became a larger-than-life pop icon.
Upon signing with the WWE (previously known as the WWF), Savage immediately became a top villain. He was under the management of WWE Hall of Fame managers, including Jimmy Hart, Bobby Heenan, Classy Freddie Blassie (Freddie Blassie), and his most well-known manager, the beautiful Miss Elizabeth (Elizabeth Hulette). During his tenure with the WWE in the 1980s, Savage faced off against other WWE legends such as Junkyard Dog (Sylvester Ritter), Merced Solis (aka Tito Santana), Bruno Sammartino, and George 'The Animal' Steele. He also had a famous rivalry with WWE superstar Hulk Hogan.
Savage won the Heavyweight Title twice, the Intercontinental Title once, and was crowned the 1989 King of the Ring while with the WWE. He then moved on to World Championship Wrestling (WCW), where he signed a $6 million deal and won the WCW Heavyweight Title four times.
Savage is best known to fans for his on- and off-screen Relationship with Miss Elizabeth, which became the most famous love story in WWE history. However, their relationship began to deteriorate, which reflected in his professional life. Eventually, they went their separate ways. After leaving WCW, Savage joined TNA (Total Non-Stop Action) Wrestling.
Randy Savage passed away due to cardiovascular disease on May 20, 2011, in Seminole, FL.
Randy "Macho Man" Savage Career
During the 1980s, Savage stood out among the top-tier wrestlers for his ability to blend captivating charisma and a compelling personality with a high-octane in-ring style that delivered numerous five-star matches. As a dominant champion in the WWF, he held the title for a significant period. Furthermore, the WWE recognized him as the "greatest Intercontinental Champion of all time."
Randy "Macho Man" Savage Look
With his vibrant ring outfit and distinctive gravelly voice, along with his famous "oh yeah" catchphrase and extravagant personality, he became a noteworthy entertainer who gained immense popularity among his fans.
Randy "Macho Man" Savage In Ring
At WrestleMania III, Savage put on a show-stopping performance that included a highly engaging match with nineteen two-counts and impeccable storytelling. His athleticism and ability to create drama captivated the audience, making it difficult for the main event to follow his lead. It was undoubtedly one of the finest moments for the "Macho Man" and a testament to his exceptional skills.
Randy "Macho Man" Savage Mic Skills
Randy Savage was known for delivering unforgettable promos that were always relevant to the feuds he was involved in. His ability to create impactful and meaningful promos has earned him comparisons to the likes of The Rock, who is also known for his legendary promo skills.
Randy "Macho Man" Savage Marketability
Savage is known for his epic rivalries with wrestling legends like Hulk Hogan, Ric Flair, and Jake "the Snake" Roberts, which have left an indelible mark on the minds of true wrestling enthusiasts. However, his feud with Hogan, who was even more popular than Savage, stands out as the most unforgettable. Hogan became a pop culture sensation and a major draw in main events.
6. The Rock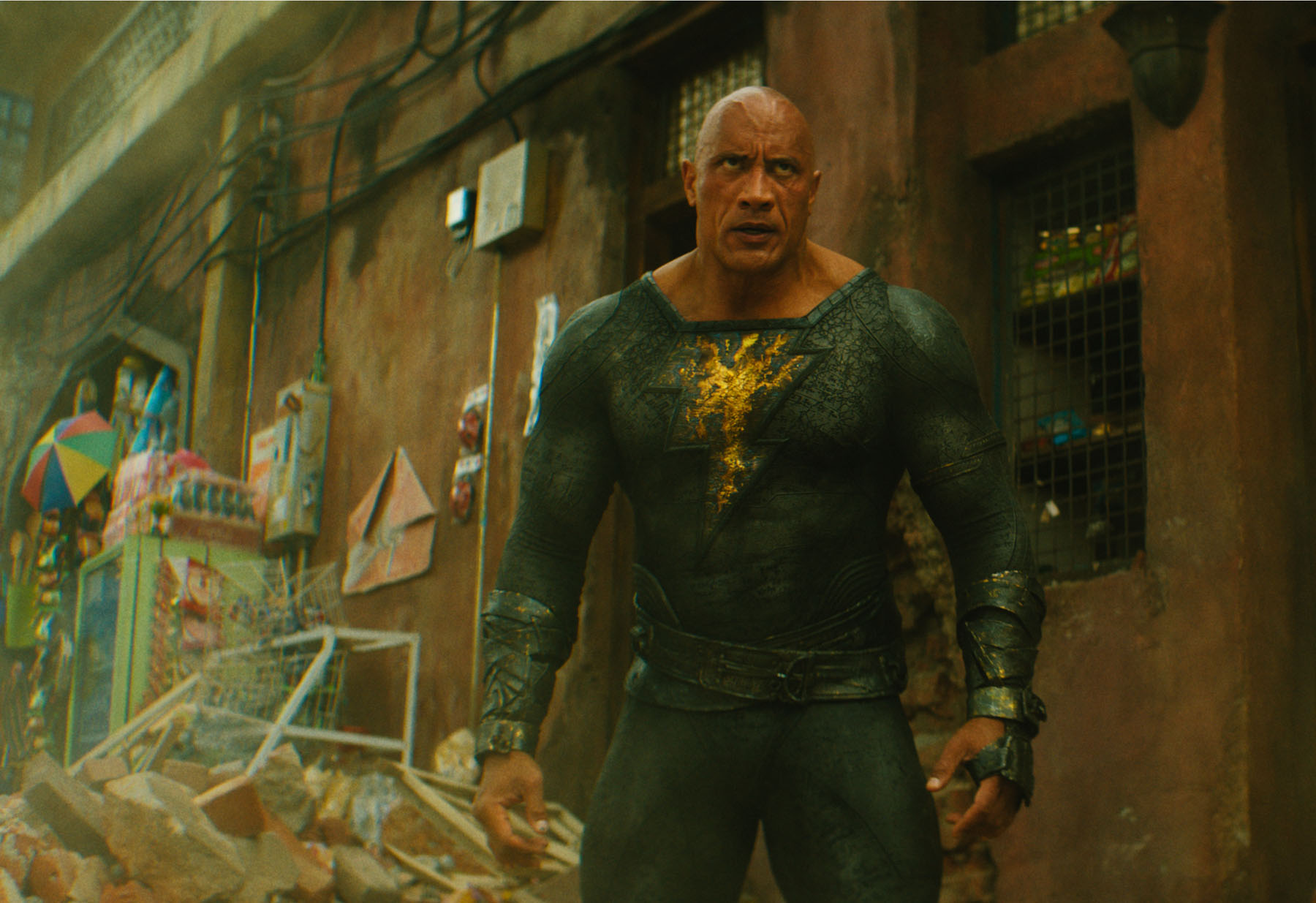 Dwayne Douglas Johnson, widely known as The Rock, was born on May 2, 1972, in Hayward, California, to Ata Johnson and Rocky Johnson, a professional wrestler. His father is of Black Nova Scotian descent from Canada, while his mother has a Samoan background, and her father was Peter Fanene Maivia, who was also a professional wrestler. Growing up, Dwayne traveled extensively with his parents, watching his father perform in the ring. During high school, he excelled at football, receiving a full scholarship to the University of Miami.
In 1995, Dwayne suffered a back injury, which ended his NFL aspirations. He then signed a three-year deal with the Canadian League but left after one year to pursue a career in wrestling. He made his wrestling debut in the USWA under the name Flex Kavanah, winning the tag team championship with Brett Sawyer. He then joined the WWE in 1996, adopting the persona of Rocky Maivia, joining the "Nation of Domination" and later becoming The Rock after taking over the group's leadership.
Following the split of the "Nation," The Rock joined the "Corporation," which led to a memorable feud with Steve Austin. He later turned face and became known as "The People's Champion." In 2000, Dwayne took time off from WWE to make his big-screen debut in The Mummy Returns (2001), returning to wrestling in 2001 during the WCW/ECW invasion. He also starred in The Scorpion King (2002), a prequel to The Mummy Returns (2001).
The Rock's Career
The limited duration of The Rock's career may have had a negative impact on his success in certain areas. Despite his undeniable fame, he was only a dedicated wrestler for a relatively brief period of seven years. Additionally, he faced challenges early on in his career as Rocky Maivia, struggling to establish a strong presence in the industry.
The Rock's  Look
The animal known as the "Brahma Bull" was already visibly muscular and appeared prepared for physical activity. Its appearance conveyed a sense of being a winner and possessing qualities of stardom.
The Rock In Ring
The Rock, a renowned wrestler, hailed from a family of wrestling professionals for three generations. He had received extensive training in wrestling, which enabled him to put up impressive performances that were always well received by the audience.
The Rock's Mic Skills
Regarded by many as the most captivating figure in the world of professional wrestling, this individual sparked excitement among fans with his numerous catchphrases, remarkable charm, and rapid-fire humor. Widely considered to be the supreme orator of the sport.
The Rock's  Marketability
In 2011, when he returned, the response was incredible, demonstrating the immense affection people have for him. Despite not having competed in years, the Rock's enduring popularity ensures that he remains a top draw and has earned him a place in the main event of WrestleMania 28. It's clear that audiences will always be willing to pay to see him in action.
7. "Rowdy" Roddy Piper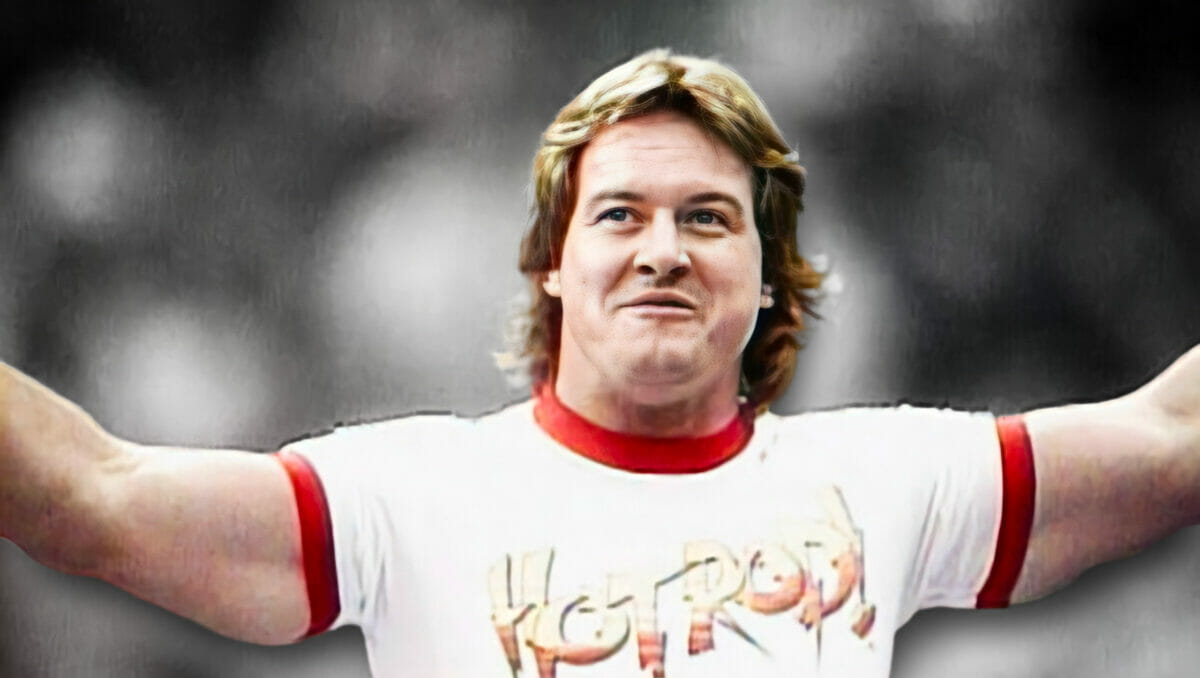 Roddy Piper, born Roderick George Toombs on April 17, 1954 in Saskatoon, Saskatchewan, Canada, was a professional wrestler from 1973 to 1987, mainly competing in the NWA, Pacific Northwest, and California circuits. He gained fame as one of the most notorious villains in the WWF during the early '80s, but later transitioned to become a fan favourite in the late '80s. Piper was renowned for his trash-talking abilities, as well as his in-ring skills. His talk show, Piper's Pit, which celebrated the bad guys of wrestling, was particularly noteworthy, especially for the infamous episode where he smashed Jimmy "Superfly" Snuka over the head with a coconut. Piper's most famous feud was with Hulk Hogan, culminating in a headline-grabbing match at Wrestlemania I.
Although Piper continued to wrestle into the '90s, he became more involved in colour commentary for WWF TV. In 1992, he briefly won the WWF Intercontinental Title from "The Mountie," marking the only championship victory of his illustrious WWF career. However, he left the organisation shortly afterward and only sporadically returned to the ring in the years that followed. Piper also served as the WWF's interim president in 1995. He eventually joined WCW in the late '90s to continue his feud with Hulk Hogan until the company's closure in 2001.
Aside from wrestling, Piper also appeared in numerous action films. He passed away on July 31, 2015, due to a heart attack in Hollywood, California.
"Rowdy" Roddy Piper Career
Although Piper never clinched the WWF championship title, he held a prominent position as the primary antagonist in the company for a period of time. Moreover, he had an exceptional stint as a heroic Intercontinental Champion.
"Rowdy" Roddy Piper Look
Piper's unremarkable appearance belied the exceptional talent within, fueled by an innate drive and passion that propelled him to stardom.
"Rowdy" Roddy Piper In Ring
Roddy Piper is acknowledged as a rare gem in the wrestling industry for his remarkable prowess both on the microphone and in the ring.
"Rowdy" Roddy Piper Mic Skills
Piper's many classic promos, delivered in his familiar rasping tones, epitomise the reasons why he was given his own talks show segment and cement the fact that the Hot Rod will go down as one of the all-time greats!
"Rowdy" Roddy Piper Marketability
According to Piper, the fans' adoration for the "Hulkster" was rooted in their animosity towards him. Throughout wrestling history, successful protagonists have relied on their antagonistic counterparts, and Piper's immense popularity resulted in his rivalries with Hogan generating significant revenue.
8. Shawn Michaels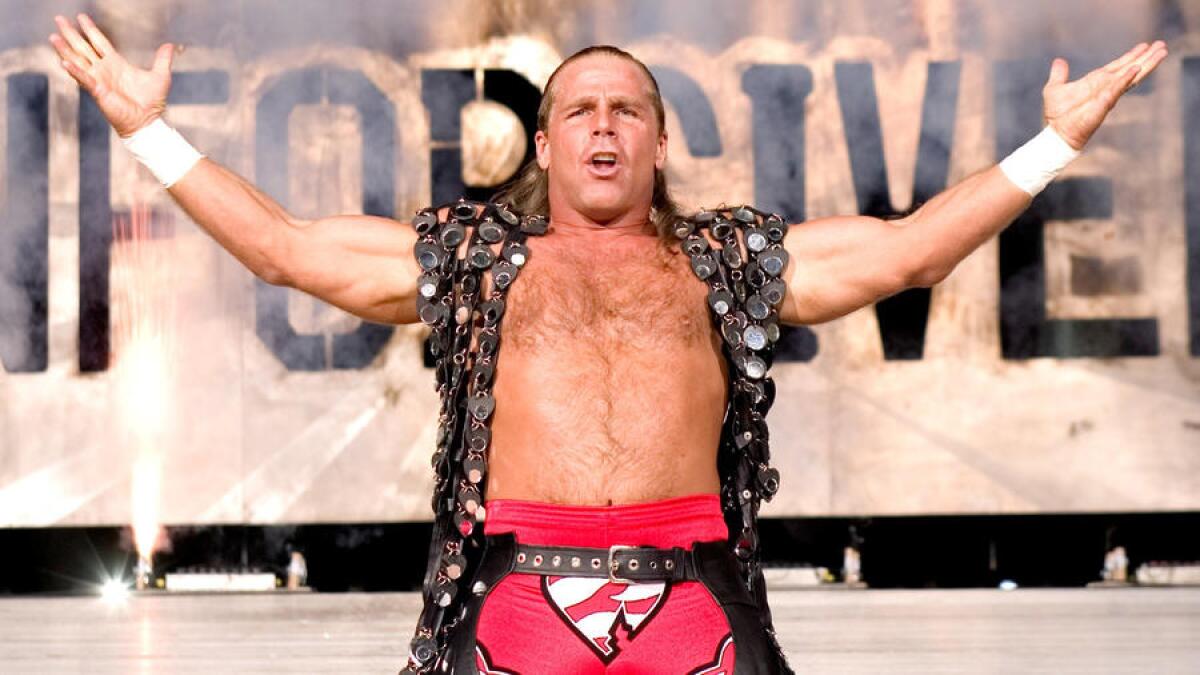 Shawn Michaels, born Michael Shawn Hickenbottom on July 22, 1965, is a retired American professional wrestler who is currently associated with WWE as the Senior Vice President of Talent Development Creative. Michaels is renowned as one of the most exceptional wrestlers of all time and has been bestowed with several nicknames, including "The Heartbreak Kid" (HBK), "The Showstopper," and "Mr. WrestleMania."
From 1988 to 1998, Michaels was a regular wrestler for WWE, formerly known as WWF (renamed in 2002). Following his initial retirement, he continued to work in non-wrestling positions for two years before returning to WWE in 2002 to resume his wrestling career. He finally retired ceremoniously in 2010 but made a one-off appearance in a final match in 2018. Michaels commenced working as a coach at the WWE Performance Center in 2016 and became a producer for NXT in 2018 before being promoted to his current position as the Senior Vice President of Talent Development Creative for the NXT brand.
Shawn Michaels Career
Shawn Michaels has left an indelible mark on the wrestling industry, from his groundbreaking performances as a member of the Rockers to his pivotal role in the evolution of D'Generation-X. While he has achieved multiple World Champion titles, it was during his second stint with the company that he truly established himself as a legend. Even in his forties, he could deliver an exceptional performance with any opponent and is widely regarded as the greatest worker in wrestling history.
Shawn Michaels Look
One possible reason for his relatively poor drawing power as a WWE champion could have been the perception that he was too slender to compete as a main event player. This may have led to a lack of fan confidence in his abilities as the top wrestler in the organization.
Shawn Michaels In Ring
He is known as the "Showstopper" and has an extensive history of delivering outstanding 5-star matches, too numerous to be listed. The remarkable quality of his final two matches with the Undertaker, which rival some of the greatest matches ever, are a testament to Shawn's exceptional skill and dedication to his craft, even in the latter stages of his physical prime.
Shawn Michaels Mic Skills
In the later stages of his career, HBK delivered some unforgettable promos, showcasing his inherent charm and adeptness in cutting engaging speeches. It was apparent that he possessed a natural talent for delivering compelling verbal performances.
Shawn Michaels Marketability
Vince could never successfully market Shawn as the champion, but it was only after Shawn recuperated from his back injury that he gained the admiration and respect he deserved.
9. Bret "the Hitman" Hart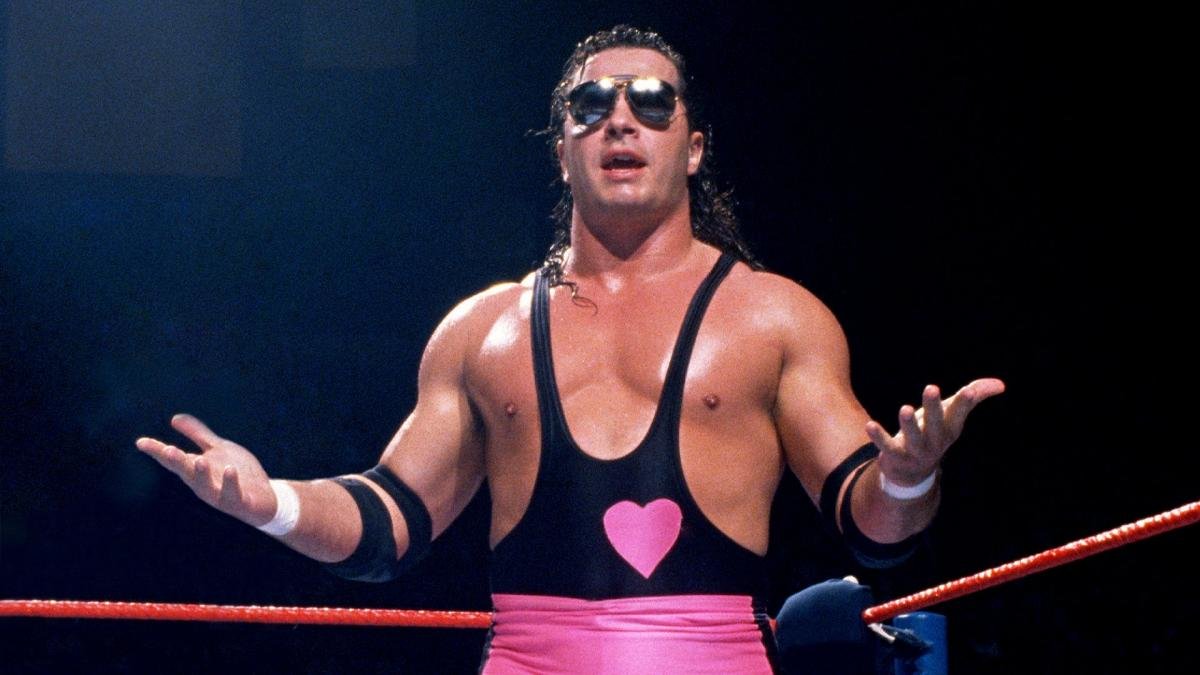 Bret Hart, a renowned wrestler hailing from the famous Hart Family of Calgary, Alberta, Canada, is considered one of Canada's most successful wrestlers as well as one of the world's best wrestlers of all time. In addition to his accomplishments in the ring, Hart also owns a junior hockey team named after him and writes a column in the Calgary Sun. He boasts an impressive career record, having held several prestigious titles such as the WWF World Title (5), Intercontinental Title (2), Tag Team Title (2), US Heavyweight Title (2), and the 1993 King of the Ring. Notably, Hart and his siblings hold dual citizenship in both Canada, his birthplace, and the US, where his mother was born.
 
Bret Hart Career
During the 1990s, the WWF was dominated by a wrestler known as "Hitman," who held the WWF Championship title five times. While he didn't generate the same level of revenue as Hogan, his presence was crucial in helping to stabilise the WWF after the steroid scandal and promote the family-friendly image that McMahon aimed to cultivate.
Bret Hart Look
Bret's physical appearance wasn't intimidating, but he created a distinctive persona for himself as the "Hitman" through his signature sunglasses and pink and black clothing.
Bret Hart In Ring
Bret Hart's exceptional in-ring performances have solidified his status as one of the all-time greats, earning him consistent recognition in discussions of the greatest matches in wrestling history. Some of his most memorable matches include the Iron Man match with Shawn Michaels, his numerous bouts with Curt Hennig and Randy Savage, his unforgettable cage match with Owen Hart, and his incredible main event showdown with British Bulldog at SummerSlam, which many consider to be one of the finest matches in the sport's history.
Bret Hart Mic Skills
Bret struggled with his microphone skills, and despite putting in efforts to enhance them, he never appeared to possess an innate talent for it.
Bret Hart Marketability
Hart's immense popularity extended not only to his home fans in Canada but also to admirers around the globe, as evidenced by the hero worship he received during the WWF's European tours. His merchandise, including his iconic sunglasses, sold exceptionally well, and at one point, he received a higher volume of fan mail than even Hogan.
10. Sting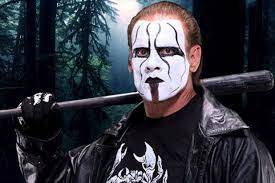 Steve Borden, also known as Sting, has an impressive wrestling career with many accolades to his name. He held the WCW World Title on 10 separate occasions, along with numerous other championships. Sting has the distinction of being the only wrestler to have remained with WCW since the late 1980s, despite undergoing reconstructive knee surgery in 1991. It is notable that he was also the only WCW wrestler who had never worked for WWE until his debut in 2014 at the Survivor Series. Sting is on par with other legendary names in wrestling such as Hulk Hogan and Ric Flair, having worked for three major North American promotions including WCW, TNA, and WWE. His 13-year stint with WCW ended in 2001 when WWE acquired the company, leading Sting to join Total Nonstop Action Wrestling (TNA), which was later renamed Impact Wrestling in 2017. Although he left TNA in 2014, Sting made a return to wrestling full-time in 2006. His debut in WWE was marked with a rivalry against Triple H and The Authority, which culminated in a match at WrestleMania 31. Sting's final match was against Seth Rollins in 2015, capping off a remarkable 30-year career in the ring. Sting has been inducted into the Hall of Fame for two promotions, Impact Wrestling (formerly TNA) and WWE.
Sting's  Career
Sting, known for his extensive and varied career, has achieved multiple World Champion titles in WCW and has become a significant force in TNA, currently holding the championship title. Although he has never competed in WWE, rumors of a potential dream match against Undertaker at WrestleMania created a stir, demonstrating the high regard in which Sting is held within the wrestling community.
Sting's  Look
Prior to adopting the persona of "Scorpion," Sting's various gimmicks were inconsistent in their reception, but his ominous, black face paint has imbued him with an enigmatic quality that rivals that of the Undertaker.
Sting In Ring
Sting has been a prominent figure in the wrestling industry for almost 30 years, earning widespread admiration for his in-ring abilities. During his time with WCW, he delivered some of the company's most memorable main event matches, and his performances were universally praised without any negative feedback.
Sting's Mic Skills
Fans have long been intrigued by Sting's unsettling promos, but his recent microphone performances in TNA have left much to be desired.
Sting's Marketability
During the peak of WCW's success, Sting emerged as the primary adversary to the NWO and Hulk Hogan, playing a crucial part in one of the most prosperous storylines ever. Despite TNA's current struggles, they still believe in Sting's ability to rescue their product.
11. Triple H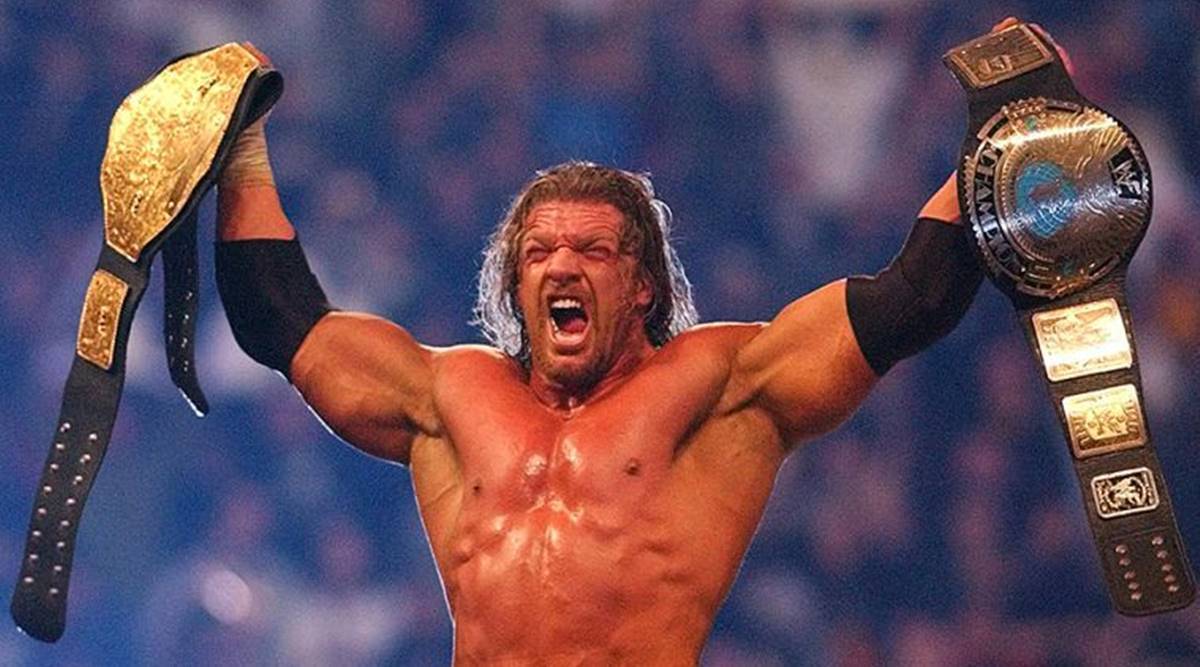 Triple H, whose real name is Paul Michael Levesque, is an American business executive, actor, and retired professional wrestler. He began his wrestling career in 1992 and joined the WWF (now WWE) in 1995, becoming known as Hunter Hearst Helmsley and later Triple H. He gained fame as a member of The Kliq and co-founded the D-Generation X stable, becoming one of the best wrestlers in North America. He won numerous championships, including 14 world championships, and created WWE's developmental branch NXT. Triple H is also known for his marriage to Stephanie McMahon and was inducted into the WWE Hall of Fame in 2019. He retired from in-ring competition in 2023 due to health reasons.
Paul Michael Levesque Career
Triple H has undoubtedly had a Hall of Fame career, boasting an impressive 13 World title victories, a feat only surpassed by his hero Ric Flair. He was instrumental, alongside Shawn Michaels, in ushering in the famed "Attitude Era" and later rose to become one of its biggest stars. He has been a main event player in numerous WrestleMania events and holds the distinction of being the WWE's second-ever Grand Slam winner. His contributions to the sport are undeniable and cement his status as one of the all-time greats.
Paul Michael Levesque Look
Triple H's impressive physique and commanding appearance were on full display upon his highly anticipated return at MSG, receiving thunderous applause. The "King of Kings" exudes the aura of a seasoned Scottish warrior, undoubtedly bolstered by his long and storied career in the ring. His chiselled form and imposing presence are a testament to his unwavering dedication to his craft, leaving no doubt that he is a true champion.
Paul Michael Levesque In Ring
Although Triple H may not be considered a spectacular performer, he consistently delivers satisfactory matches. Evidence of this can be found in his fights with iconic wrestlers such as Shawn Michaels, Steve Austin, Dwayne Johnson, The Undertaker, and Randy Orton. These matchups serve as a testament to Triple H's ability to rise to the occasion and get the job done in the ring.
Paul Michael Levesque Mic Skills
Paul Levesque's Triple H persona is a hyperbolic representation of himself, allowing him to convey his thoughts and emotions with ease. He adeptly transformed from a humorous DX character to a formidable villain during the McMahon-Helmsley period.
Paul Michael Levesque Marketability
Due to Triple H's extensive tenure and status as a prominent main event wrestler, he continues to garner significant fan attention. He played a crucial role in several of the most memorable storylines of the "Attitude Era," and his contribution to the WWF's success during that period should not be underestimated.
12. Chris Jericho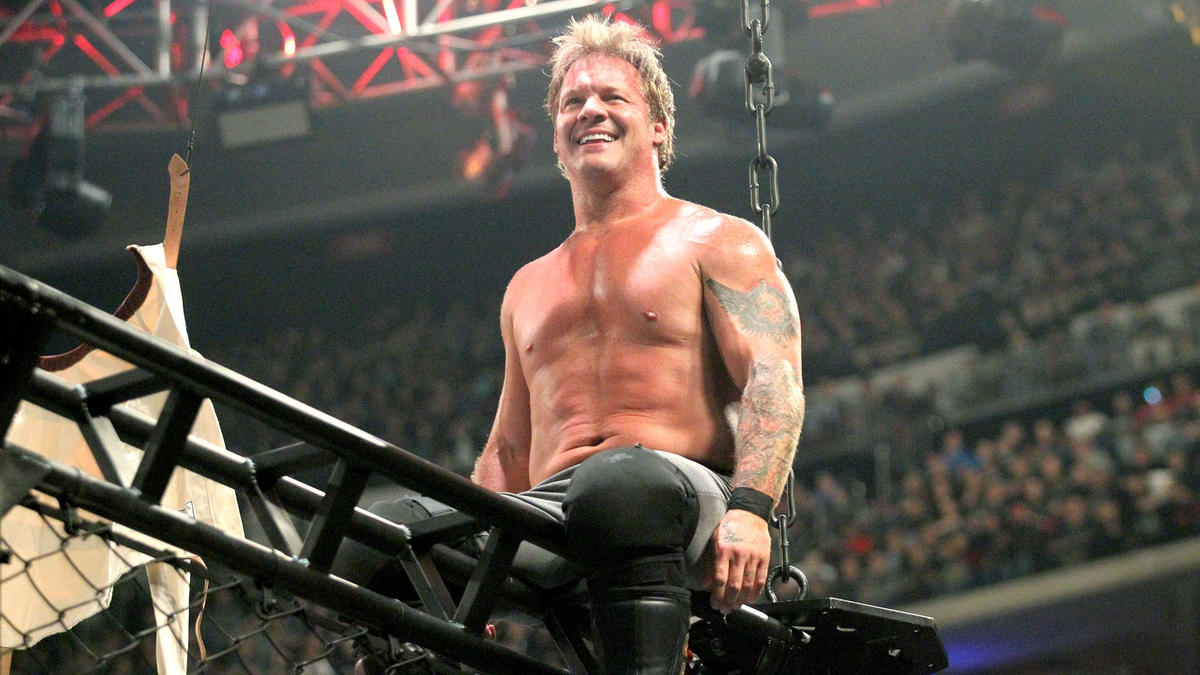 American-born, Canadian-raised wrestler, rock singer, actor, and author. He began his wrestling career in 1990 after training at the Hart Family Dungeon in Calgary. He competed for various wrestling promotions in Canada, Japan, and Mexico before joining Smoky Mountain Wrestling and then ECW. In 1996, he joined WCW and won the Cruiserweight title five times before turning heel in 1997. He joined WWE in 1999 and became one of the most successful wrestlers in the company's history, holding numerous championship titles. He is also the lead singer of the heavy metal band Fozzy and has authored three autobiographies. He was inducted into the Wrestling Observer Newsletter Hall of Fame in 2010.
Chris Jericho Career
Chris Jericho achieved the distinction of becoming the inaugural Undisputed Champion of the WWE and gained recognition for his successful stints in Japan and Mexico. While he had a considerable fan following as a babyface, it was his 2007-2010 comeback as the primary antagonist in the organization that showcased his exceptional abilities.
Chris Jericho Look
Over the years, Jericho has sported a variety of peculiar hairstyles and extravagant outfits that perfectly suited his persona as the "Ayatollah of Rock 'N Rollah." During his recent stint with the company, his arrogant demeanour was accentuated by the diverse range of sophisticated suits he donned.
Chris Jericho In Ring
Jericho is a valuable asset to WWE due to his exceptional skills as a performer. He has the ability to captivate audiences with his outstanding performances, as seen in his matches with Rey Mysterio in 2009 and Evan Bourne in 2010. With his versatility and adaptability, Jericho is capable of working with any style, making him a potential opponent for the currently struggling Sin Cara. WWE is missing Jericho's contributions at present, as he has proven time and again that he can steal the show with his exceptional matches.
Chris Jericho Mic Skills
Chris Jericho's exceptional microphone skills are his signature trademark, which he has demonstrated throughout his career. He excelled at talking trash as a confident villain and skillfully outsmarting his opponents as a hero. His ability to articulate himself on the microphone was particularly impressive when he claimed to be "the best in the world at what he does."
Chris Jericho Marketability
Jericho has consistently played the role of the primary villain in the company, but he has yet to ascend to the position of the top hero. In 2008, his high-profile feud with Shawn Michaels was a major draw for pay-per-view events throughout the year, and he has also delivered memorable storylines with other wrestling legends such as The Rock, Stone Cold Steve Austin, and Triple H.
Also Read: WWE Raw: New match and segment announced for Monday's RAW
13. Kurt Angle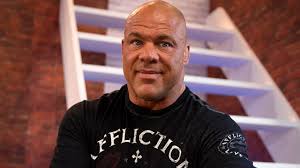 Kurt Angle hails from Pittsburgh, Pennsylvania, USA and is renowned for his Olympic success. Despite suffering a broken neck, he managed to secure a Gold Medal in the 1996 Olympics. Two years later, he ventured into the world of professional wrestling and quickly gained fame after signing up with the World Wrestling Federation. He made history by becoming the first wrestler to clinch the WCW and WWF Championships in the same year, and also holds the distinction of being the second TNA Triple Crown Champion. Overall, Angle boasts an impressive 13 World Championship titles in professional wrestling.
Kurt Angle Career
Kurt Angle, who had an Olympic and amateur background, rose to become the WWE's most successful star by winning six world championships. He later played a significant role in the development of the TNA brand.
Kurt Angle Look
Due to his Olympic background, Angle possessed a strong passion and intensity that translated well into his pro wrestling career. His impressive physique and athletic abilities, which were required for Olympic competition, also contributed to his appearance as a champion in the wrestling world.
Kurt Angle In Ring
Due to his amateur background, he proved to be the most skilled wrestler in the company. He flawlessly transitioned from Olympic grappling to WWE's more entertainment-oriented style and delivered an outstanding performance at WrestleMania, where he outshined even top contenders like Brock Lesnar and Shawn Michaels.
Kurt Angle Mic Skills
Before becoming an entertainer, Kurt was a sportsman, and while he improved his promotional skills and charisma, he will not be remembered as a gifted speaker.
Kurt Angle Marketability
Kurt Angle's status as an American hero was authenticated through his achievements in the Olympics, and he has consistently been a popular figure, whether as a beloved hero or a conceited narcissist.
14. Edge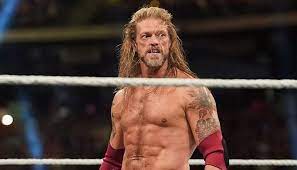 Adam Copeland, a Canadian actor and professional wrestler, is best known for his character "Edge" in the WWE, where he won a record 31 championships, including 11 world heavyweight championships, throughout his three-decade-long career. Copeland's success extends to the television industry, where he starred as a lead in Syfy's Haven and made appearances on shows like Vikings, Sanctuary, and MADtv. He also appeared in Highlander: Endgame and Bending the Rules. Copeland's autobiography, Adam Copeland on Edge, became a New York Times bestseller. With a Twitter following of over 750K, Copeland has a devoted international fan base. In his free time, he enjoys outdoor activities with his family in the mountains of Asheville, NC.
"Edge" Adam Copeland Career
The wrestler known as the Rated R Superstar holds the record for the most championship wins in WWE history, with 11 world title reigns and 12 tag title victories. He has been a prominent figure in the WWE's main events for much of his career, and his departure has left a significant gap that has yet to be filled.
"Edge" Adam Copeland Look 
Edge's appearance had a distinctive "rock-star" quality that lent itself well to his portrayal as a conniving villain throughout his career. His penchant for cruelty, combined with his imposing stature, made him a truly intimidating presence.
"Edge" Adam Copeland In Ring
Edge is credited with revolutionising tag-team wrestling through the creation of the TLC match, but his talents extended beyond just that. He was also a skilled technician in the ring, known for putting on numerous memorable wrestling performances.
"Edge" Adam Copeland Mic Skills
When it comes to mic skills, Edge excelled as a heel, following in the footsteps of many others who have done the same. His numerous promos during his rivalry with the Undertaker were especially memorable and will be remembered for years to come. Edge displayed an impressive ability to generate animosity from the fans, a talent that not all performers possess.
"Edge" Adam Copeland Marketability
Although widely despised as a villainous character, this individual's reputation suffered a blow following his two recent attempts at portraying a hero. One of these stints was marred by a particularly terrible storyline involving Kane, and as a result, he was unable to establish himself as a prominent protagonist in the public eye.
15. John Cena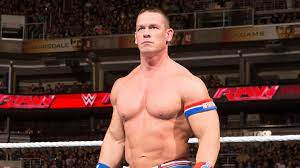 John Felix Anthony Cena, born on April 23, 1977, is a famous American professional wrestler, bodybuilder, rapper, and actor. He gained popularity through his outstanding career in World Wrestling Entertainment (WWE), where he won a total of 21 championships, including 16 World Championships. This record includes 13 reigns as WWE Champion and three times as World Heavyweight Champion, which is a company record. Cena ranks fourth in terms of the number of combined days spent as WWE Champion, following Bob Backlund, Hulk Hogan, and Bruno Sammartino. Interestingly, Cena is the first man to fail to capture a world championship after cashing in a Money in the Bank contract.
John Cena Career
With 10 WWE Championship wins under his belt, Cena has established himself as a prominent figure in the company, regardless of personal preferences. He has been a key player in numerous WrestleMania events and has engaged in several notable rivalries, including his ongoing feud with the Rock, making him a significant face of the organisation.
John Cena Look 
Cena's early push in the wrestling industry was partly attributed to his impressive genetics and remarkable physical strength. His ability to effortlessly slam towering opponents like the Big Show reminded fans of the legendary matches between Hulk Hogan and Andre the Giant.
John Cena In Ring
Despite Cena's considerable efforts to enhance his in-ring performance, he remains somewhat foreseeable, and his sudden bursts of energy detract from the authenticity of his matches.
John Cena Mic Skills
Cena possesses an ample amount of charisma, and although he can come across as cheesy and immature at times, he has a natural and seamless delivery in his promos, which is a talent that many individuals lack.
John Cena Marketability
Currently, Cena dominates the wrestling industry in terms of merchandise sales and embodies the ideal role model for the child-friendly PG era.
16. Andre the Giant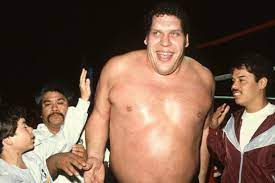 André the Giant, born André Rene Roussimoff, was a French professional wrestler and actor known for his great size caused by gigantism. He began wrestling in Canada under the name Jean Ferré and quickly gained fame, earning the nickname "The 8th Wonder of the World". In 1972, he was signed by Vince McMahon, Sr. to the WWWF and changed his name to André the Giant. He became a wrestling legend, participating in six WrestleManias and winning titles in multiple organisations. His most famous match was against Hulk Hogan at WrestleMania III, which drew a record crowd of 90,000 fans.
Andre the Giant Career
Andre the Giant was a huge wrestling sensation who had a flourishing and prosperous career with the WWF. Despite his massive success, he held the title for only a few moments and was always overshadowed by Hogan as the top contender.
Andre the Giant Look 
The sight of the Giant was truly impressive, towering at 7'4″ and with a weight of 540 pounds. It was evident that his strength was formidable enough to overpower any opponent in the ring, should he choose to do so.
Andre the Giant In Ring
Andre is widely regarded as one of the greatest wrestlers in the heavyweight division, but due to his massive size and slower speed, he was never able to deliver a match that would be considered a five-star classic.
Andre the Giant Mic Skills
Andre's preferred method of communication was through his performance in the ring, and despite his occasionally difficult-to-understand foreign accent, his intimidating presence enabled him to succeed.
Andre the Giant Marketability
Andre was a unique attraction that fans were eager to see, often dubbed as the "Eighth Wonder of the World." His match against Hulk Hogan at WrestleMania III was a significant factor in breaking the record for indoor attendance at a sporting event for that pay-per-view.
17. Dusty Rhodes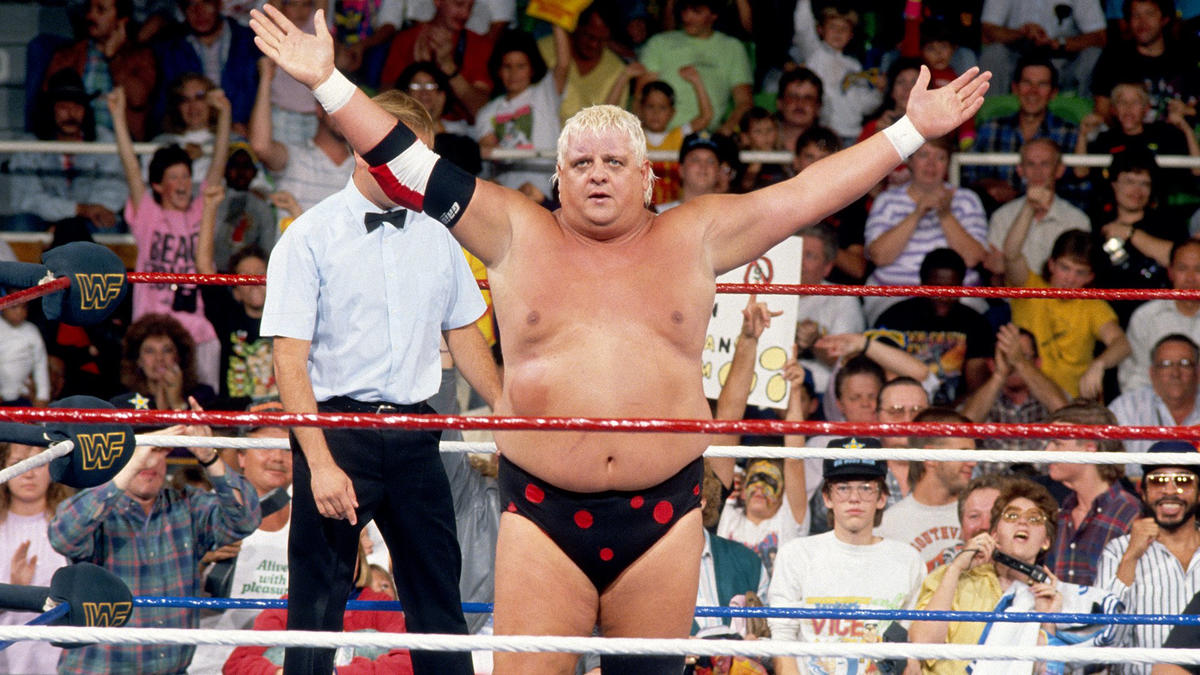 Known for his fast-talking and hard-rocking style, "The American Dream" was a popular and colourful professional wrestler in history. Dusty Rhodes began his wrestling career in the 1960s and formed a tag team with his fellow Texan, the late Dick Murdoch, which lasted for over two decades. Together, they created chaos both inside and outside the ring. Despite being a tough brawler with limited technical moves, Rhodes managed to win his first NWA World Heavyweight Championship in 1979 after defeating "Handsome" Harley Race. Although his first title reign was brief, he went on to capture the NWA title two more times. Currently, Rhodes runs his own small promotion called "Turnbuckle Championship Wrestling" and continues to wrestle. His son, Dustin Rhodes, also appears on Spike TV's WWE Raw (1993) as "Golddust."
Dusty Rhodes Career
Dusty Rhodes had a highly successful career spanning across several professional wrestling promotions, including NWA, WWF, WCW, and TNA, and rightfully earned his place in the Hall of Fame. He achieved numerous World Championship titles and was considered as one of Ric Flair's most formidable rivals in the ring.
Dusty Rhodes Look 
Dusty's appearance didn't give off the impression of a top-tier athlete, but rather accentuated his relatable, everyday qualities. This was a significant factor in why he was so beloved.
Dusty Rhodes In Ring
During his career, Dusty Rhodes demonstrated competence and proficiency in the ring, performing a noteworthy number of high-quality matches.
Dusty Rhodes Mic Skills
The promo delivered by him upon returning from injury, where he spoke about his "hard times", will undoubtedly be remembered as one of the most genuine and touching speeches in history. His heartfelt outreach to the audience and his unwavering determination to win the World Heavyweight Championship for them were truly inspiring.
Dusty Rhodes Marketability
The reason why the "American Dream" was widely loved by fans became apparent due to his stark contrast with his arch-nemesis, Ric Flair. Flair symbolised the wealthy and popular superstar, whereas Rhodes embodied the relatable, hardworking member of the middle class.
18. Mick Foley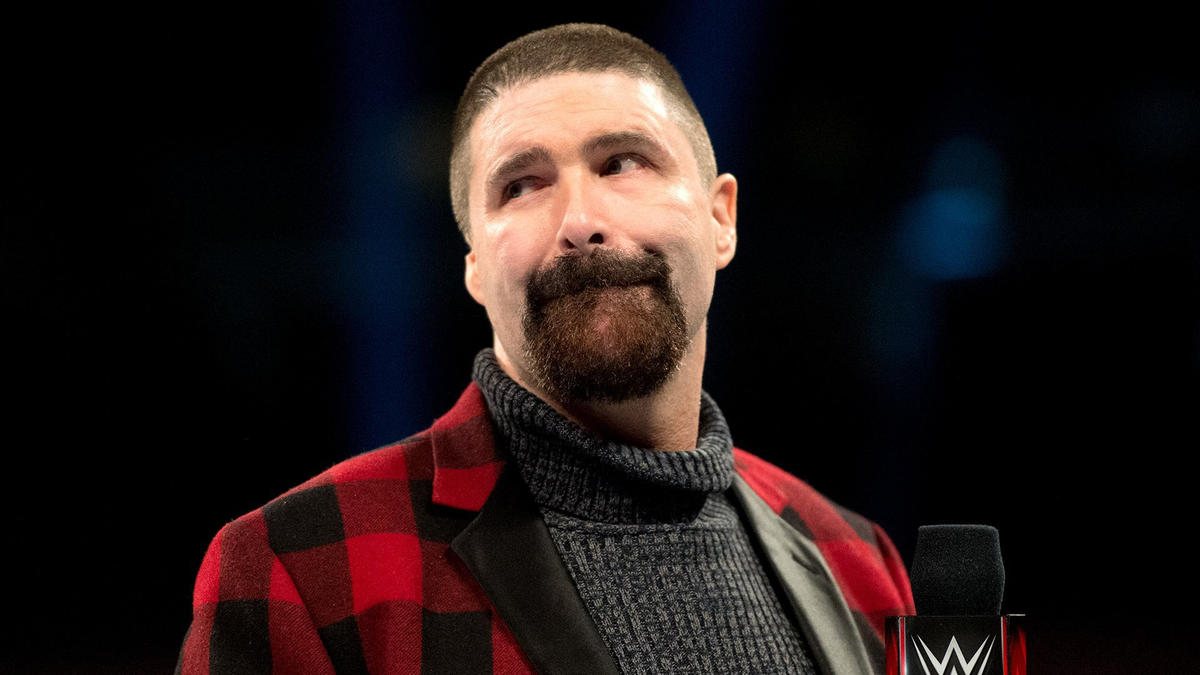 Michael Francis Foley, born on June 7th, 1965, in Long Island, New York, was inspired to become a professional wrestler after watching a match between Jimmy Snuka and Don Muraco. Trained by Dominic DeNucci, Foley debuted in the late 1980s and wrestled all over the world before joining World Championship Wrestling as Cactus Jack. He later wrestled for Extreme Championship Wrestling and won the IWA King of the Death Match in Japan. Vince McMahon brought him to the World Wrestling Federation as Mankind, where he famously feuded with The Undertaker and won the WWF World Title three times. Now retired, Foley is a bestselling author of autobiographies, children's books, and a novel.
Mick Foley Career
Foley was instrumental in the emergence of hardcore wrestling and the use of gimmick matches, such as Hell in a Cell. Despite winning the WWF Championship three times as "Mankind," Foley was never able to surpass the likes of Austin, Rock, and Triple H in terms of his position within the company. Sadly, Foley's career was cut short due to injury.
Mick Foley Look 
The wrestler had three distinct alter egos, each with their own appearance and personality, but it was his portrayal of "Mankind" that gained the most traction. His dishevelled attire and unkempt appearance added to his image as an outsider, which resonated with fans and contributed to his widespread popularity.
Mick Foley In Ring
Despite not being an athlete and relying more on incorporating hazardous props into his performances, Foley compensated for his questionable physical condition with his exceptional storytelling skills inside the ring.
Mick Foley Mic Skills
Foley's abilities as a promo man are often overlooked, but a deep dive into his written works reveals the meticulous thought and effort he put into crafting his promos. What sets Foley apart is his ability to deliver his speeches with a genuine passion and believability, a testament to his intelligence and unwavering commitment to his craft.
Mick Foley Marketability
Foley was a highly beloved figure, and although he was not as marketable as other top stars of the "Attitude Era," his performances were a major draw. This was exemplified by his initial championship victory, when WCW inadvertently leaked the outcome prior to its airing, resulting in a substantial number of viewers switching channels.
19. Mr. Perfect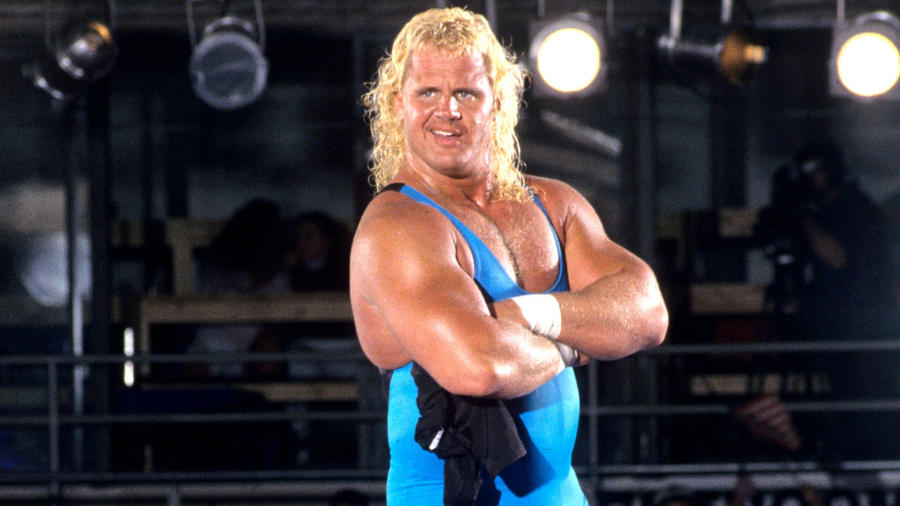 Curtis Michael Hennig aka Mr. Perfect was an American professional wrestler who competed in various promotions, including the AWA, WWF/E, WCW, and NWA Total Nonstop Action. Hennig was a second-generation wrestler, following in the footsteps of his father Larry "The Axe" Hennig. He won numerous championships throughout his career, including the AWA World Heavyweight Championship and the WWF Intercontinental Heavyweight Championship twice. Hennig was also known for his time in WCW, where he led the West Texas Rednecks stable and challenged for the WCW World Heavyweight Championship on pay-per-view. He headlined several PPV events for TNA before his death in 2003.
Curtis Hennig Career
Mr. Perfect achieved the status of AWA World Champion and also experienced prosperous runs with both the WWF and WCW. However, despite his accomplishments, he was unable to secure a world championship or solidify his position as a top performer in either of the two major wrestling companies.
Curtis Hennig Look 
Curt Hennig fully embodied the persona of "Mr Perfect," flawlessly portraying the character through his sculpted physique and self-assured grin.
Curtis Hennig In Ring
Bret Hart named him as his greatest opponent ever, and nearly everyone agrees that working with Curt was a delightful experience because of his ability to enhance his opponents' performance. Mr. Perfect has an abundance of five-star matches to his credit.
Curtis Hennig Mic Skills
Hennig's impressive mic skills helped him rise to become a prominent villain in the wrestling industry during his tenure as the Intercontinental Champion. His ability to speak convincingly was highly regarded by the WWF, who even offered him a spot on the Primetime panel alongside Bobby Heenan.
Curtis Henning Marketability
Vince may have faced difficulties in promoting Perfect due to the steroid scandal, which coincided with Hennig's rise to prominence. He aimed to establish a fresh image for the wrestler at the time.
20. Eddie Guerrero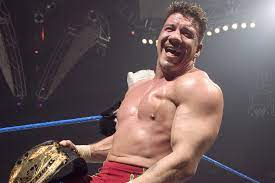 Eddie Guerrero was a prominent Hispanic wrestler who came from a family of wrestlers, including his father Gory Guerrero, and his brothers Hector, Amadno, and Chavo Sr. Although his brothers had limited success in indie federations, Eddie made a name for himself in ECW and WCW, winning titles and forming the Latino World Order stable. He gained fame in WWE as part of the Radicalz and later as part of the tag team Los Guerreros with his nephew Chavo Jr. He won the WWE Championship in 2004 but tragically passed away in 2005 due to his struggles with drugs and alcohol.
Eddie Guerrero Career
Eddie Guerrero was a prominent figure in the WCW Cruiserweight division and later established himself as a star in the main event scene on SmackDown. Although he held the WWE Championship once, he was never able to achieve the same level of success competing against the top stars on Raw.
Eddie Guerrero Look 
Eddie's athletic appearance and mischievous smile, coupled with his innate talent for spreading joy, made him well-liked among many.
Eddie Guerrero In Ring
As a member of a renowned wrestling family, Guerrero initially honed his skills as a wrestler. He was trained by some of Mexico's greatest wrestling legends, which greatly influenced his development as a performer. With this background, it was almost certain that Guerrero would become a talented worker capable of delivering impressive matches with a wide range of opponents.
Eddie Guerrero Mic Skills
Eddie Guerrero was known for his remarkable charisma, and his comedic performances were always a source of amusement for the audience. However, it was when he played the role of a villain that his ability to deliver powerful speeches and captivating promos began to shine.
Eddie Guerrero Marketability
Guerrero possessed immense talent, charm, and a fan-friendly personality that endeared him to audiences, making him a pivotal figure in SmackDown's early triumphs. He remained a major drawcard throughout his WWE tenure, captivating crowds with his performances.
Also Read: WWE Rumors: Why is Bray Wyatt return to WWE delayed after he vanished in midst of feud with Bobby Lashley?