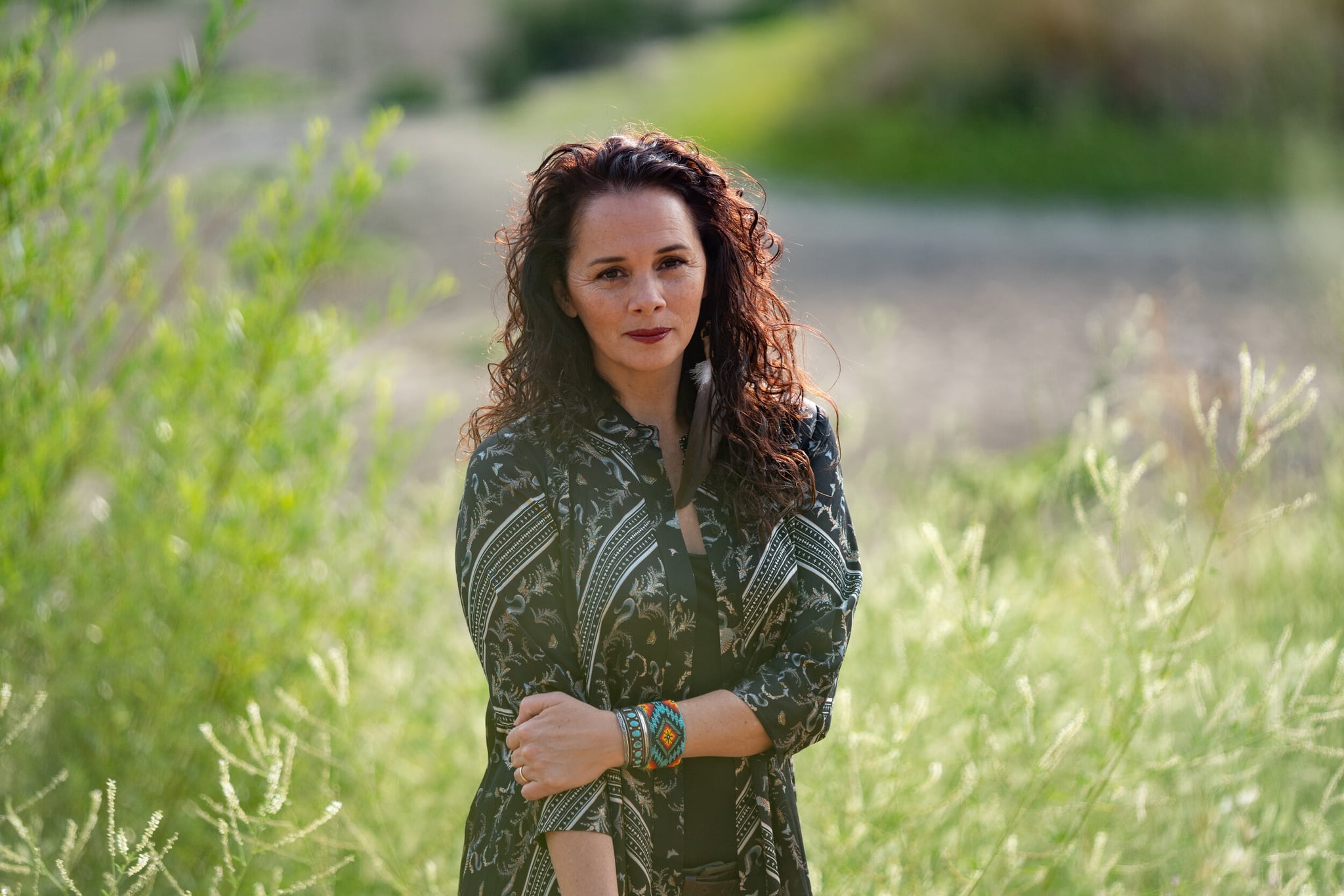 This week, Larissa FastHorse became the first Native American woman to have a play produced on Broadway. "The Thanksgiving Play," which is now showing at the Hayes Theater, stars D'Arcy Carden ("The Good Place," "A League of Their Own"), Katie Finneran ("Noises Off"), Scott Foley ("Scrubs," "Scandal"), and Chris Sullivan ("This Is Us") as four white actors who try to put together a culturally sensitive Thanksgiving school play — and fail miserably.
Directed by Tony Award winner Rachel Chavkin ("Hadestown"), "The Thanksgiving Play" is only the second play by a Native American playwright — and the first by a Native American woman — to appear on Broadway. (The first was "Green Grow the Lilacs," which debuted in 1931 and inspired the musical "Oklahoma!".) In anticipation of opening night, FastHorse, who is Sicangu Lakota, sat down with POPSUGAR to talk about comedy and satire, Native representation in theater, and holding the door open for the next generation of Native playwrights.
This interview has been edited for length and clarity.
POPSUGAR: I thought I might start by asking a little bit about your own background and if your family celebrated Thanksgiving, if you were ever in a Thanksgiving play in school? I know I was. Or if you watched any Thanksgiving plays as you were writing the script?
Larissa FastHorse: Honestly, we jumped right to Christmas because my dad was part of this little team that decorated hundreds of Christmas trees that were in the rotunda of the South Dakota Capitol. And so Thanksgiving was when we decorated all the trees.
"I'm certainly focusing on the yay."
I grew up in South Dakota, where I was fortunate at that time we didn't do pageants. We didn't even do pilgrims and Indians. We did harvest. Which made a lot of sense to kids in the middle of South Dakota, who'd just been through it. It really was much more of a harvest holiday that we focused on. And then when I was researching the play is when I found the horrific things we have children do at Thanksgiving. And I couldn't believe it.
PS: Yes, reading the script had me thinking a lot about my elementary school experiences of being in those plays. I read an interview where you called this "your most depressing success." Could you tell me more? What do you mean by that?
LF: Ultimately in the business, I hit a wall as a playwright. And I had to write white-presenting characters to get a play produced all over. And, I'm lucky. ["The Thanksgiving Play" is] one of the most produced plays in America, now on Broadway. And so I'm grateful for that. But, that's what I had to do. And now, I have five more plays — I have six plays this year. So the next five all have Native casts, which I'm super excited about. So it worked. Yay! But, I had to write all white-presenting characters to make that happen.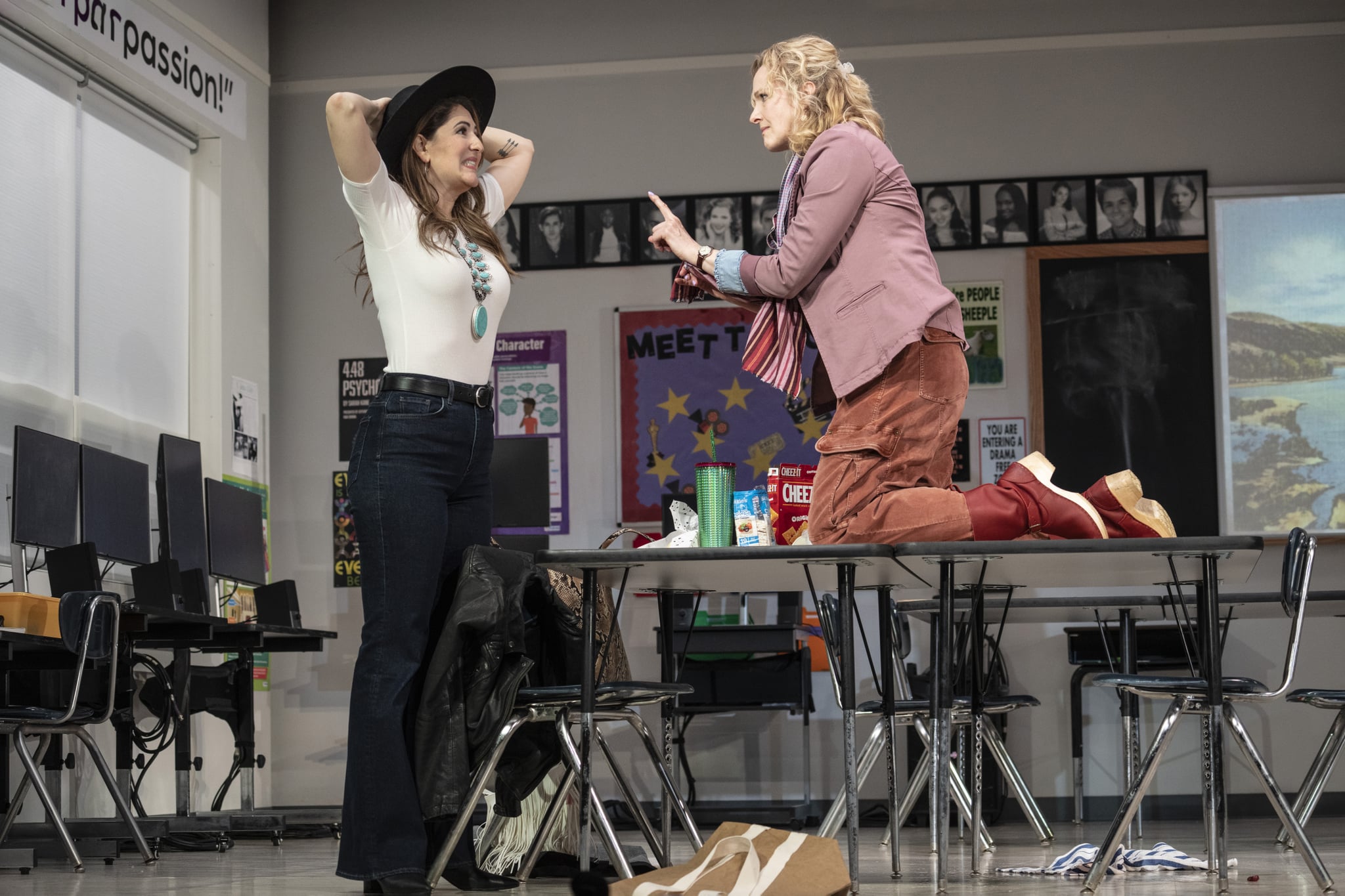 D'Arcy Carden and Katie Finneran in "The Thanksgiving Play." Image Source: Joan Marcus
PS: There's a lot of humor in the script, and I noticed a Couple of jokes that I felt like I was lucky to catch — I felt like there were a couple in there that were meant for a Native audience. I read that you all are working to bring folks to see the play. Can you tell me a little bit about who you're hoping gets to see it?
LF: We've been really fortunate actually. I will say, because we're just about to open this week, and our audiences have been so diverse. Diverse in age, diverse in ethnic background, diverse in ability. It's just been really fantastic to see. I honestly did not expect this audience to be so broad in its representation. I did expect that we'd have diversity in geography, right? There are people coming from all over the world. D'Arcy Carden's fans are coming from all over the planet, and they are seeing the show over and over.
"I hope people ask themselves a lot of questions."
We've really worked hard with Second Stage to make sure that Indigenous folks are being invited and welcome. We have a special code for an incredible discount, unbelievable discount, it's actually cheaper than your local theater company kind of discount, for Native people to come to the show.
PS: Do you have specific things that you hope your audiences take away from seeing the play? And maybe it varies by who the audience member is?
LF: It's a comedy and a satire, and the comedy part is very intentional on my part. I really want people first and foremost to have fun in the theater. I want people to come and laugh and sit next to each other. I mean, there's nothing better. I walked into the theater the other day, just to listen to the end, and it's hearing 600 people laughing together. It's just the most incredible sound. And I say this without any triteness, but especially after the past few years. We haven't been able to do that. And it's just, there's nothing like it. It hit me in the heart, made me cry. I actually got my phone and I recorded the sound of people laughing because I missed that. So that's the first most important thing.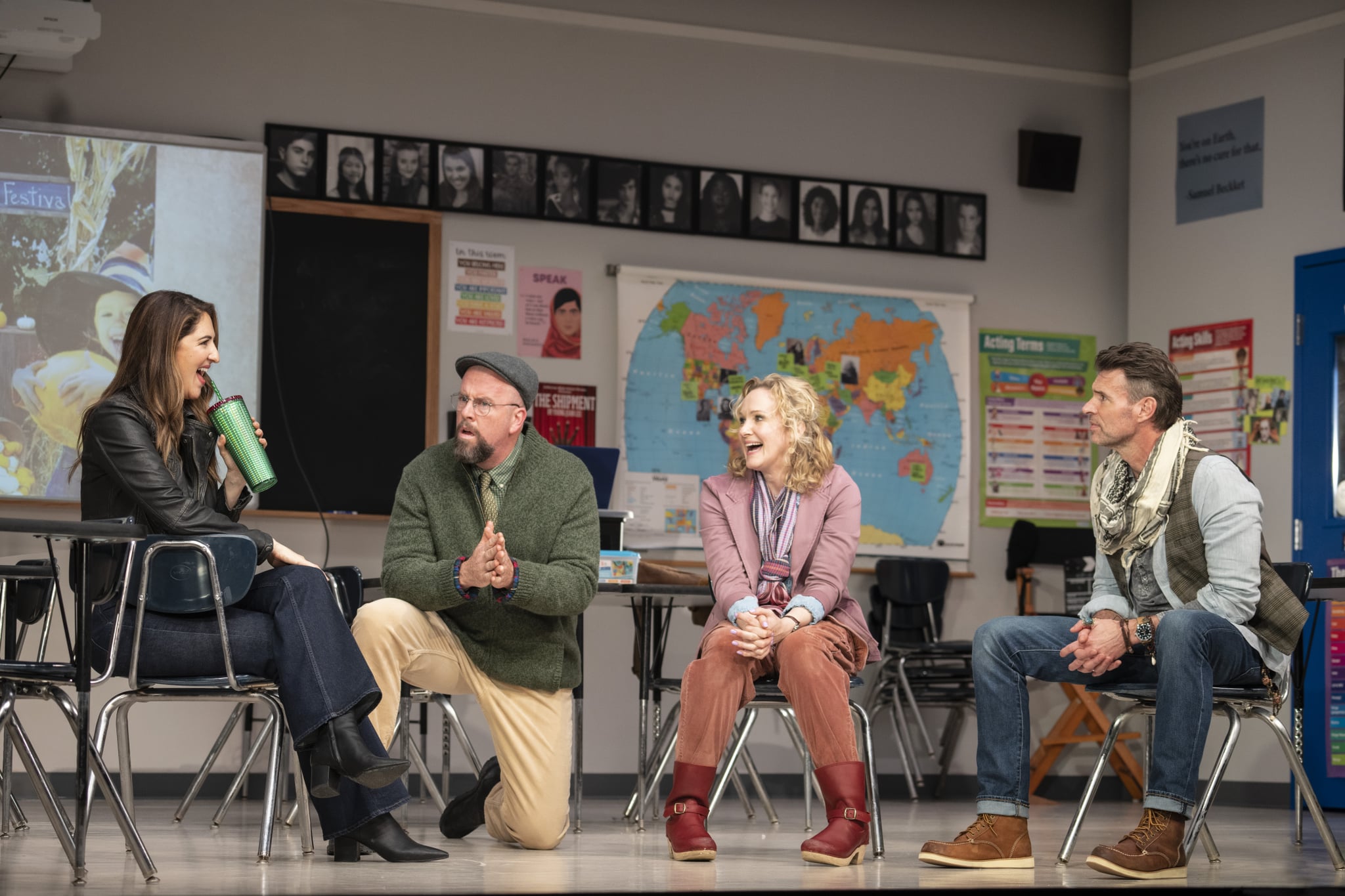 D'Arcy Carden, Chris Sullivan, Katie Finneran, and Scott Foley in "The Thanksgiving Play." Image Source: Joan Marcus
And then after that, I hope people ask themselves a lot of questions. The most invaluable question to me is, ask, why? Like, why didn't I know these things? Why did I find that funny? Why didn't I find that funny? Why was that person laughing over there? I hope people are asking a lot of questions. Why didn't I know this about Thanksgiving? Why didn't I think about this? Why did I ask this question? Why didn't I learn about this in school? Why did I have to go to a play to learn history? That's wild. I hope people go out asking a lot of questions, why questions. And then I hope they do the work to answer those questions.
PS: I was doing a little reading about the history of Native playwrights on Broadway . . .
LF: It's an easy list.
PS: It's you and Lynn Riggs [who wrote "Green Grow the Lilacs"], right? That's it.
LF: That's it.
PS: I'm sure being in your opening week, you've probably been super busy, but maybe also doing some reflecting. Have you been thinking about what it feels like to be at this moment in history? Is it a feeling of joy that you're there? Or is it a feeling of frustration that it took so long?
LF: Yeah, this is very conflicted for me, right? Because Lynn Riggs had many plays on Broadway, which many people don't realize. And he was unfortunately not credited as a book writer for "Oklahoma!" even though, if you look at the scripts of "Green Grow the Lilacs," "Oklahoma!" was like word for word in many places. And that's really unfortunate. And yet at least we still know his name today because his other plays are not performed widely today. And I'm so honored to know a lot about this gentleman and the incredible legacy that he left behind. But it's like, that was the first half of the last century. What! I mean, come on. That's not OK. And the whole list is him and then me. That's not OK!
I'm certainly focusing on the yay. But also it's hard, because I do not want it to be the next century before we have the next Native American playwright on Broadway. I just can't — that's not OK. So I personally take a lot of pressure about it on myself to be like, "OK, don't screw this up. We need to make sure that the door is open." Because there's so many incredible Native playwrights in this country that are ready and that have plays that are ready, that should be on Broadway. And just also that I can now be the person that I didn't have — I'm thrilled to be able to do that for someone else, hopefully in my lifetime and not the next century.
"The Thanksgiving Play" will appear on Broadway through June 4.
Image Source: John D. & Catherine T. MacArthur Foundation