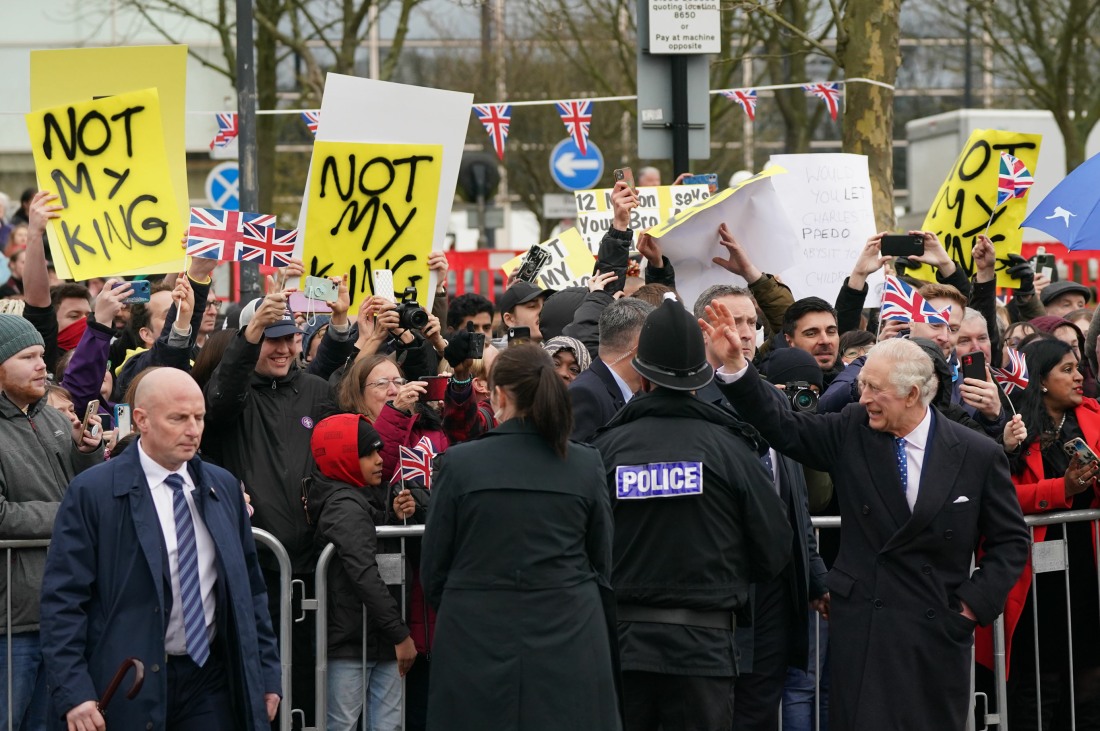 Since QEII passed away, there have been at least a dozen significant protests against the Windsors, mostly against King Charles. At this point, whenever Charles and Camilla turn up to a previously announced public event, there are at least 10-20 anti-monarchy protesters in the crowd. Recently, there have been even more protesters, like the Republic protesters outside the Commonwealth service in March, and outside the Royal Maundy service this month. Those are just the organized protests too – lone anti-monarchist activists have also disrupted Charles's events by throwing eggs at him. All of which means that Charles is f–king terrified that the coronation will see large-scale protests and anti-monarchy demonstrations. The palace made a point of shortening the coronation procession from 4.5 miles (QEII's procession) to 1.3 miles. A more limited space for Republic to stage what will probably be their biggest protest:
The leader of Britain's largest anti-monarchist group says more than 1,350 people have pledged to protest during the coronation parade in May. Graham Smith, the head of Republic, said the demonstration would mark "the largest protest action" in the group's 50-year history.

Republic activists will wear yellow T-shirts and wave yellow placards to create an "unmissable sea of yellow" along the procession route in central London, he said. When the newly crowned King passes in his gold stage coach, they plan to boo loudly and chant: "Not my King". Most of the demonstration will be in Trafalgar Square but smaller groups of anti-monarchists will be dotted along other sections of the route.

Smith, 48, said activists would aim to arrive early in the morning to be as close to the barriers as possible. He stressed, however, that they were not planning any Extinction Rebellion-style stunts, because "it's not a good look" and "doesn't help the cause". He added: "We want to make sure we have as many people as possible when Charles goes past, which we assume will be between 10 and 10:30am. You hope to be reasonably down near the front with a sea of placards. It's a matter of standing out, making a very bold statement that there is a Republican movement and we're not a nation of royalists. We have megaphones and an amplifier with a microphone. We should be unmissable."

Smith said he had informed the Metropolitan Police of their plans. Anti-monarchists had been preparing for possible verbal clashes with royalists in the crowd, he added. He said he was not worried about arrests "because we've been very clear with the police what our plans are". He added: "We've met with them twice and we have assurances about how they intend to police the event and the limits of their powers. We are aiming for a party atmosphere. We always try to engage with those people, keep it lighthearted. Some people get annoyed and upset, but most people accept the fact that people are allowed to protest. We've also got the police around if there's any trouble."

He added: "A lot of the people aren't really staunch monarchists, they're just there to see something that's big or historic or whatever. We see them as potential republicans."

Republic's website invites potential protesters to sign a pledge, committing them to protesting in London or where they are based. Smith said that by 5:30 last night, 1,350 people had signed. "This will be the largest protest action we've done," he said. "It won't be the last."

Demonstrations against the coronation are being planned in other parts of the UK. In Cardiff, the Not My King protest, organised by Campaign for a Welsh Republic, will meet at the Aneurin Bevan statue at 12.30pm, to march to Bute Park. The protest will be followed by what the group describes as a "big republican lunch". In Glasgow, a march for independence is planned to run concurrently with the coronation services. A simultaneous protest will be held in Edinburgh at the National Monument of Scotland, with more than 250 people registering an interest in attending.
As many have said before, it's giving Trump inauguration. Remember the very first hours of Trump's reign of terror, when he was having a hissy fit about crowd size? And then the next day, the anti-Trump Women's March protests staged in DC and around the world were so much bigger. The problem for Charles is that his most vociferous "fans" and supporters really don't care enough to come out for the coronation. The optics of this will be fascinating and it will be curious to see how the international media covers it. Ten bucks says that the demonstrations in Glasgow and Edinburgh will be huge too.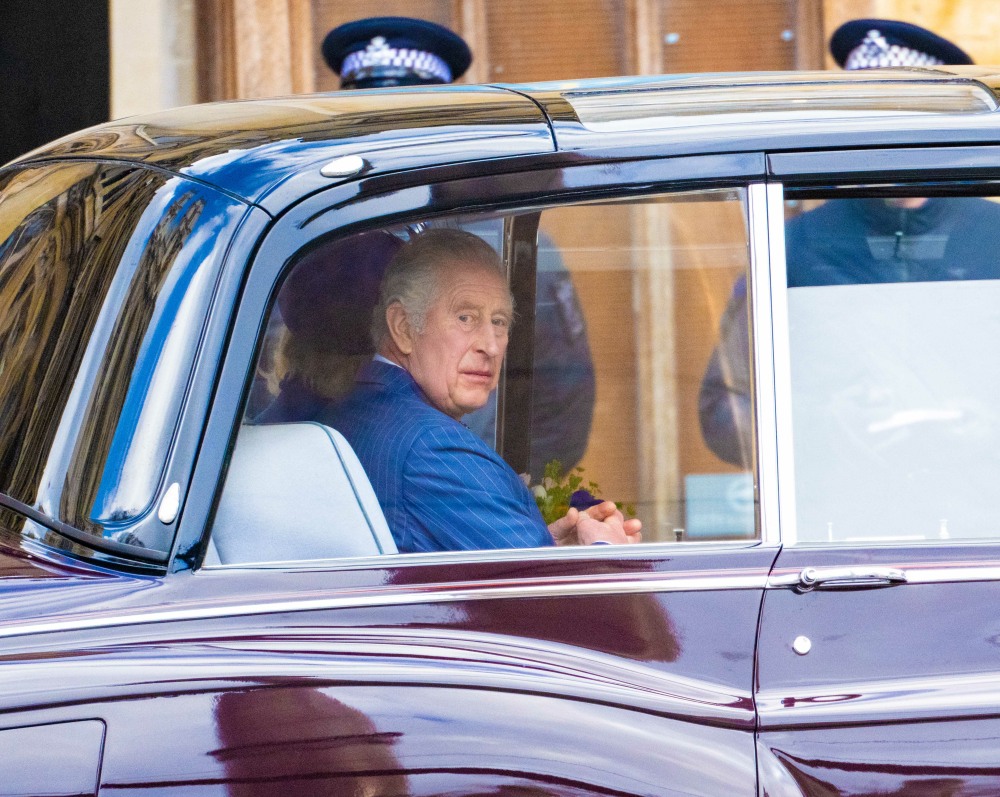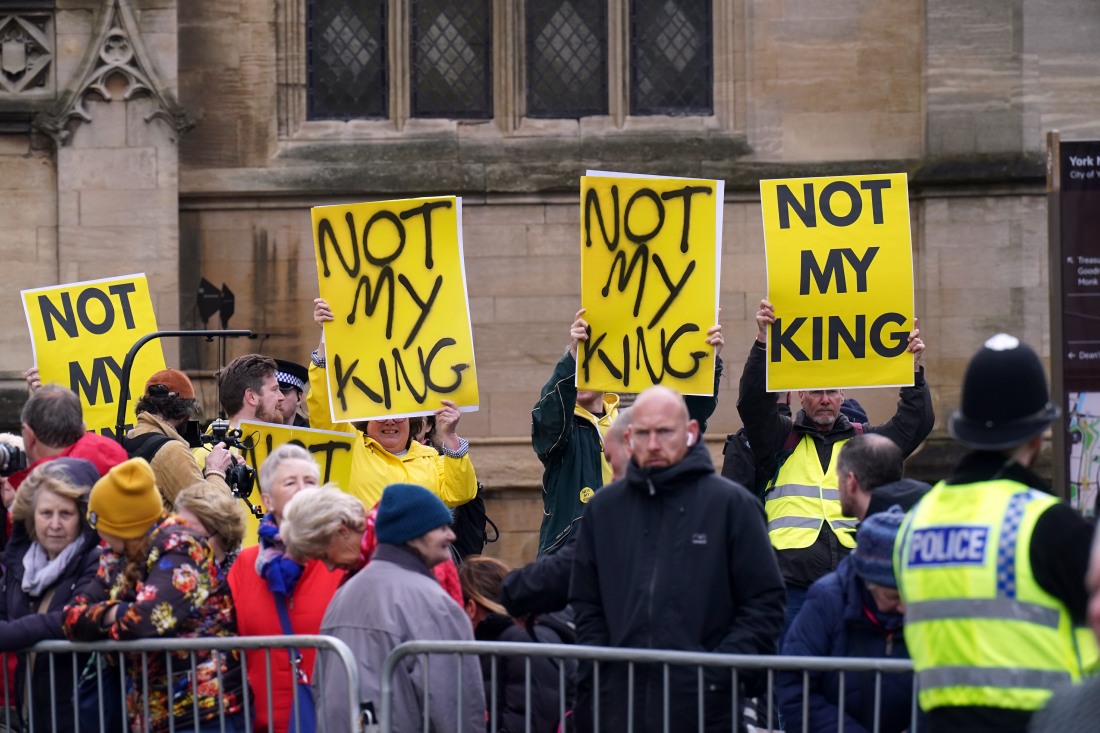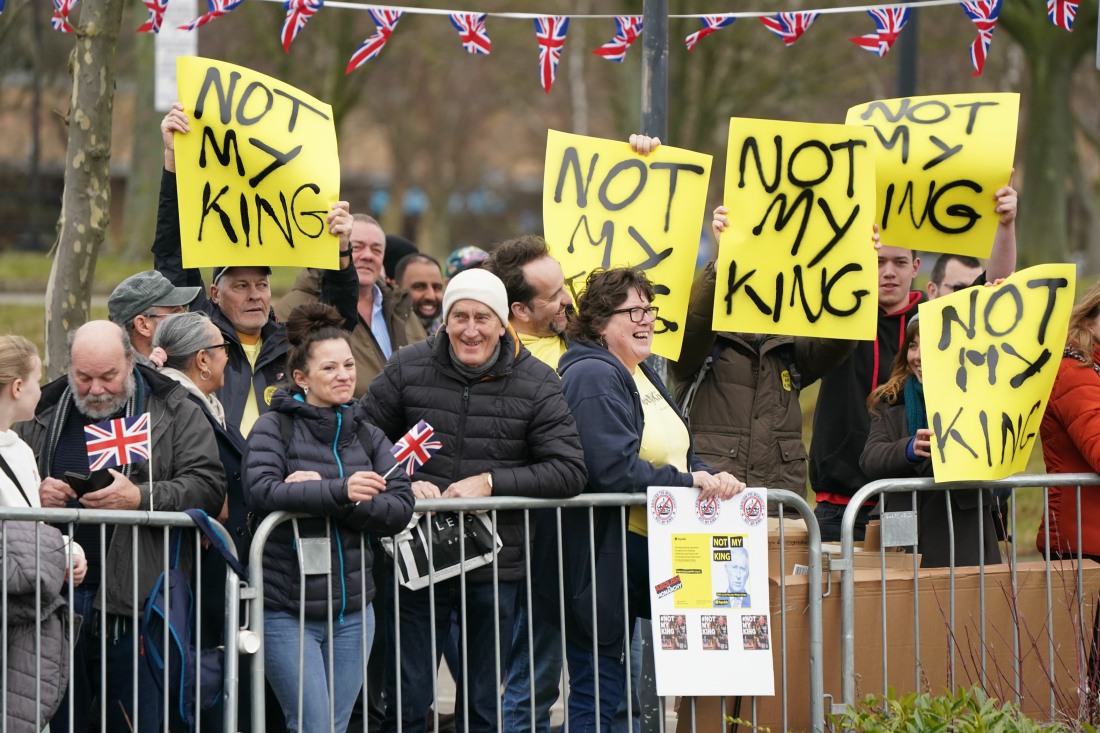 Photos courtesy of Cover Images.