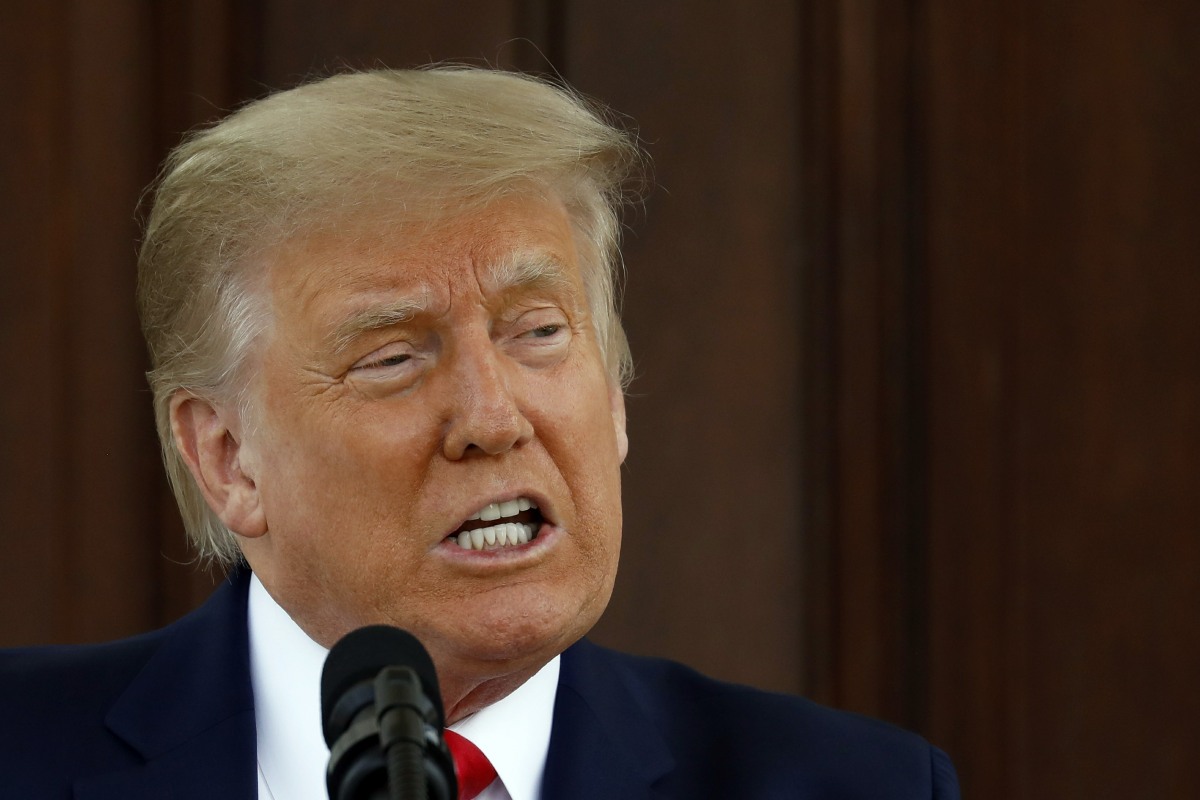 Yesterday afternoon/evening, Donald Trump boarded his plane, now forever known as Con Air, and flew from Mar-a-Lago to New York. Most of the cable news channels covered it live, giving Trump the full "OJ Simpson in a white Bronco" treatment. Today, Trump will be arraigned in a Manhattan court. Reportedly, there were many negotiations, not only between Trump, his lawyers and DA Alvin Bragg and his team, but with the Secret Service as well. It was apparently negotiated ahead of time that Trump will not be handcuffed (because normal cuffs won't fit on his tiny baby fists) and it doesn't appear as though a mug shot will be taken or released. Still, Trump apparently wants today to be a pure MAGA spectacle.
Donald Trump insisted on turning his Tuesday arraignment into a spectacle, and he's going to get his wish. A law enforcement official tells Rolling Stone that the former president was offered a chance to surrender quietly and be arraigned over Zoom. Instead, Trump opted for a midday, high-profile booking at the Manhattan courthouse, the official says.

"He wanted a perp walk, he wanted daylight hours," says the law enforcement official, who's involved in aspects of the security planning. "He wants to get out of the vehicle and walk up the stairs. This is a nightmare for Secret Service, but they can only strongly suggest — not order — that Trump enter through the secure tunnels," the official says. "Trump wants to greet the crowd. This should be a surprise to no one — especially not his detail."

Secret Service had argued in favor of holding the proceedings outside of court business hours, at night with minimal cameras and less risk. But Trump, a source close to his legal team says, wants to create the type of scene that he believes will galvanize his supporters.

"It's kind of a Jesus Christ thing. He is saying 'I'm absorbing all this pain from all around from everywhere so you don't have to,' " says the source. Describing the message Trump hopes to send his supporters, the source says: " 'If they can do this to me they can do this to you,' and that's a powerful message."

Trump's arraignment is scheduled for 2:30, but the law enforcement official said Trump is now expected to arrive at the courthouse around 11:30 a.m. When it is time for him to appear, other people whose bookings are being processed will be temporarily detained. The floor above and below the courtrooms will be secured. He is expected to plead not guilty, his lawyers have said. Trump's legal team is pushing for cameras to be kept out of the courtroom, with one lawyer warning it would create a would "create a circus-like atmosphere," ABC News reports.

Trump will be fingerprinted and processed, and will have his mug shot taken in the booking office, a small office in the courthouse. He will not be handcuffed, according to the law enforcement official. "Secret Service said absolutely not, no cuffs, no way."
Now, Michael Isikoff at Yahoo News reports that not only will Trump avoid the handcuffs (wow, they're really worried about the size of his hands), he will also avoid a mug shot. The arraignment and booking process will be specially streamlined for him. I hate that – if Bigly Christ Superstar wants a spectacle, then put on a f–king show. Storm into Trump Tower and handcuff him. Drag him into the courthouse in full view of the media. Release a mug shot with his crooked wig and smeared makeup.
Anyway, from the looks of things, New York is not putting up with any MAGA bullsh-t. There were (legitimate) fears that Trump and his supporters would try to incite another "January 6th" style insurrection. I just think there will be more people protesting TRUMP and not his arrest today.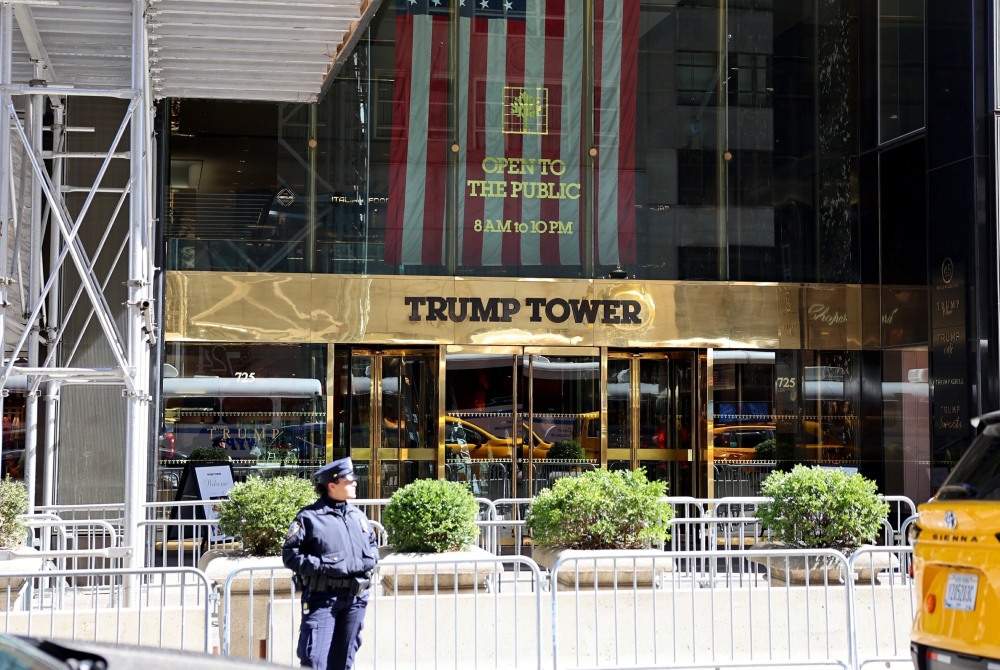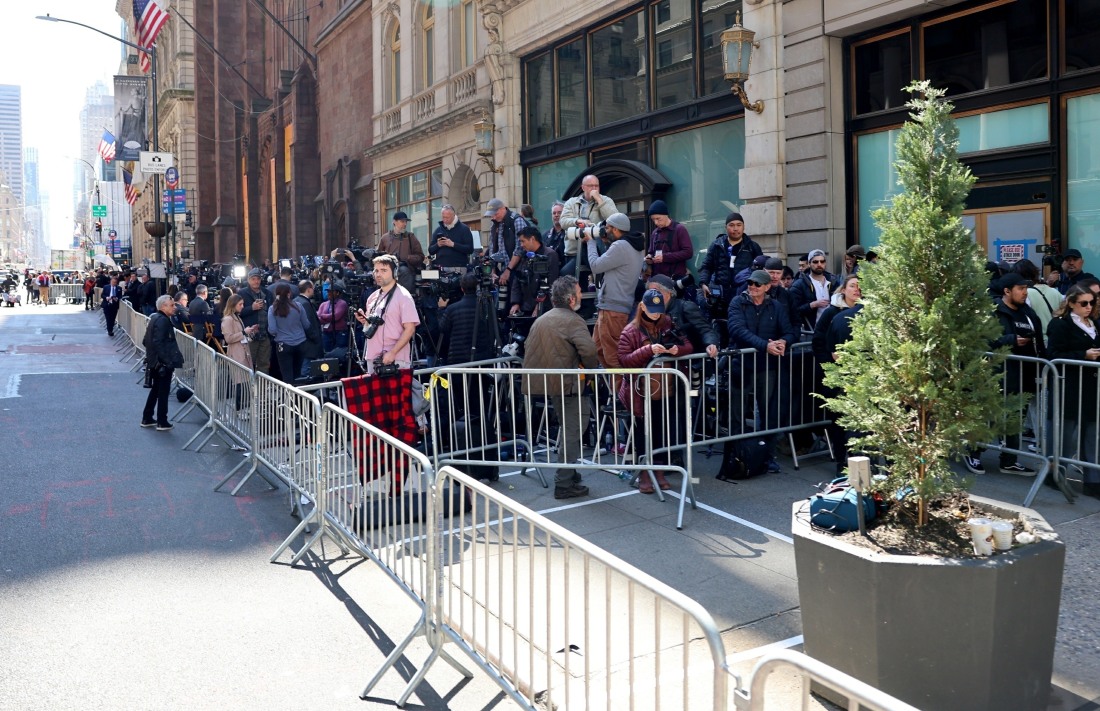 Photos courtesy of Backgrid.