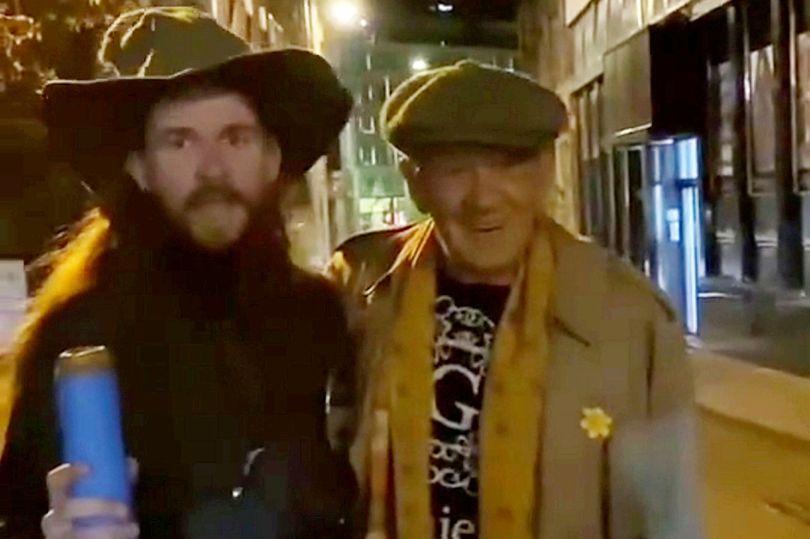 This is such a great story. A 22-year-old guy named Ben Coyles was out with his mates celebrating his birthday. They went on a pub crawl with Ben dressed as Gandalf the Grey from JRR Tolkien's The Hobbit and The Lord of The Rings books. In case you've been living under a rock, they've made a Couple of movies based on those books. The legend who portrayed Gandalf in the films, Sir Ian McKellan, was walking home after finishing his show in the area, when he saw young Ben and his band of merry folk crawling to their next pub and decided to join festivities. Approaching the group, Sir Ian asked if their Gandalf wanted to meet the Real Gandalf. Uhm, what's elvish for yes please!
A man dressed as Gandalf on a Bristol pub crawl was "flabbergasted" to bump into Sir Ian McKellen himself. Tolkien super-fan Ben Coyles was out marking his 22nd birthday last week when he ran into the actor, who played Gandalf in The Lord of the Rings and The Hobbit trilogies.

Ben was with a group of friends when they turned onto Corn Street and saw Sir Ian, who has been in Bristol starring in the Mother Goose pantomime at the Hippodrome. In disbelief, Ben managed to get a picture with his hero.

Student Felix Spencer, 21, who filmed the moment, said: "We had no idea he would be there. We were on our penultimate pub when someone comes up to me and asks me if we would like our Gandalf to meet the real Gandalf.

"Me and all my mates were walking down the street and I heard behind me 'do you want to meet the real Gandalf?' I didn't recognise him immediately then I was like 'OH MY GOD IT'S SIR IAN MCKELLEN!'

"Everybody said 'what on earth is going on?!' He asked me how old I was and said happy birthday and shook my hand.

"I was flabbergasted, I had no idea what to do or say. We had zero idea that he was walking down that street.

"If I was 10-20 metres ahead of him it wouldn't have happened, the planets aligned. He's a really lovely sound bloke, an excellent guy, nice, down to earth and humble and I'd like to buy him a drink."
[From Bristol Post via DListed]
This is the dream, isn't it? Every attendee at Comic-Con in costume or film buff standing in line, decked out in their homemade declaration of love to their idol – isn't it just a beacon for that person to show up out of the blue? I mean, I assume that's what Ben was going for. I don't really know why a 22-year-old man was on a pub crawl dressed as Gandalf. Maybe he cycles through the Tolkien compendium of characters for all his crawls. Needless to say, I have questions but they don't matter because the cool part is, he was in costume as Gandalf and he was in the road at the moment Sir Ian walked up behind him – on his birthday. I'm so happy for Ben, I won't even get mad about the number of times I've gone running with my Wonder Woman shirt on and nothing!
I think my favorite part, though, is Sir Ian asking if Ben wants to meet "the real Gandalf." There is no line anymore, he's erased it. Other people play parts, Sir Ian becomes them. Deal with it.
Ah! We have the video (thanks DListed!) Look at Ben – he wants everyone to see he's standing next to The Real Gandalf™
Photo credit: Felix Spen/SWNS, New Line Cinema Supplied by BWP Media, Ferrari – Look/Look Press and via Instagram